Today I'm going to review Herbal Essences Bee Strong Strengthening Conditioner, which is now my favorite for getting gorgeous hair. The Bee Strong shampoo and conditioner claims to provide 10x stronger hair, and here goes my views on it.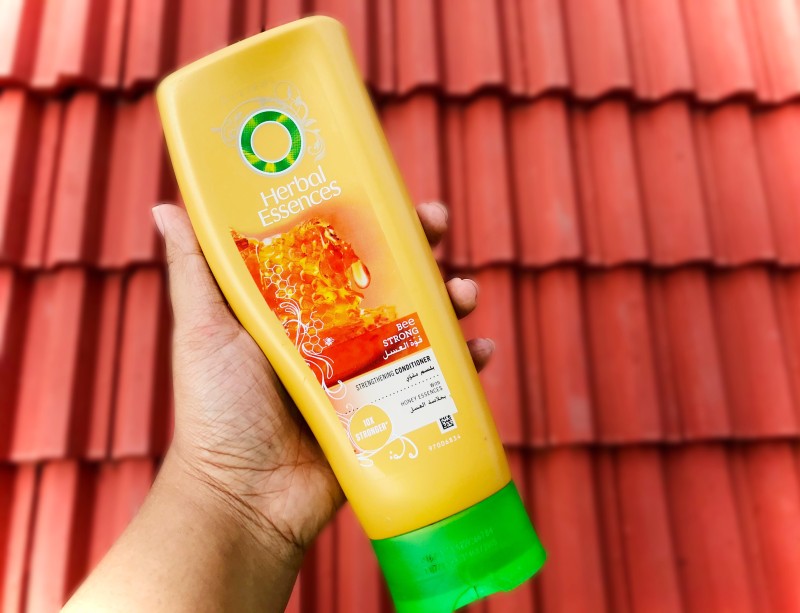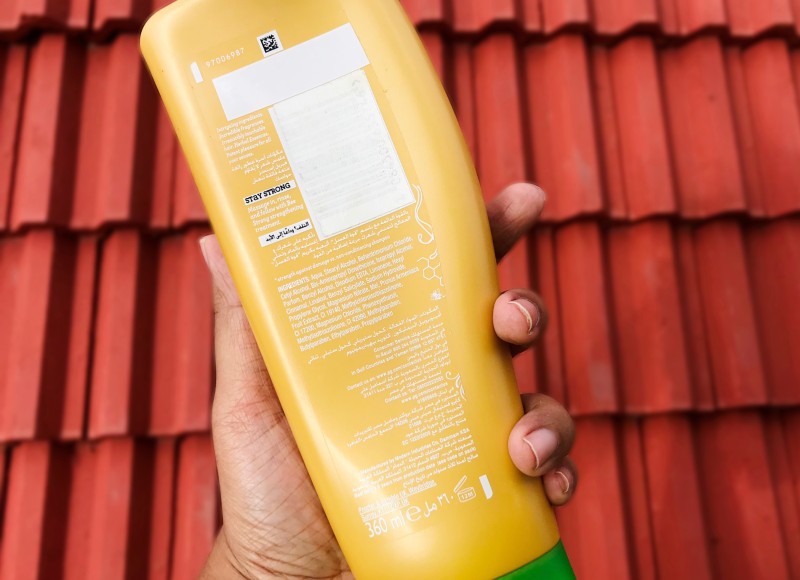 About the product: 
Do you dare to repair it? Get 10X healthier hair in just one wash with the Herbal Essences Honey, I'm Strong hair care collection. Herbal Essences Honey, I'm Strong Strengthening Conditioner coats each hair strand to help repair the protective outer layer and provide strength against future damage.
Herbal Essences Honey I'm Strong Strengthening Conditioner has 0% gluten or mineral oil

Scented with notes of Honey Essences

Rich & creamy blend of moisturizers repair hair, giving it a luscious strength

Leaves hair feeling soft & protected from daily styling

Color-safe, pH-balanced formula
Readers like you help keep The Beautyholic running. When you buy through links on our blog, as an Amazon Associate, we earn from qualifying purchases at no extra cost to you.
Price: Rs 999 for conditioner | Buy it here
Ingredients: Water, Stearyl Alcohol, Behentrimonium Chloride, Cetyl Alcohol, Bis-Aminopropyl Dimethicone, Honey, Prunus Armeniaca (Apricot) Fruit Extract, Fragrance, Benzyl Alcohol, Disodium EDTA, Sodium Hydroxide, Methylchloroisothiazolinone, Methylisothiazolinone, Blue 1, Yellow 5, Red 33.
Herbal Essence Bee Strong Strengthening Conditioner Review
When I got the product, I bought the full set: both the shampoo and conditioner. I had never used both from the same line, but I always hear brands claiming that it works better when you use the whole set of products. So when I saw the entire set on sale, I thought I'll give it a try.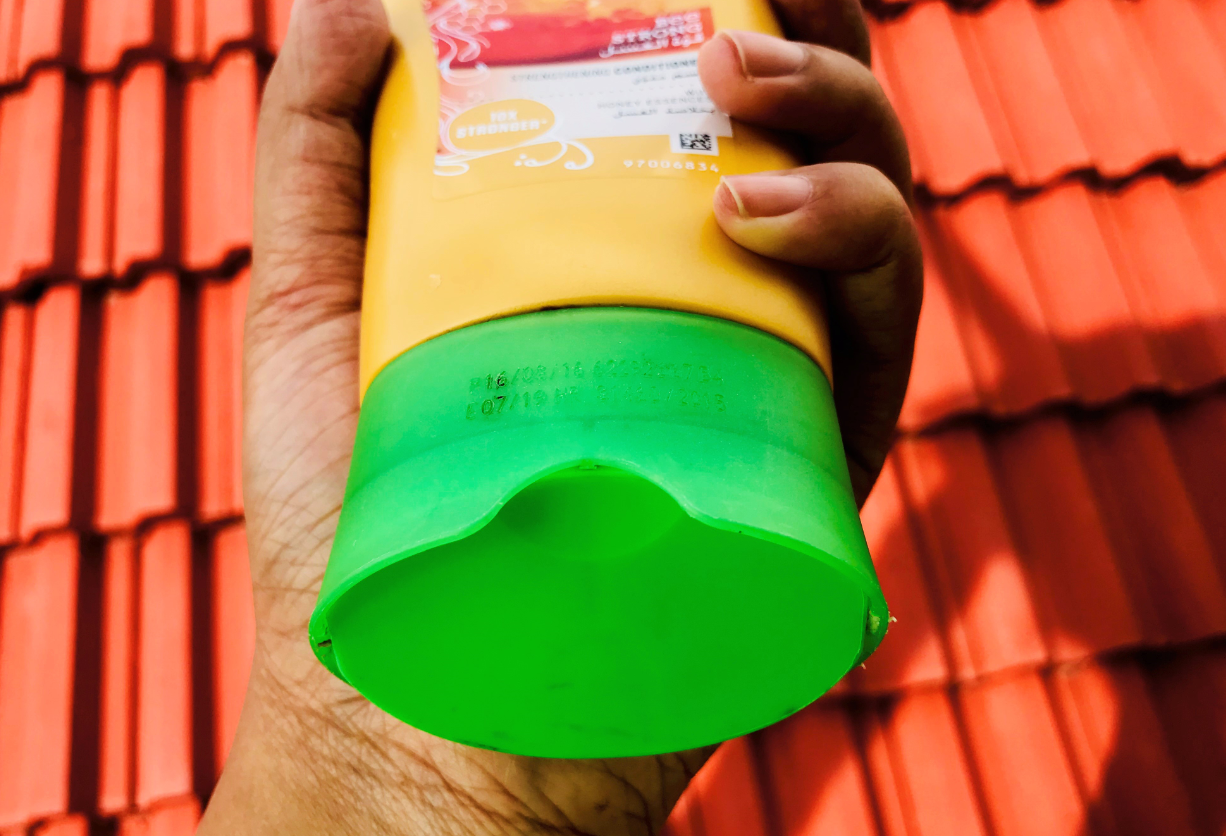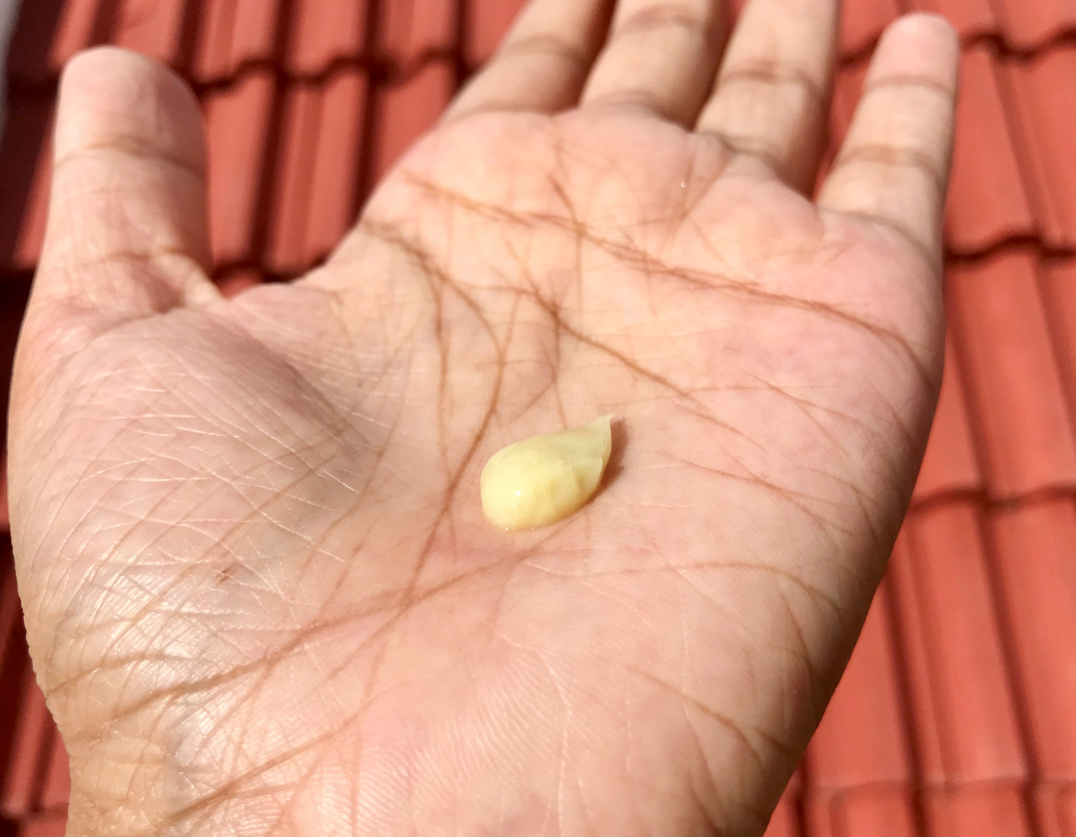 Two things will draw you towards Herbal Essences product: product packaging and fragrance. 
What does it look like?
All of Herbal Essences products have vibrant and beautiful colors that draw your attention. The shampoo and conditioner are available in a dull mustard yellow bottle with a green cap. The packaging reminds me of a mango: one side is curvy (an S shape), and the cap is light green- ooo the summer vibes! The cap is a push-up lid with a small opening that helps squeeze out the product easily. The conditioner is also pale yellow in color. It has a slightly thicker texture compared to other brands, which I completely adore. It holds on to wet hair stronger than water-based formulas. 
What about the fragrance?
If you have read my other reviews, you must have noticed how obsessed I am with how good the product smell. It's kind of like on top of the list. The shampoo and conditioner both smell amazing! It feels tropical and floral at the same time! I would love it if they came up with their own fragrance collection. 
What does it do to my hair?
My hair smells amazing after use. The fragrance stays for a minimum of one day up to two days- that I can assure you. And I just love that about the brand. In case of other conditioners I have tried, they have a pleasant smell while I use it, but once I wash it off, poof, it's gone!! 
The next thing is that it makes your hair incredibly silky and soft. You won't be able to stop rubbing your fingers through your hair. I'm not kidding when I say that it is incredible. 
Is it true to its claim?
The issue addressed in the line is 'strength'. I am not someone who has breakage issues. This product helped repair existing damage on my hair and did reduce minor breakage problems. But I don't think it would be as effective if you have brittle hair. You might need a stronger product for that. This is better for hydration and damage repair than improving the strength of your hair. I have also tried their hydration conditioner, and I think these both had more or less the same effect on my hair.
Herbal Essence Bee Strong Strengthening Conditioner has honey essence in it (hence BEE strong). Honey is wonderful for moisturizing, be it your hair or your skin. The honey essence in the product helps moisturize your hair, repair damage, and makes it silky smooth. My current shampoo does not have honey in it, so I added some in just so that it moisturizes my hair. Yea, you can do that! Just add a few drops of honey to your shampoo to add some moisture and shine to your hair. 
Herbal Essence is a paraben and sulfate-free option available in the market. It is to date the best hair product that I have used. It is, however, comparatively expensive and has only recently entered the market. Hence it might not be easily available. But I can promise you that it will be totally worth the effort. 
Pros:
Adorable and easy to use packaging. 

Smells WONDERFUL! 

Hydrates hair. 

Repairs damage. 

Makes hair soft and silky.

Paraben and sulfate-free. 
Cons:
It does not strengthen hair like (or as much as) it claims. 

Expensive. 

Not easily available.
Herbal Essence Bee Strong Strengthening Conditioner
Final Word
The conditioner (and shampoo) is more useful for repair damage and moisturizing than as a strengthening product. It smells wonderful and sticks around for up to 2 days (yas yas yas!). I accept that the product is a little expensive but totally worth it. It made my hair silky soft and bouncy and is one of the best options available in the market. I will definitely buy it again and would recommend it to people with normal to dry hair.