Ok, so I told you about two lip crayons. Now we are going to level up! Let me introduce you to *drum roll* lip markers. I will review the Golden Rose lip marker ultra-lasting color in the shade 104, which is a beautiful burgundy!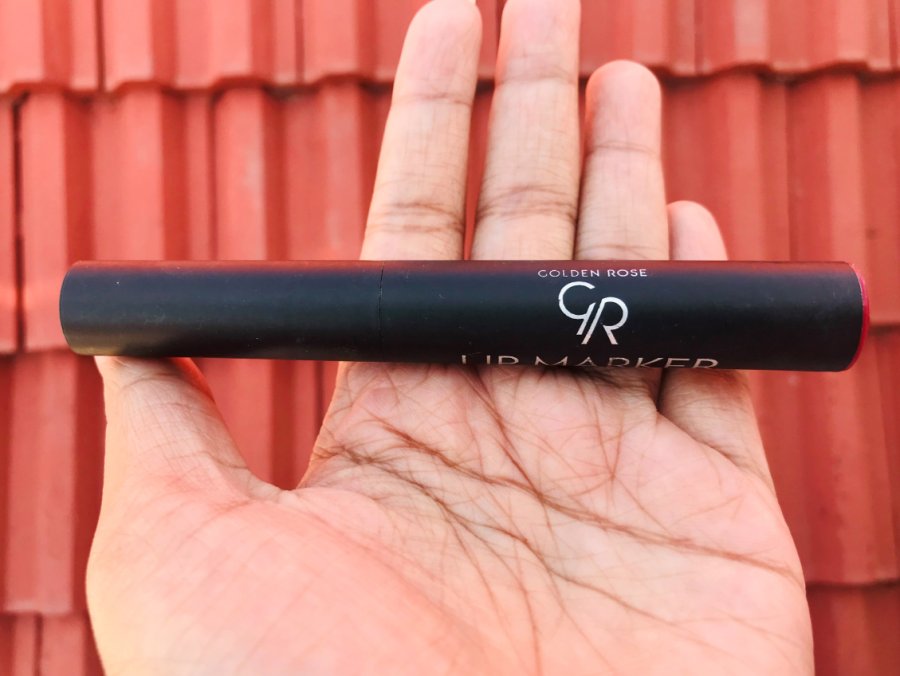 About the product: 
Golden Rose Lip Marker features a water-based tint that glides smoothly and gives a natural vivid tattoo effect on the lips. Its semi-permanent formula dries in just a few minutes, leaving a light film with a smooth, natural feel on the lips, and lasts up to 12 hours without dryness or smudging. Enriched with Aloe Vera and Vitamin E. Can be used with its custom-designed tip to contour shaping and easy to fill in the lips.
For a glossy look, apply lipstick, lipgloss, or lip balm after the color is dry. 
Readers like you help keep The Beautyholic running. When you buy through links on our blog, as an Amazon Associate, we earn from qualifying purchases at no extra cost to you.
Price: $ | Buy on Amazon
Ingredients: 
AQUA, ALOE BARBADENSIS LEAF JUICE, POLYURETHANE – 35, POLYGLYCERYL-2 CAPRATE, METHYL PROPANEDIOL, GLYCERIN, BUTYLENE GLYCOL, TRI-C 12-13 ALKYL CITRATE, PHENOXYETHANOL, CAPRYLYL GLYCOL, PANTHENOL, STEARIC ACID, PALMITIC ACID, TOCOPHEROL, PHENYLPROPANOL, ETHYLHEXYLGLYCERIN, TETRASODIUM GLUTAMATE, DIACETATE, HELIANTHUS ANNUS SEED OIL, CITRIC ACID, SODIUM HYDROXIDE, (+/-) CL 17200, CL42090, CL45410, CL61570, CL42053, CL19140, CL15985.
What is the product?
Golden Rose is a Turkish brand that is widely popular in the Middle East. Since I grew up there, I have used a variety of their products over the years. They provide a complete range of products at affordable prices. 
Golden Rose Lip Marker – Ultra Lasting Color is one of their best products that I have used. I use it in the shade 104, which is a deep burgundy. It has a total of 6 shades available, which is a slightly limited range. The colors fall in the red to the wine spectrum. The colors are beautiful vivid colors that make your lips truly pop. 
The product is a chunky black marker. The lip marker looks similar to any other marker available in your stationery shop. The company logo 'GR' is printed in gold on the marker. It has a click cap, which makes sure that the product doesn't dry out. It is advised to store it upside down or with the tip facing downwards to make sure that it doesn't dry out. The color of the marker is shown at the bottom of the marker. Otherwise, it is basic product packaging. It is simple enough to fit in your purse easily but a little too big for your pockets. 
Formula and finish: 
The Golden Rose Lip Marker has a water-based tint, exactly like your sketch pen will have. Hence you get a super easy application. You don't need to worry about any tugs or pulls, so thumbs up! You can just color your lips. 
It has a semi-matte finish with a very subtle hint of glow. Dab on a lip gloss on top to make it glossy. It has an extremely light formula that you don't even feel like anything is on your lips. It is non-sticky and weightless. Also, the product dries up very quickly in seconds, so you can just put it ok right before running out the door. I am particularly fond of this lip product due to these qualities because I can just put it on and not worry about it until the end of the day. 
The formula is also infused with aloe Vera and vitamin E, which has a hydrating effect on the lips. However, your lips do get slightly dry. So it is always a good choice to wear lip balm underneath.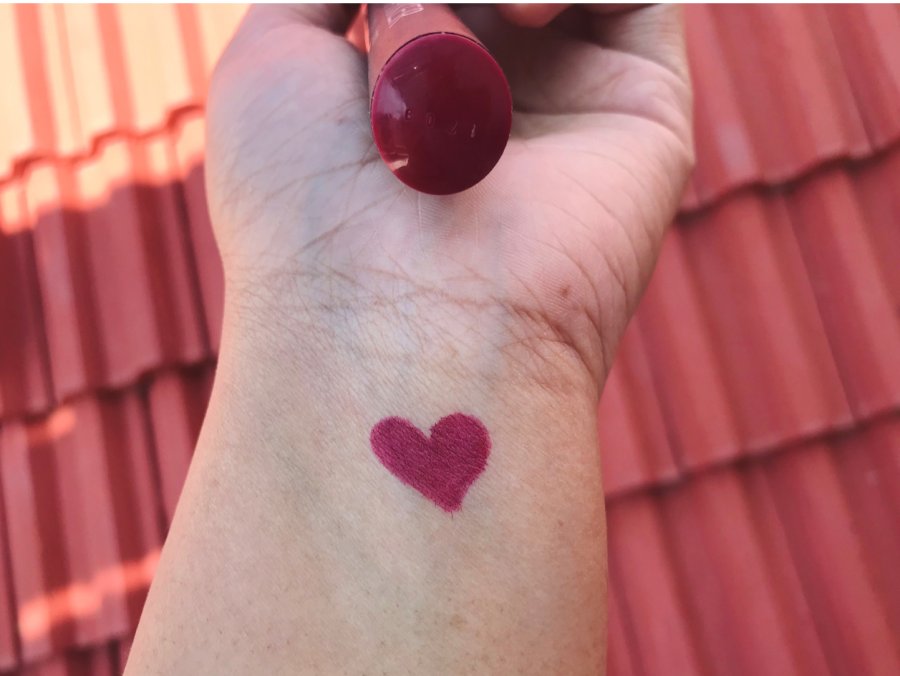 Application: 
The marker has a perfectly chiseled tip. This makes the application super precise. Lipsticks and lip crayons lose their tip shape after a while, and application becomes harder. It is what I always hate about these products. How am I supposed to get the curves right if it has a flat top? This marker makes sure that you get flawless shapes every time. You can have super defined cupid bow with this lip marker. 
I first line my lips and then fill it in. One swipe itself gives it a considerable amount of color. In case you want it to be darker, apply one more coat. Apply a lip balm or primer underneath to ensure a very smooth application, but it goes on easily, even without it. 
The color dries up in less than half a minute. Hence, if you mess it up, you are doomed. You will have to remove it with a make-up remover in case you make a change. So the quick-drying formula is both a pro and a con. 
Durability: 
The product claims that it stays for up to 12 hours, and I'm 100% sure that it keeps up with the claim. I have never had to wear them for that long. This is not something I wear daily, just when I go out. So I wear it for a maximum of 6-7 hours tops. I have had it stay perfectly well for that period. Even in case I have something to eat or drink, the color slightly fades. This just happens rarely. So it stays for as long as I want it, which I looooove! 
They claim that the product is smudge-proof and kiss-proof too. It is 100% smudge-proof since it has a semi-permanent finish. Or, as the brand says, a tattoo-like effect. So I'm guessing it's kiss-proof too. And it doesn't transfer to anything else. No more making fun of the lip marks on cups. Can you see how amazing this makes the product? I love it! 
Removal: 
You will need to use an oil-based remover or a solid one. And I think the reasons are quite obvious. The semi-permanent really holds on to your lips. I apply either oil or vaseline, leave it on a minute, and then use circular motions to loosen the product. After that, I wipe it off using a towel. But I will need to use a lot of scrubbing to get it off completely. I guess if you use a makeup remover, it will be easier to remove. If you apply additional layers, you will have to really work on it. 
Price: 
Golden Rose Lip Marker is sold on Amazon at $8.99 (Buy here). I bought the product from the Middle East, where it is cheaper. I think I bought it for around QR 25-30. So if you can have some get the product from there, it might be better. 
Pros: 
Lightweight and nonsticky formula

Benefits of aloe vera and vitamin E

Cruelty-free 

Smudge-proof and long-lasting

Precise and easy application 

No chemical smell

Quick-drying and transfer-resistant 
Cons: 
Difficult to remove

Not easily available
Golden Rose Lip Marker
Final Word
It is undoubtedly one of my favorite lip products due to how long it stays. But I only use it when I go out and do not want to touch up in between. The sharp tip ensures a precise application. The formula moisturizes the lips, but can still dry out dry lips (like mine). It has a lightweight and semi-permanent formula that holds on to your lips effortlessly, while the aloe vera and vitamin E nourishes the lips. It doesn't transfer at all and is completely smudge-proof. However, it is not yet widely marketed in the market and is slightly expensive. I highly recommend the product for anytime you go out and want picture-perfect lips.