I was primarily looking for something to replace my body lotion with. Lately, I went on an all-natural spree and wanted to replace all of my chemical products with natural ones.
I asked my mother and she told me that "Zaitun ka tel" (Olive Oil) is used for massaging newborn baby's soft skin, to keep it nourished and protected. So I thought what better than that and rushed to the store to get one.
There I found Figaro Olive Oil and for two years I've been using this holy grail. Read on to know in what all different ways I used this oil and how it turned out to be.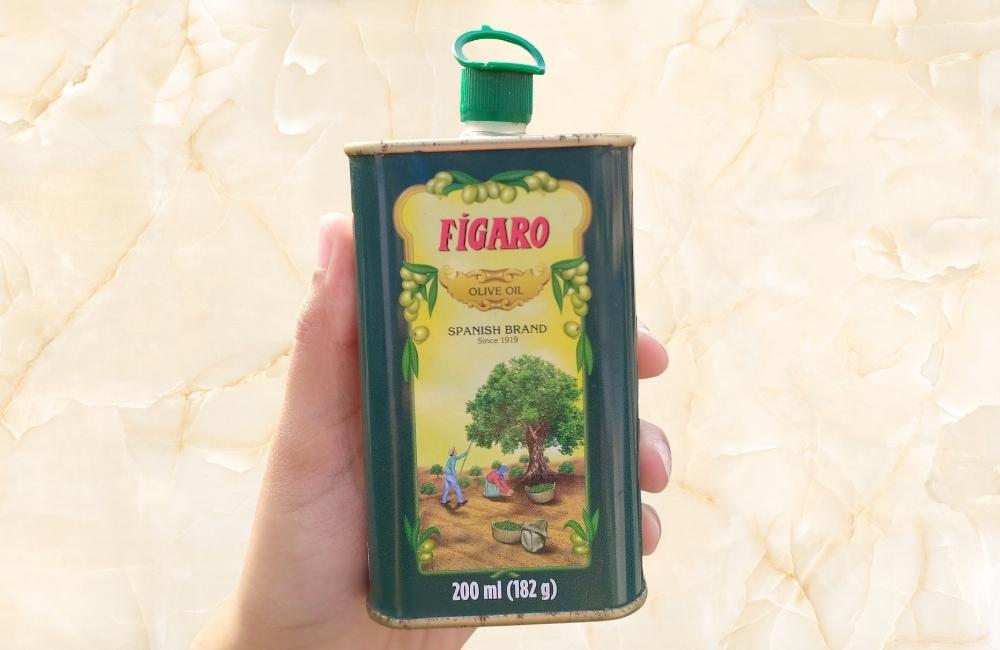 Readers like you help keep The Beautyholic running. When you buy through links on our blog, as an Amazon Associate, we earn from qualifying purchases at no extra cost to you.
Price: 200 ml of product retails for INR 225/-  Buy it here
Figaro Olive Oil Review
The product comes in a tin box which is green in color. And on the top of the tin box, there is a screw cap attached to a plastic surface.  The packaging is sturdy and travel-friendly.
There is no particular smell to the oil and once you apply it there will be no fragrance at all.
Now, there are multiple uses of this oil. How I use it is in winters after bathing is, right after getting out of the shower I apply a small amount of oil and massage it deeply into my skin.
I make sure to massage it properly because it is an oil after all. After that I let the oil soak in my body and don't go out immediately or else not only will I look shiny and a bit greasy but it'll accumulate dust and everything.
I wait for around 15-25 mins, and the result is just amazing. My skin feels so nourished and so soft and I just love to touch my soft, supple skin after applying this oil.
The nourishment and moisture easily last me the entire day, more than most of the chemical-laden body creams out there.
It's great for dry knees and elbows, to keep them from flaking out. And it also works magically for your feet.
I apply the oil on my heels at the same time when I apply it to my body. And trust me I use no other foot cream and my heels don't crack.
But only if you apply the oil religiously on your heels can you expect a similar result.
Next, I use the oil as a makeup remover. I don't do foundation so cannot say anything about that. I apply BB cream, eyeliner, a bit of blush, minimal eye shadow, lipstick and a compact, most of the time.
And to remove it all off. I take this Figaro Olive Oil on a handkerchief and wipe my face with it. Rubbing it around properly. Then I wash my face with a normal face wash and Voila! The makeup is all gone.
I personally love this oil as a makeup remover and do recommend it.
I don't use this oil on my hair. But, frankly who doesn't know the immense benefits that olive oil gives to your hair. Be it, the shine, smoothness, getting rid of dandruff, or just improving the overall quality of your hair.
I don't use it because I am set on my mustard oil and don't want to change it.
And I do have friends who use olive oil alone and with different oils and swear by it. So if you are looking for a new hair oil or deciding to switch your previous hair oil then go ahead without any second thoughts and buy this oil.
Next, of course, you can use this product on newborn babies, as massaging oil.
Next, Olive Oil also works great as a facial oil. It is said to nourish and moisturize dry skin, reduce dark circles, wrinkles and much more. Now, again I use almond oil personally and don't wish to change it, so I cannot confirm all of these things.
But, I can confirm the moisturizing and soothing out part for when I apply this oil on my face to remove my makeup and then wash it off with a face wash. My skin feels soothed out and nourished.
The oil has never irritated my facial or body skin, it has always provided positive results to me. But, everyone has a different type of skin so have a patch test and don't just go all over with it the first time.
See, if the oil suits your skin and particular needs. And this is true for every product, not just this oil. Though this olive oil by Figaro is just wonderful and I'm sure that you'll love it.
Pros
Affordable.
Easily-available.
Travel-friendly packaging.
It can be used in multiple ways.
Works amazing as a body oil and makeup remover.
The oil has no particular smell, so sensitive noses need not worry.
It gives long-lasting nourishment to the skin.
Cons
Though the packaging of the product is travel-friendly, the mouth of the tin box is such that it can spill oil like that. So be careful while using it.
Oily-skinned beauties should stay away from using this oil as a facial oil.
Figaro Olive Oil
Final Word
In a nutshell, the Figaro Olive Oil is a holy grail product that you can use in a plethora of ways according to your particular needs. This is a type of product that everyone needs on their shelf. For it'll come handy one or the other way. I myself make sure to keep, olive oil, almond oil, and mustard oil always in my essentials section. These oils are all in one product if you miss out on any skincare essential these oils will be there to help you out in most of the situations. So, I highly recommend getting this Figaro Olive Oil, trust me you will love it.
Have you tried the Figaro Olive Oil? Let me know in the comments below!