As we strive to have absolute confidence in ourselves, facial plastic surgery shows up as a lifesaver.
Most people widely undergo rhinoplasty, eyelid surgery, and a "facelift", according to statistics. They also undergo lip and neck surgery, such as "necklifts", among others.
In the United States alone, approximately 15.6 million cosmetic procedures were performed, with $16.7 billion spent on them, according to the 2020 Plastic Surgery Statistics Report.
Growing in popularity, @FacialPlasticsPhotos, an Instagram page, brings together facial plastic surgery expert advice for those seeking it. Here, I'll tell you what they are all about, and what makes them special.
Who runs @FacialPlasticsPhotos?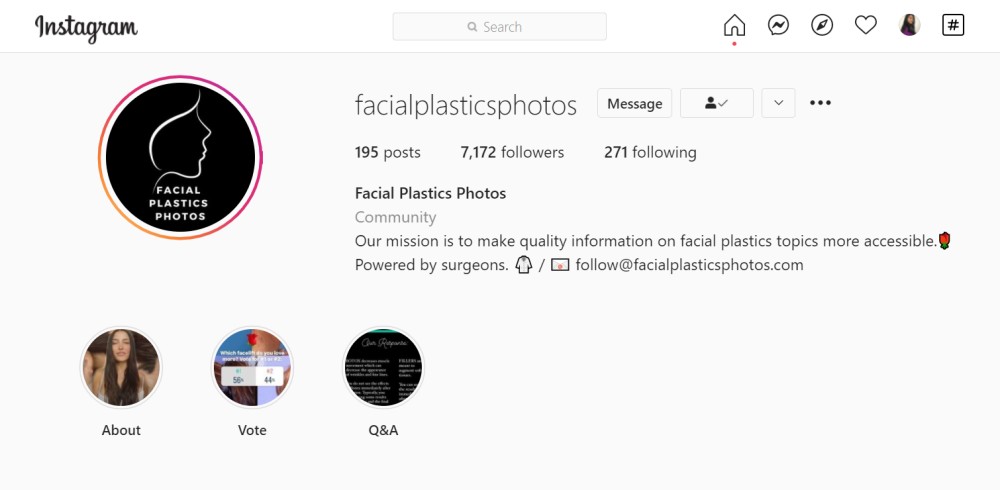 With surgeons at its core, @FacialPlasticsPhotos or FPP is a devoted Instagram community dedicated to helping people find their best look. Their mission is to provide you with free information on facial plastic surgery topics that's quality and on point!
Typically, facial plastic surgery information comes from closely following surgeons on social media, by reading random articles on the internet, through word of mouth, or by referrals from "beauty brokers" (those who receive commissions for referring prospective patients to information about potential procedures and surgeons).
@FacialPlasticsPhotos typically showcase work from double-board certified facial plastics specialists (usually ENTs) with years of experience and specialized training in facial plastic surgery. These are the top facial plastic surgeons among the multitudes of others who do not possess the level of expertise that FPP's highlighted surgeons have but attempt to perform it on patients.
Usually, plastic surgeons specializing in general surgery can operate on all parts of the body and face, but their knowledge and skills are not as advanced as that of ENT facial plastic surgeons involved exclusively in the neck and up.
The main highlights of this page are the facial plastic surgeons and their surgical achievements. Followers of @FacialPlasticsPhotos can vote on the surgical results they love the most, explore educational content from the leading facial plastic surgeons, engage in discussions, and take part in Q&As on the latest facial plastic surgery news.
Here's what I love about this page
I'll now get to my favorite part.
With followers voting on their favorite surgical outcomes, Facial Plastics Photos has come up with #plastycup, a contest where they compare the surgical outcomes of two of the best surgeons and let their followers decide the winner.
Here's a little sneak peek: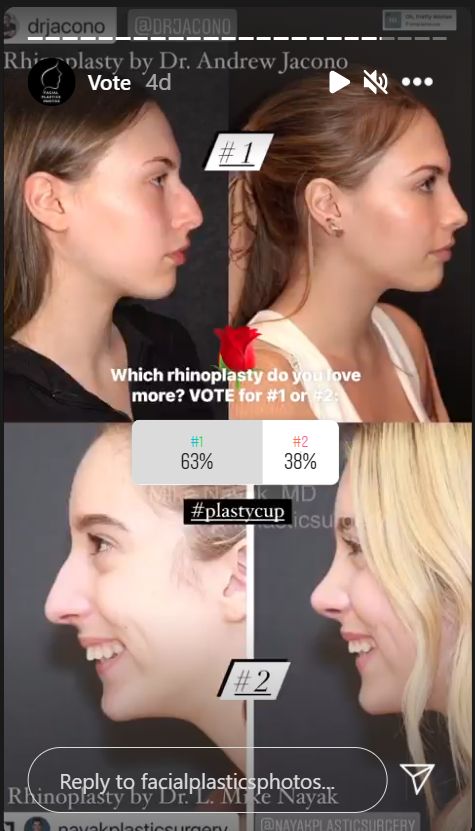 FPP posts engaging social media stories and have wonderful music in their IG stories, which in my opinion, are highly interactive. There are times when you can vote on a particular outcome by sliding the bar on the story. Another way they do it is by illustrating the types of outcomes that are possible. What a blast, isn't it?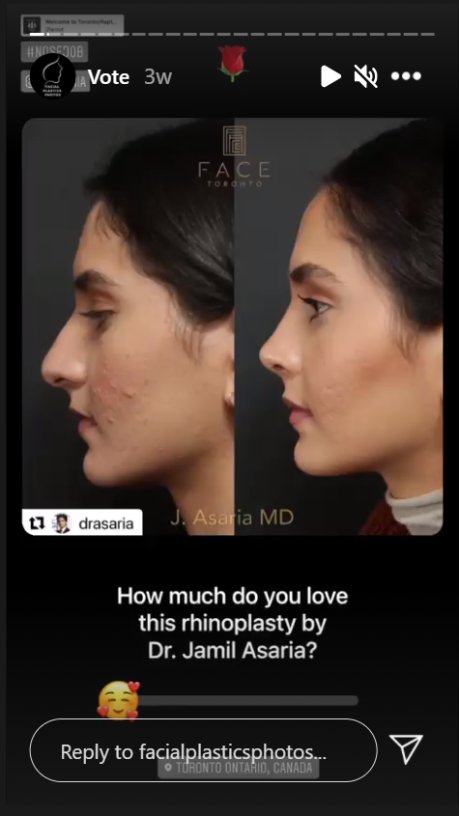 Their posts do not promote any particular surgeon, and they feature the surgical results of all experts unbiased. In this way, you will have the opportunity to review, compare, and learn about the different surgeons out there.
Clearly, this page provides top-of-the-line educational content. Their questions include, "What is a common question you get from prospective patients or patients?" and the surgeons respond. All of the surgeons answer the questions, so we get to see a variety of unfiltered viewpoints from all over the world.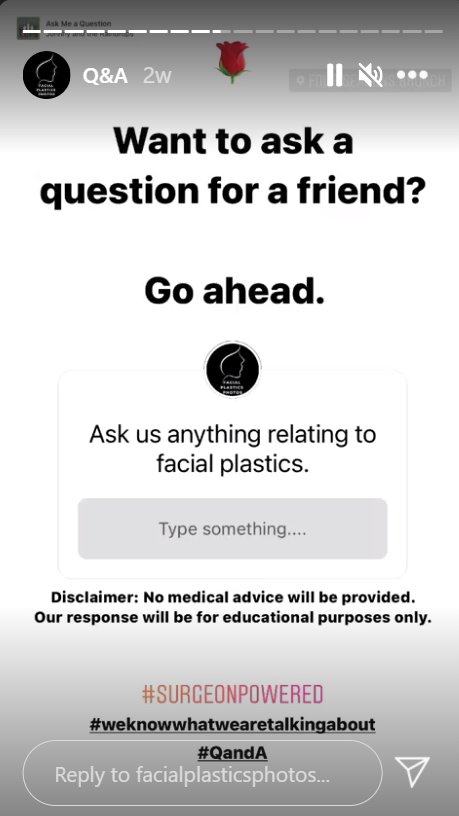 FPP is so intriguing because it allows followers to submit their own questions, and experts formulate answers internally. Rather than giving medical advice, their answers are intended to educate.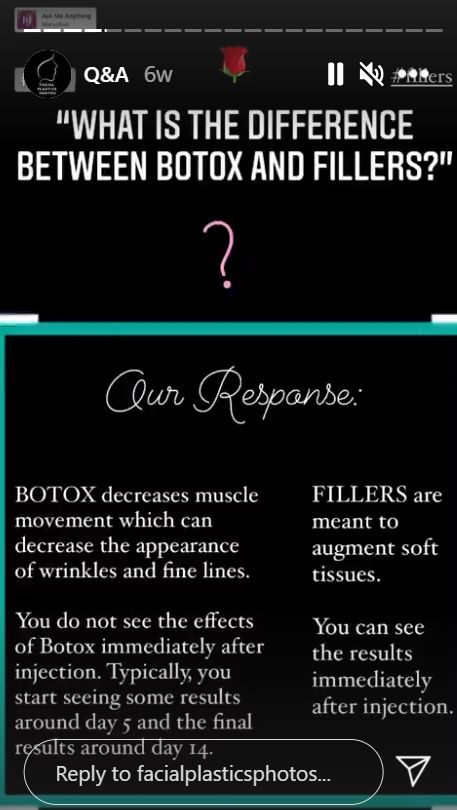 Who wouldn't want to join an Instagram community that actually listens to its followers? You get a chance to exchange ideas. Every now and then, they will pop a question to their followers and post their responses. You can see them in Facial Plastics Photos' Q&A highlights.
Why should you follow @FacialPlasticsPhotos?
I've outlined some reasons to keep an eye on the interactive and educational Instagram feed of this account:
Only features highly qualified and experienced surgeons who have a strong track record of achieving excellent results.
Deliver educational content of the highest quality.
Encourage their followers to submit their own questions.
They do not make any specific recommendations.
A prospective patient or surgeon does not have to pay.
Paid advertising is not their style.
Their feed generally looks like this: two posts on the left are the surgery results, and the one on the right is the surgeon who performed them.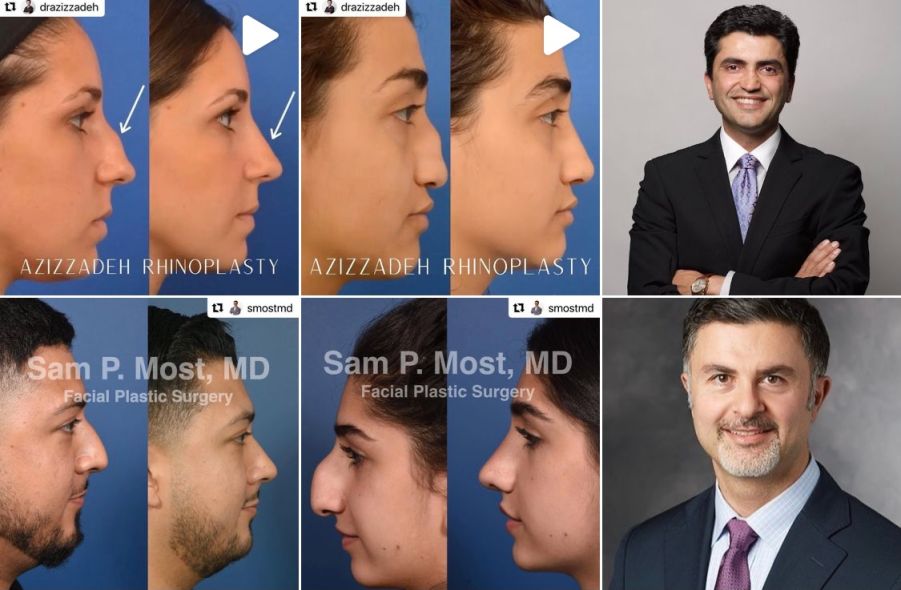 Follow @facialplasticsphotos if you'd like to be a part of this awesome community.
What I think they can do better
@FacialPlasticsPhotos is doing almost everything right with their content — helpful, educational, and interactive. However, it would be nice to see them step up their graphics.
In my opinion, they could spice up their educational posts by adding graphic elements and cool fonts. Despite that, they are doing a terrific job.
The takeaway
There's nothing more satisfying to me than seeing a page committed to making high-quality information on facial plastics available to everyone for free.
Go check out @FacialPlasticsPhotos if you're thinking about having plastic surgery, are trying to find out more about it, or simply have questions to ask for yourself or a friend — they'll be happy to answer.
By working with double-board certified facial plastic surgeons, @FacialPlasticsPhotos is organically creating a genuine community that cares about making people feel and look their best!