Hello, sweet tarts! 🙂 I'm very particular about face washes and when I choose one I make sure it' caters to my skin concerns. When I read good reviews about Ethiglo Skin Whitening Deep Cleansing Facial Foam, I couldn't stop myself from getting it.
It is a brightening and deep cleansing face wash which claims to whiten skin. (Disclaimer: I don't promote fairness or anything similar and use products which brighten my skin for a while).
Now it's been a few months since I'm using it and little product is still left, and I'm ready to share my experience!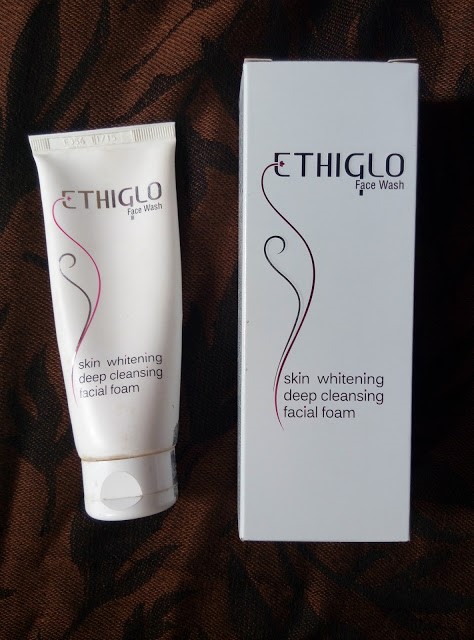 What does it claim?
Ethiglo skin whitening face wash, with its deep cleansing and unique actives, helps to reduce blemishes and lightens the skin tone. You will love to indulge yourself in a creamy feel and foam of Ethiglo while its special formula with mili globules cleanses and works on improving your complexion and skin tone.
What ingredients does this face wash contain?

Where to buy Ethiglo Face Wash?
Readers like you help keep The Beautyholic running. When you buy through links on our blog, as an Amazon Associate, we earn from qualifying purchases at no extra cost to you.
Its current price is Rs. 250/- for 70 g | You can buy it on discount from Amazon.
My Experience with Ethiglo Face Wash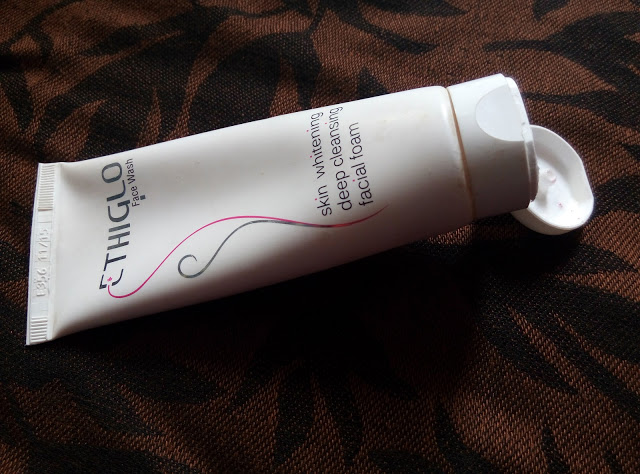 This face wash comes in a white plastic tube which has a sturdy cap. The packaging, overall, is neat yet simple.
I got tempted by this face wash as it contains Kojic acid and Liquorice which are skin brightening agents. I occasionally have acne and bought it for my acne scars which are on my cheeks.
This face wash is pearly white and has brown mini granules for exfoliation but lesser in quantity. They are not abrasive and gives me quick exfoliation. Upon cleansing, it produces a rich creamy foam which gives the satisfaction of cleansed skin.
It has got a perfume kind of smell which is a bit strong for sensitive noses. Ethiglo face wash gets rinsed off easily without leaving any residue. It leaves face dry post wash though.
I notice my skin looking 2-3 shades fairer but temporarily. Even after using for 2 months I didn't witness any permanent brightening effect. Don't buy this face wash in hopes of getting a few shades of lighter skin. You always should embrace your natural skin color.
It's a good face wash for oily skin since it cleanses deeply and doesn't leave skin oily. It keeps the skin oil-free for a long period.
Though it is good for oily and acne-prone skin, dry skinned beauties may find it drying. Its strong fragrance sometimes irritates my skin but it still cleanses up my pores.
Pros:
Cleanses pores and dirt deeply
The face appears 2-3 shades lighter temporarily after using this face wash.
Good for oily skin.
Cons:
Fairness effect it gives is temporary.
It's drying for dry skinned beauties.
Contains SLS and preservatives
Ethiglo Skin Whitening Deep Cleansing Face Wash
Final Word
Putting the skin whitening claim aside, because it's unpractical, tEthiglo face wash worked well on my oily skin. In summers, where my face gets oily frequently, it comes handy. It cleanses the skin deeply, exfoliates it, and leaves it with a glow that lasts a few hours. All in all, great for oily and acne-prone skin. Dry skin girls, stay away from it!
So, this face wash fared well enough for my oily skin but didn't stand true to its claims of skin whitening. After all, why would it? God has made each one of us beautiful in our own way. So why bother changing something unique, like our skin color? Embrace your skin and its color! Have you used Ethiglo Skin Whitening Deep Cleansing Face Wash yet? Let me know your thoughts in the comments section!