I absolutely love microcurrent face lifting devices. I have been using them for a long time and I have just discovered one that is actually affordable for anyone. It's called EMS Microcurrent face massager.
It's everything I ever wanted from a microcurrent beauty device. Not only is it portable, compact and easy to use, but also it's really affordable. If you want to know more about it, keep reading this article.
What is EMS Microcurrent?
EMS stands for "electrical muscle stimulation", which is basically short bursts of electrical impulses directed specifically to the facial area that help stimulate blood circulation and promote new cell growth.
How does it work?
EMS is a simple and safe way of improving the appearance of the skin and muscles, targeting volume loss and facial contours, as well as reducing fine lines, wrinkles, pore size, scar tissue build-up, pigmentation reduction, and much more.
The microcurrents are transmitted through the skin like a mild electric current, contracting muscles in the facial area. This has the effect of toning and firming the skin, helping to rebuild collagen (the protein that plumps up our face) and elastin (the protein that makes our skin firm).
EMS Microcurrent works by sending low-level electrical currents through the skin to stimulate and strengthen muscles. It's like giving your face a workout.
Let's start with the composition of human muscles. The two most important subtypes of human muscles are called fast muscles and slow muscles. The two types of muscle fibers differ in many ways, including muscle contraction speed, contraction strength, and endurance level.
Fast muscles have fast contraction speed, high strength, which is easy to fatigue, suitable for anaerobic exercise; slow muscles have slow contraction speed, low strength, which is not easy to fatigue, suitable for aerobic exercise. While all muscle fibers can enlarge, the degree varies. The bulk of the muscles developed is mainly due to the growth of fast-twitch fibers. To strengthen fast muscles, however, you need high-intensity training, long-term persistence, and lots of protein supplements.
What does the EMS microcurrent beauty tool do to your skin?
Microcurrent can help your skin regenerate collagen and elastin, so you can get rid of wrinkles and fine lines.
You probably have heard that collagen is one of the main factors in your skin elasticity, while elastin makes sure that your facial expressions are working. When these two decrease or fail to work correctly, then your skin will start sagging and look wrinkly – as a result, you might start looking older.
Microcurrent can help with facial sagging as it stimulates your skin to produce more collagen and elastin, thus the skin will be able to keep its shape better and look younger.
By using a low-power radio frequency, the EMS beauty device penetrates deeply into the skin's surface and stimulates skin activity while increasing and accelerating the production of collagen, a protein that keeps the skin supple and young.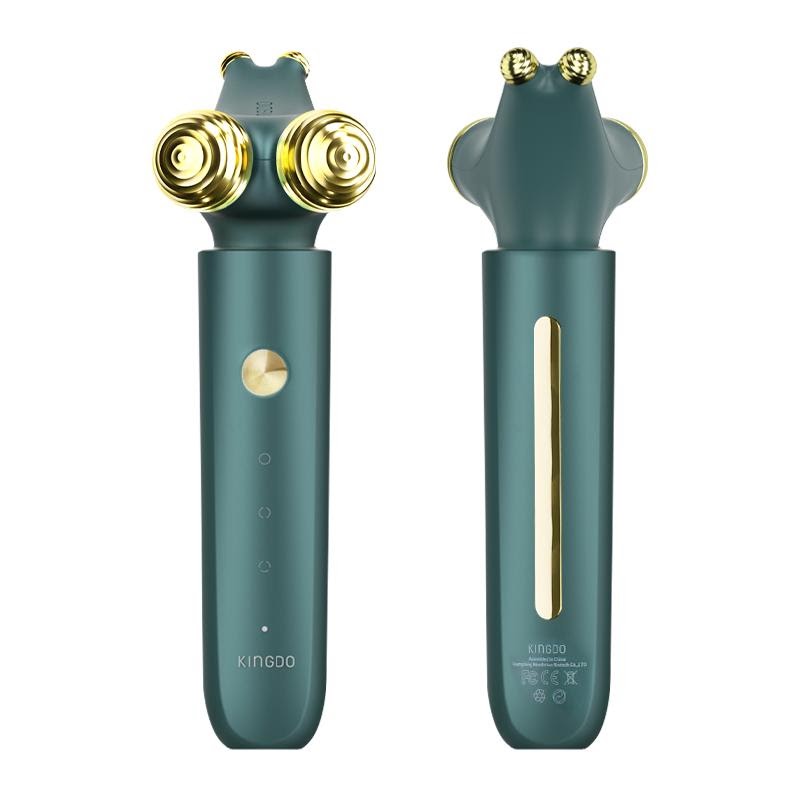 When it comes to a beauty tool, you can't get more high-tech than a microcurrent face lifting device. These devices help tighten and tone your skin, while also speeding up cellular regeneration. You just have to see how it works! The EMS microcurrent beauty instrument offered by Kingdo works by using microcurrent.
The EMS microcurrent beauty tool is a dynamic system of both physical and electrical energy working together to promote skin and muscle tightening. The device uses a tiny electric current that stimulates the muscles to contract, which helps tone and tighten your skin as well as reduce sagging. It also works by directing microcurrents into facial muscles that support the underlying structure of the face. This allows for lifting and an overall change in complexion.
The microcurrent beauty tool stimulates your body to produce collagen on its own, a protein that will naturally help to reduce wrinkles and tighten the skin. It also helps to increase blood circulation, which means a more glowing complexion all around!
The beauty of these tools is that they are so versatile. No matter your age or current state of health, you can get almost immediate positive results from one of these devices. In fact, the younger you are, the better these devices are able to work!
When using one of these tools, it is important to know that different skin types respond differently. For instance, if your skin type is dry or sensitive, it may take longer for collagen production to take place after using the device. It is also important not to overuse the device because this could cause negative results.
The whole idea behind these devices is to imitate the functions of spa treatments that would cost thousands of dollars for just one day of use. These microcurrent face lifting devices can provide countless treatments for a fraction of the price, making them an invaluable piece in any beauty arsenal!
The average person should use these microcurrent beauty tools twice per week for optimal results. For best use, it is recommended that you follow up any treatments with moisturizing creams to further promote collagen production and healthy skin growth!
What is the purpose of a microcurrent beauty tool?
1. Boost cell activity, promote muscle movement, and restore skin elasticity;
2. Increase blood circulation in tiny blood vessels, enhance cell permeability, and deliver nutrients efficiently to muscles and skin;
3. The electric ions generated by the microcurrent can penetrate the skin deeply, replenish the skin's moisture and make it moisturized, smooth and tender;
4. The microwave current makes the electric stimulation penetrate deep into the subcutaneous tissue to the muscles, which helps to repair the skin elastic fibers and the glial layer tissue, thereby stretching and diminishing wrinkles.
5. You can give it to family and friends as a Christmas present.
FAQs on buying an EMS Microcurrent Beauty Tool
Does it hurt?
No, the microcurrent impulses are very mild and produce a pleasant tingling sensation on your face. This is perfectly normal and shouldn't last any longer than a few minutes.
Is it dangerous?
It's completely safe to use. The microcurrent is very mild and you won't feel anything other than a slight tingling sensation on your face, which is perfectly normal.
Is it safe to use during pregnancy?
Most experts agree that the EMS beauty tool can be safely used by pregnant women if their doctor advises them to do so. It's only an electrical impulse that mimics muscle contractions in the body to help tone, tighten and lift the skin (not different from the feeling you get after a good workout at the gym).
How long does it take to see results?
Results vary per person. Most women will begin to see results in about two weeks. Some people may experience a mild tingling or prickly sensation during contact with electrodes. But this is completely normal and shouldn't last more than a few minutes.
How long should I use it?
It works like exercising your face (which takes around 30 minutes per week) and requires daily home therapy for best results. Regular sessions will result in increased collagen production which makes the skin look firmer and healthier.
Is it expensive?
EMS beauty tool is very affordable, considering the effects it has on the skin. It's perfect for both men and women of all ages. You can do treatments at home or attend professional sessions with a dermatologist to get even better results.
Who can use it?
It's perfect for both men and women of all ages. It helps to reverse the aging process and improve collagen production naturally, as well as diminish fine lines and wrinkles.
Are there any side effects?
There are no known side effects of using EMS on the face as long as it's applied correctly. However, some people may experience a mild tingling or prickly sensation during contact with electrodes. This is completely normal and shouldn't last more than a few minutes.
The takeaway
If you're in search of a safe and efficient product to help you get rid of wrinkles and have an overall slimming effect on your face, then this is the tool for you! EMS Microcurrent facial massager is a device that stimulates muscles to contract and relax, giving your skin a more youthful look.