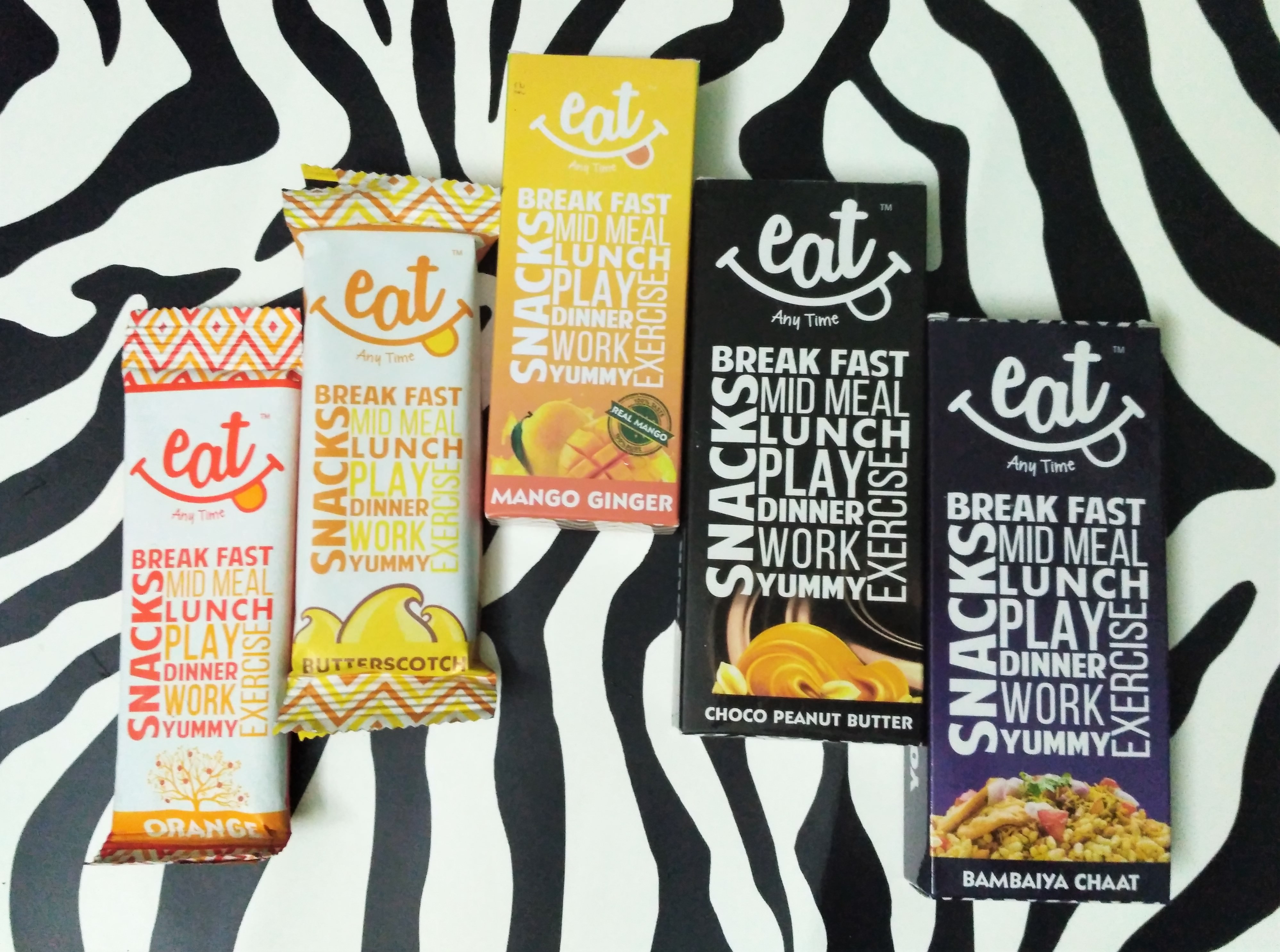 Hey to all foodaholics! ????
Doesn't it happen so many times when we feel hungry but we can't find something relishing and healthy, both at once? It happens to me a lot. Whether I'm at the college, or I'm out and about, or at home and my stomach starts growling for something sweet or maybe spicy. If we look, there are a variety of options out there which is obviously unhealthy, like street foods. While I'm tired of eating unhealthy, junk food that's so easily available and at the same time, I can't eat tasteless but healthy food.
I either gorge on junk food or just don't eat at all due to a hectic schedule. Because my college starts way early, I don't even get time to pack a healthy lunch so I have no choice but to eat at canteen or outside which makes me vulnerable to contaminated food. As a result, this unwholesome habit took a toll on my health several times. A few days ago, I came across EAT Anytime snack bars which promise to deliver deliciousness with a dose of energy. Let's move on to my experience now!
About the brand: EAT Anytime Nutrition Bars are Healthy Energy bars which are wholesome and healthy snacks made of 100% natural ingredients such as Dates, Nuts, Oats, Seeds, etc. Each product is carefully blended under the supervision of a Nutritionist to provide you a perfect Balanced Meal packed in the pocket-sized healthy energy bars. It is available in 6 delectable flavors. Try out all our exotic flavors and make snack times, fun times with EAT Anytime Nutrition Bars. 
Price: Each 38 g bar costs Rs. 50/- | Buy it here
What makes Eat Anytime special?
 Suitable for kids and vegans

 Provides instant energy

 Powerful seeds that contain antioxidants

 High in Fibre

 High in Protein

 Made of 100% Natural Ingredients

 Perfect & Healthy Snacking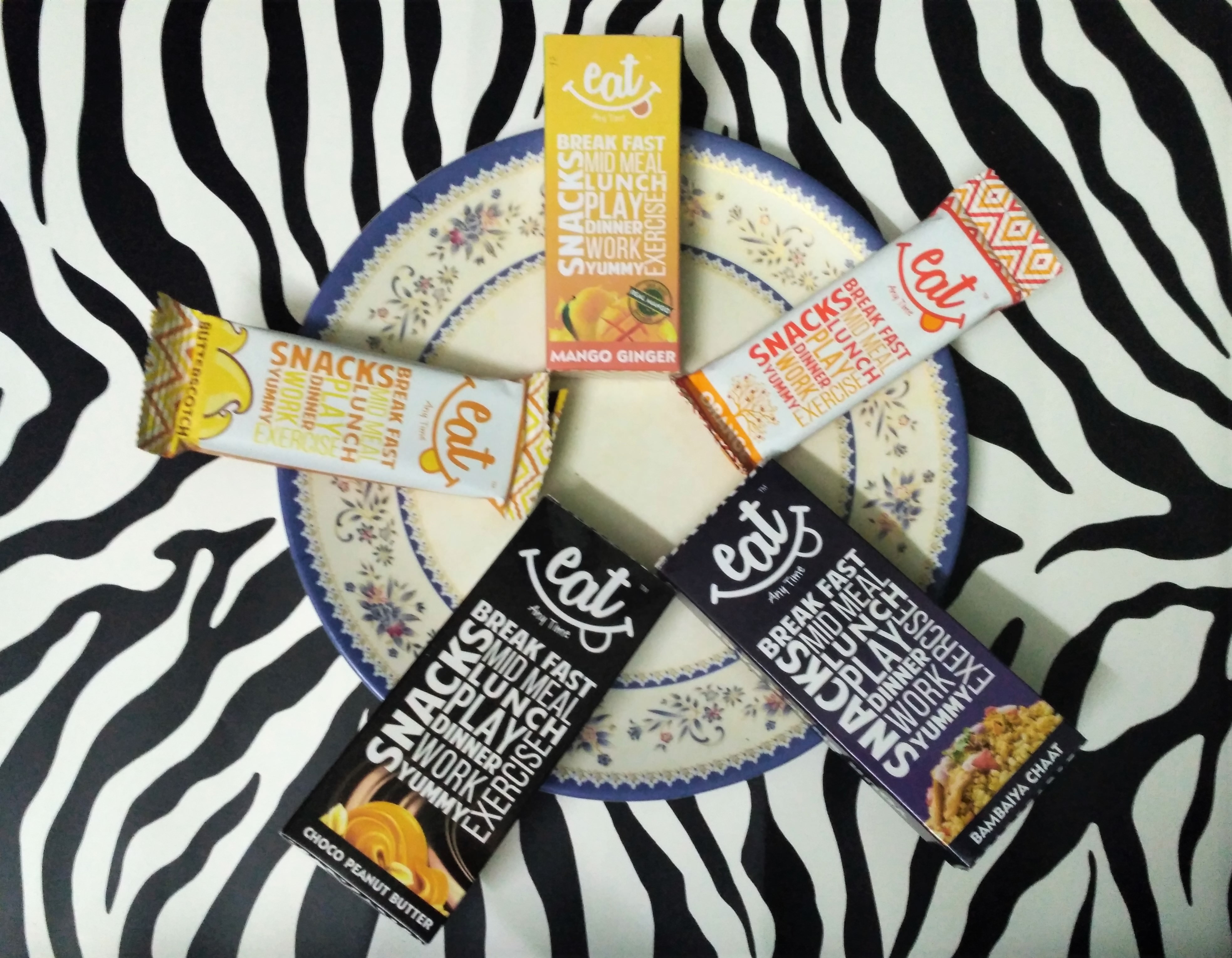 EAT Anytime Energy Bars Review
These snack bars are available in 6 varieties of gourmet flavors – Mango Ginger, Butterscotch, Orange, Bambaiya Chaat, Cool Mint & Choco Peanut Butter and I got to try 5 of these! ???? Each bar comes filled with almonds, black dates, sunflower seeds, pumpkin seeds, flax seed, and oats. They contain 0 added sugar, 0 cholesterol, 0 gluten and loads of MUFA, PUFA and protein. Here are my views on these scrumptious flavors!
Mango Ginger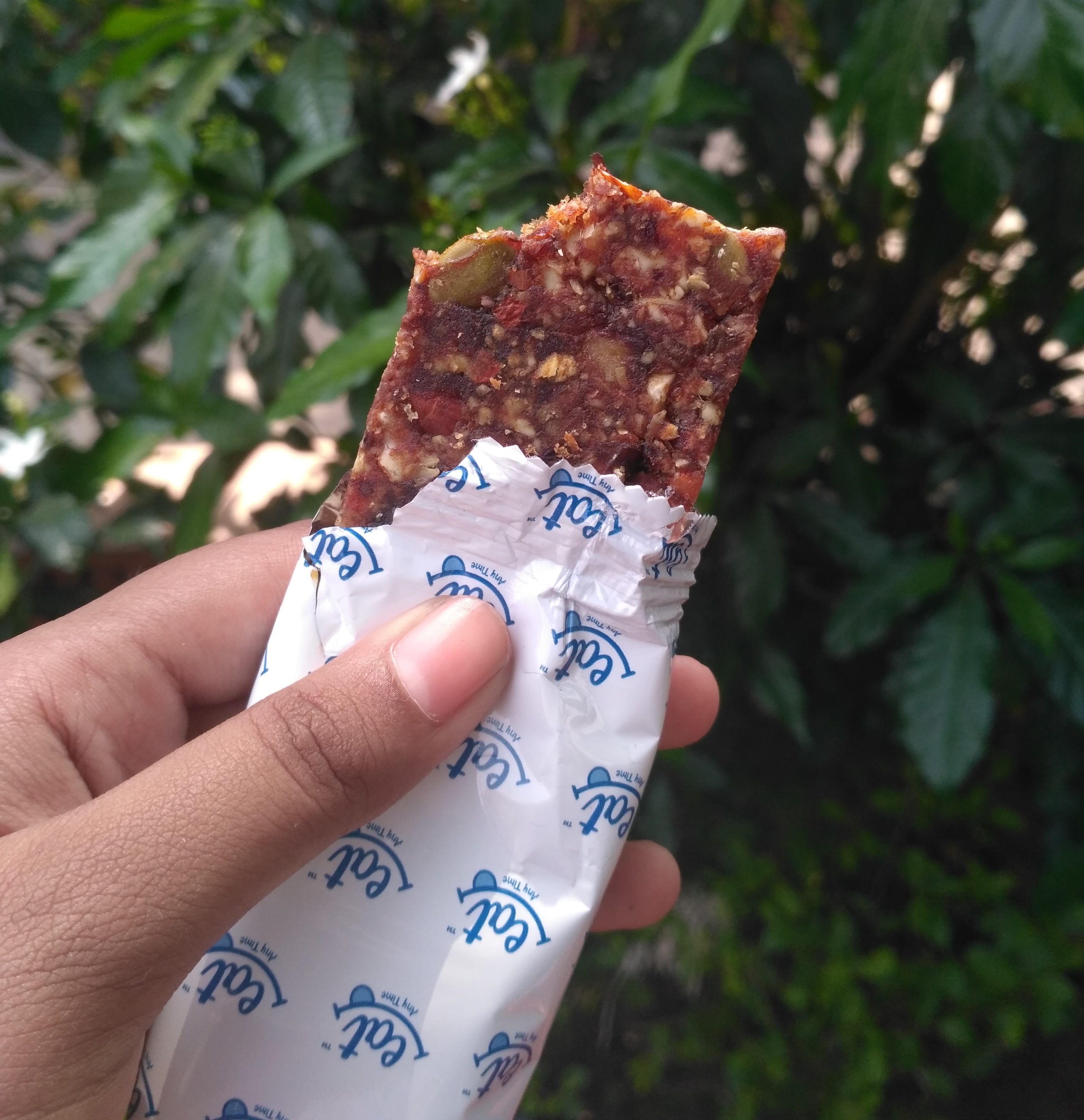 I'm excited to try this flavor first. It has a mixed taste of mango with the hint of ginger and tastes like aam papad to me but still a distinct flavor! ????
Butterscotch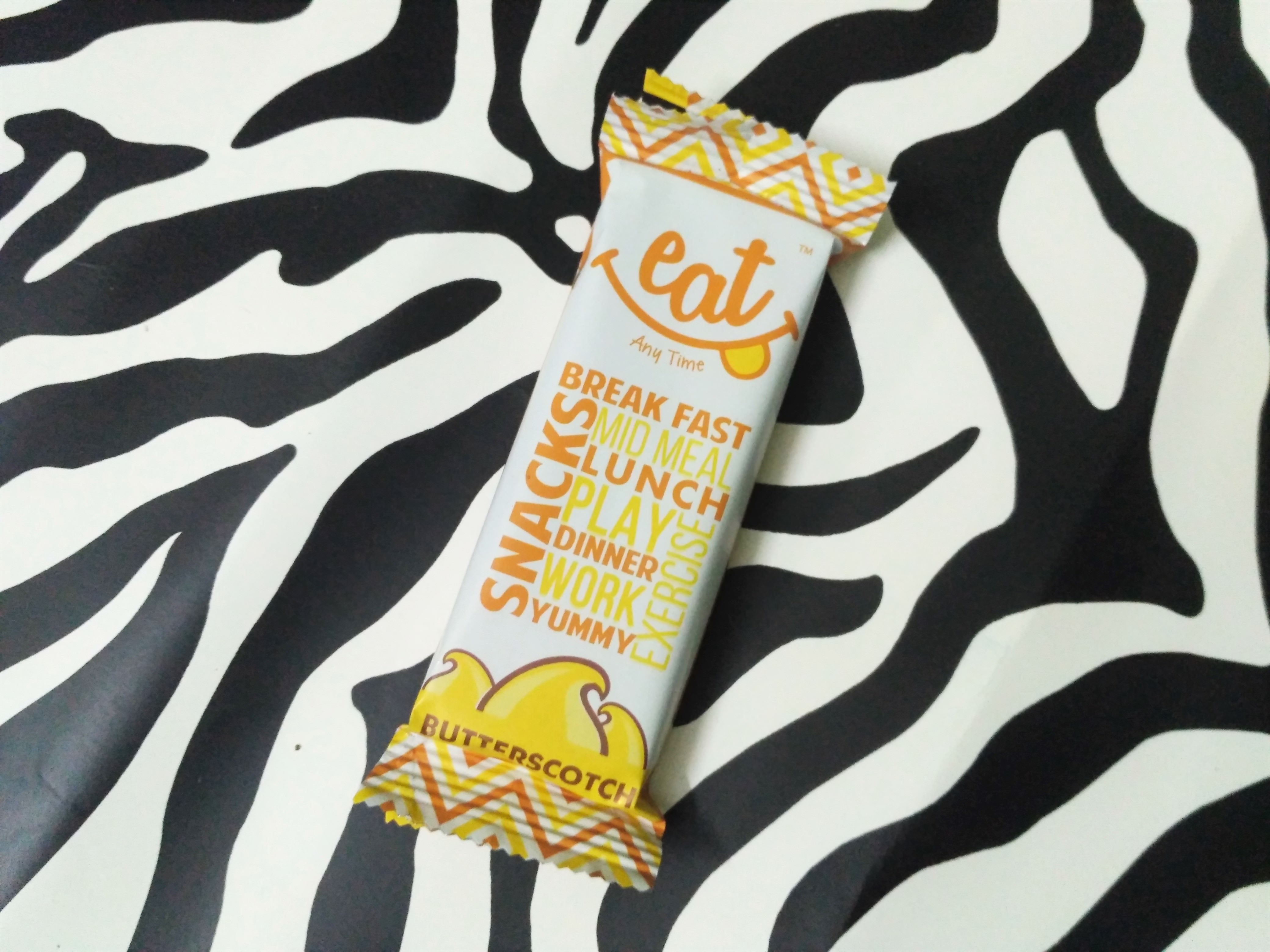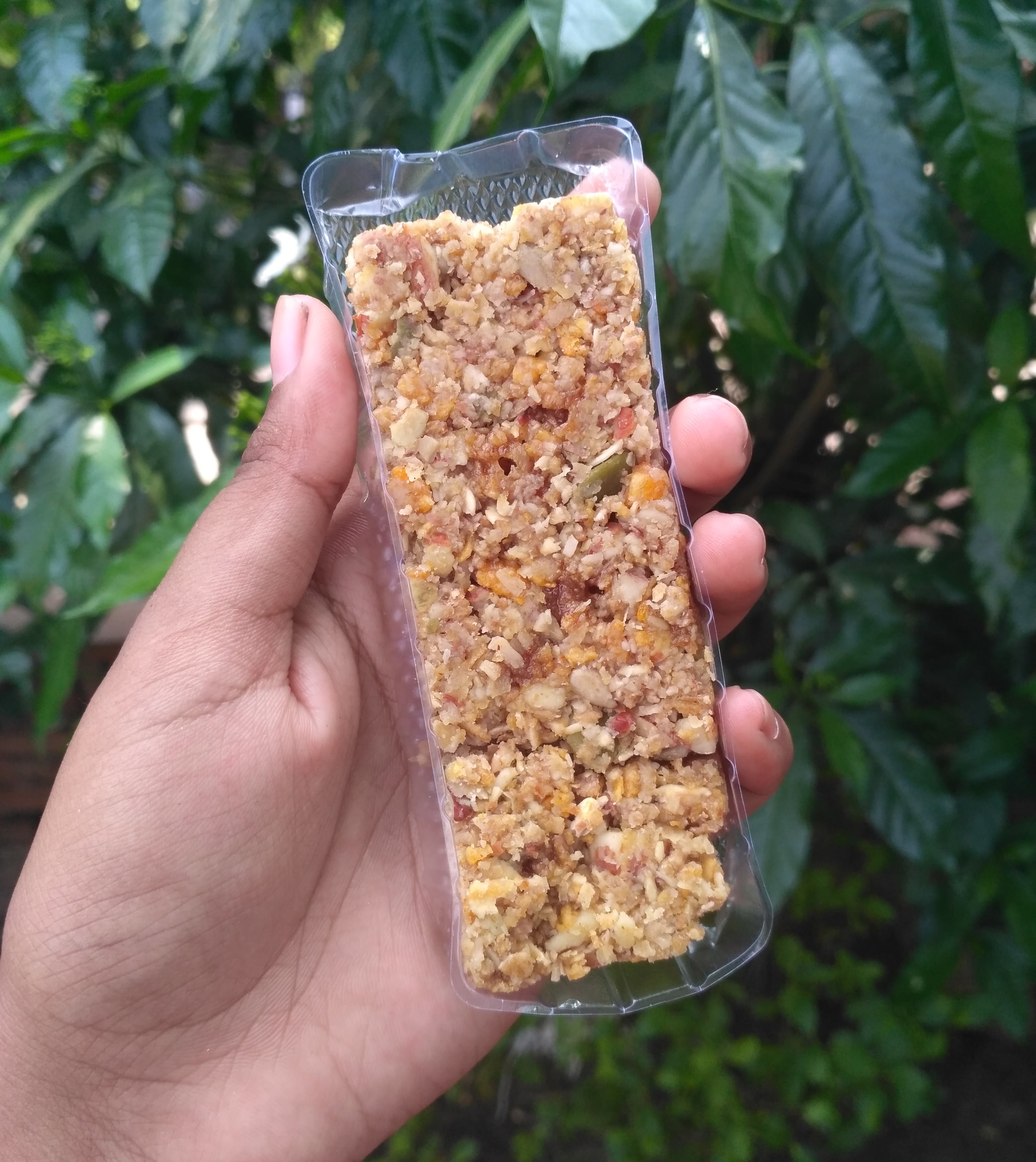 My second favorite is this butterscotch variant which tastes sweet and creamy. It contains 2.5g of dietary fiber, 5g MUFA & 4g of Protein.
Orange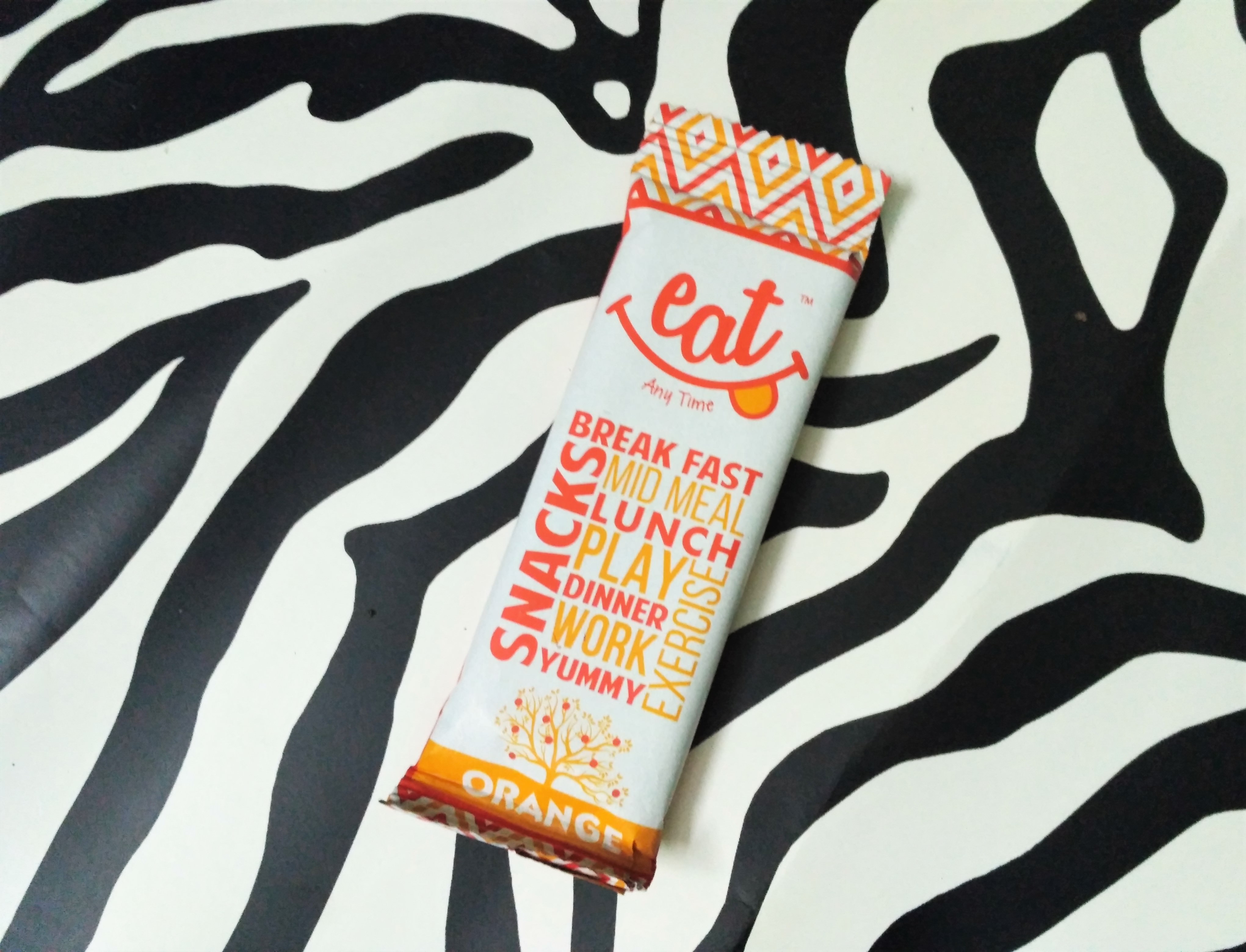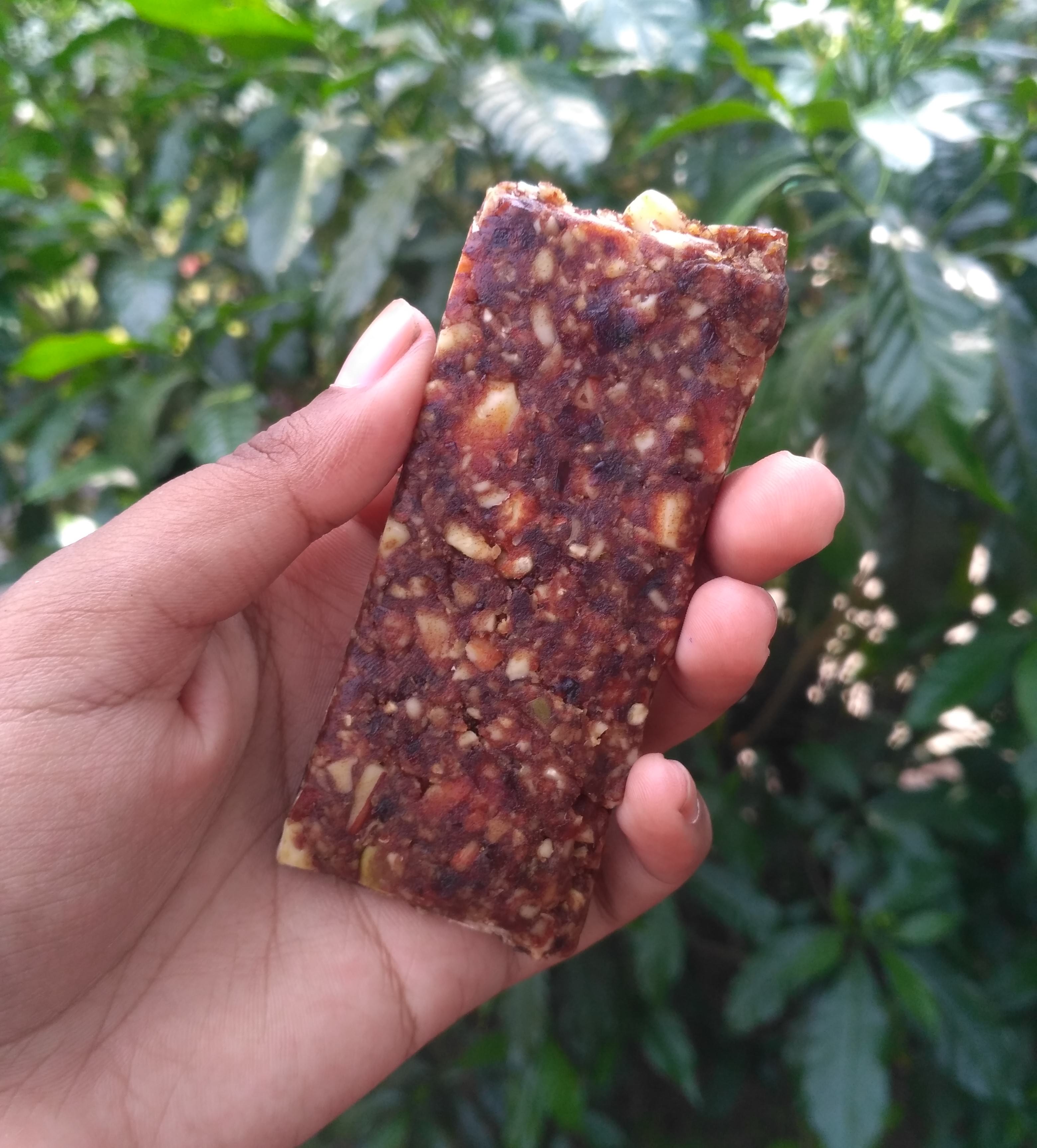 This variant tastes like orange marmalade. It is free from added sugar, cholesterol and gluten and has 3g MUFA & 4g protein.
Bambaiya Chaat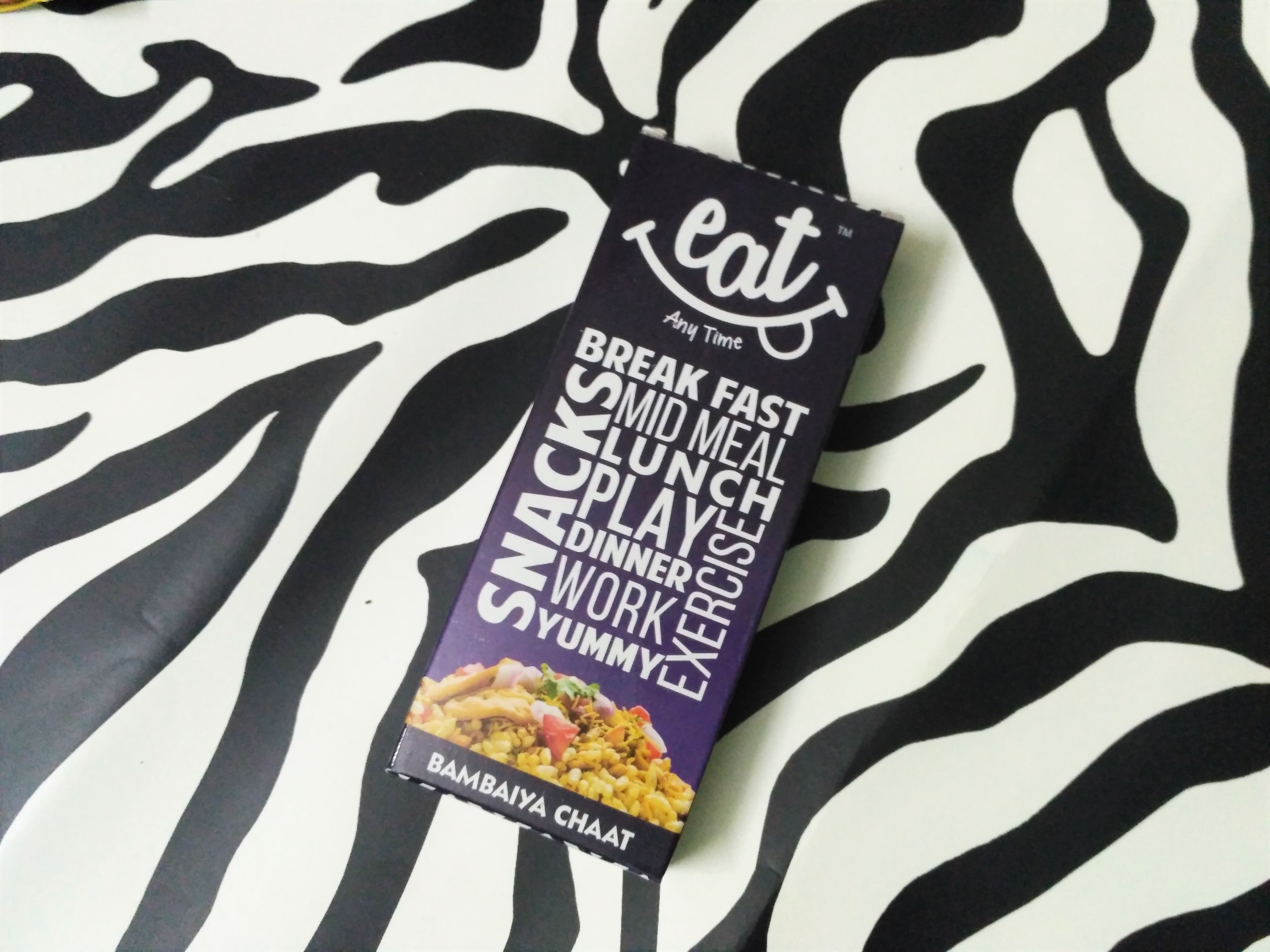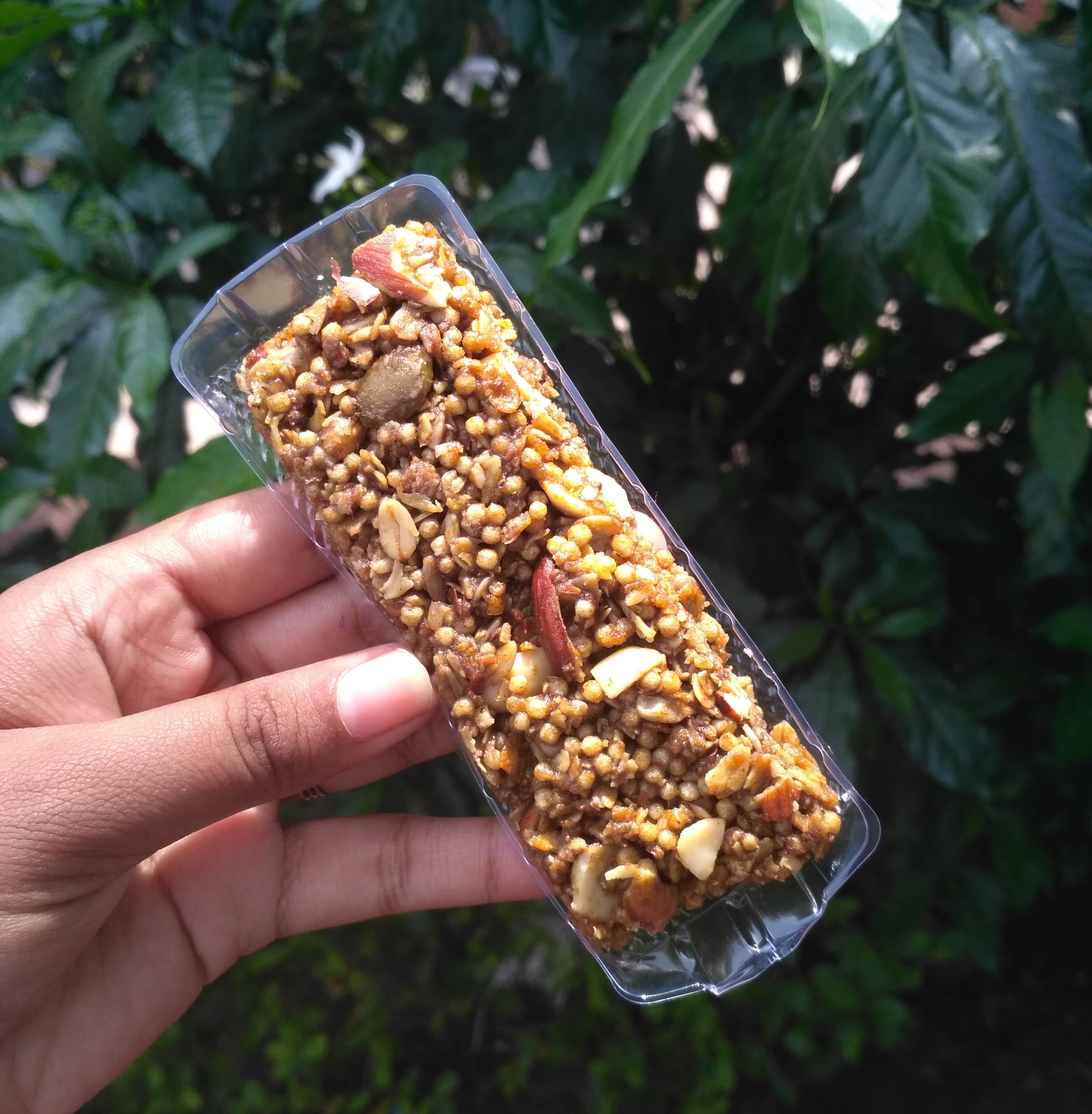 Who doesn't love chaat? When I prefer things spicy, this variant probably matches up to my mood. It has a sweet-tangy-spicy taste of chaat in a snack bar and contains 5g dietary fiber, 5.3g protein, and around 2g of MUFA & PUFA.
Choco Peanut Butter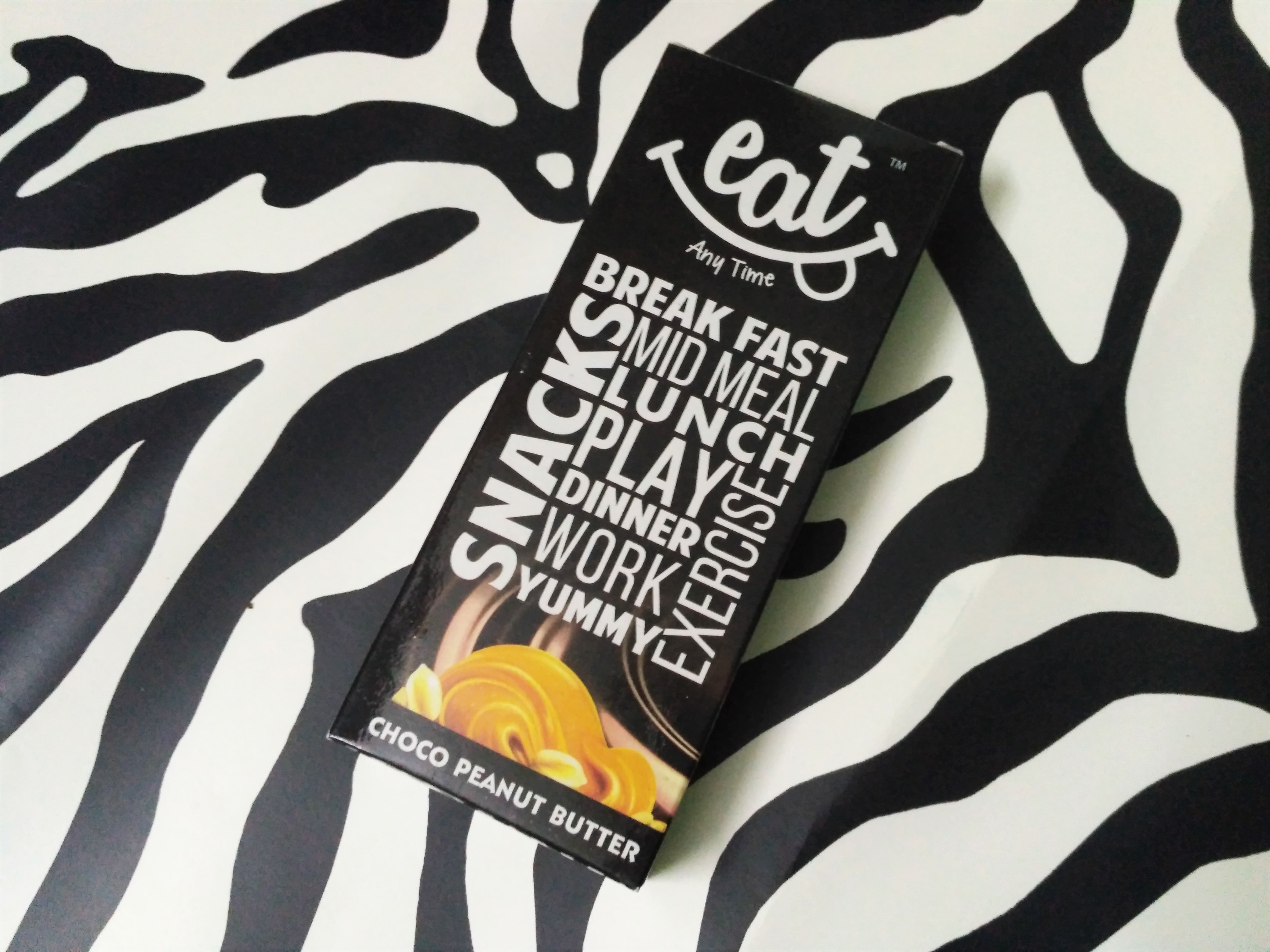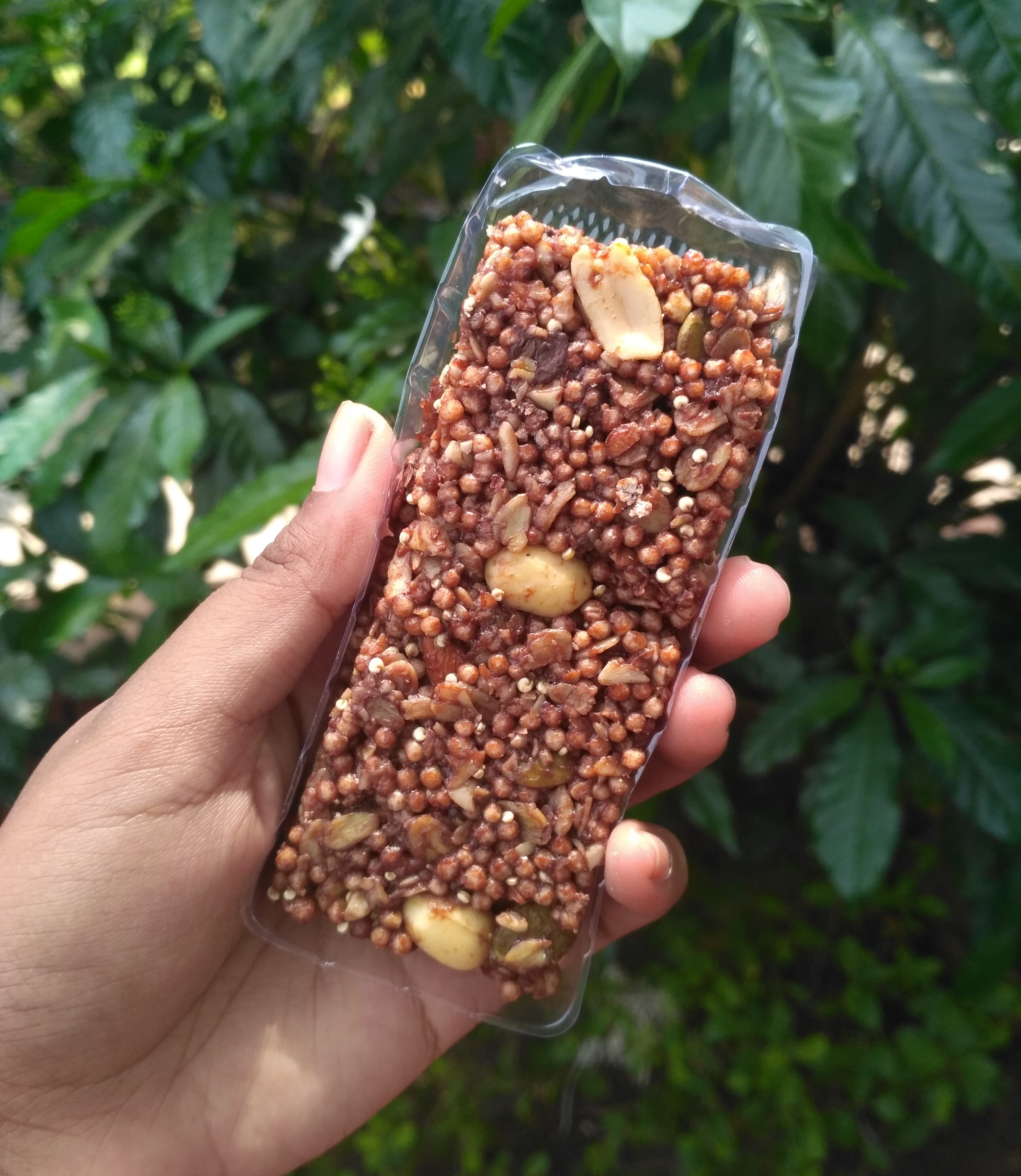 The best things are always kept for last so therefore, this is my most favorite variant out of these. Being a sucker for chocolate and peanut butter, this seems like a customized bar for me. It has 4g of dietary fiber and 4.8g of protein.
Final Word: I love having these bars for lunch and breakfast. Since they're packed with protein, dietary fibers, MUFA & PUFA, they give instant energy and gives the nutrition of a single meal. Most of all, they are devoid of cholesterol, added sugar and gluten which makes it a healthy choice for kids and vegans. They are better alternatives for chocolates, chaats, etc and provide healthiness. I keep them with me for college or work, or while traveling.  
Rating: ⭐⭐⭐⭐
So, have you tried EAT Anytime energy bars? What food gives you instant energy?
*PR Sample