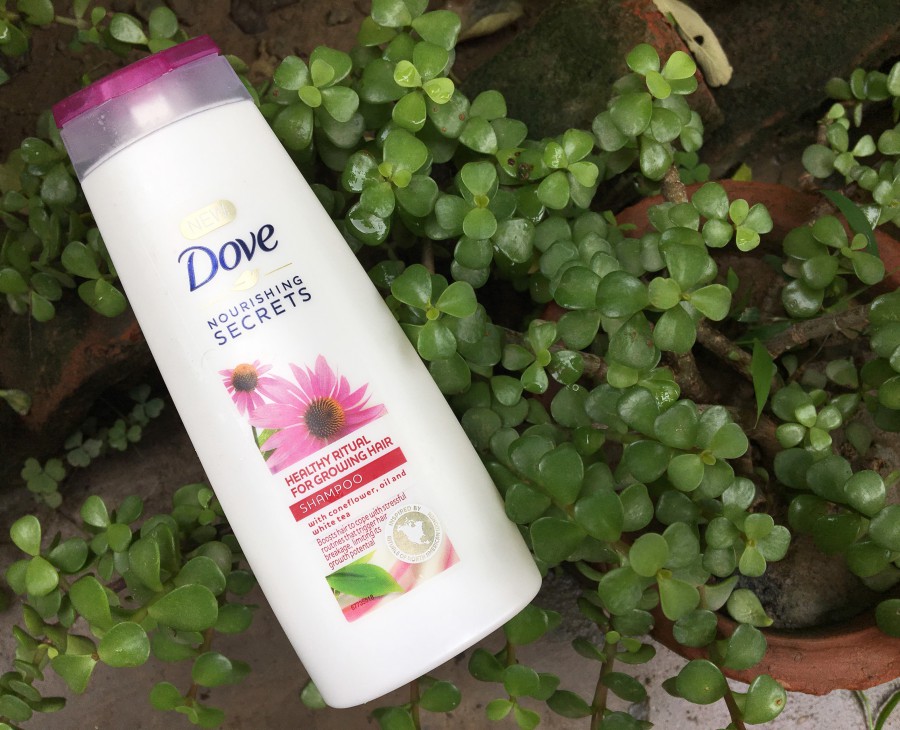 It has been a few months since I reviewed a hair product, especially shampoos. But let me tell you something, during this time I have used a lot of shampoos. Some were hit while some were a miss. That means I'm many reviews are coming up for you about the shampoos I have used. One such shampoo I used three months ago was an all-new Dove Healthy Ritual for Growing Hair Shampoo, and the funny thing is I have a hate-love relationship with it. Curious to know more? Keep reading my review.
About the shampoo: Everyday damage can stress strands, leaving them prone to breakage. The rituals of North American women inspire this newly launched shampoo by Dove. The ritual, which generations have practiced, uses natural ingredients like Coneflower oil and white tea, which are known de-stressors, to nourish hair and help it reach its natural growth potential, keeping it healthy-looking and long, without worries of damage. Dove borrowed this healthy ritual and created the new Healthy Ritual for Growing long Hair. Combined with the care of Dove, this shampoo can protect hair against daily damage instances like brushing, combing and, tangle-teasing. Our formula reduces hair breakage, hair fall, enabling it to grow beautifully long.
Price: Rs. 145 for 80 ml | Buy Dove Healthy Ritual for Growing Hair Shampoo from Nykaa here.
Ingredients: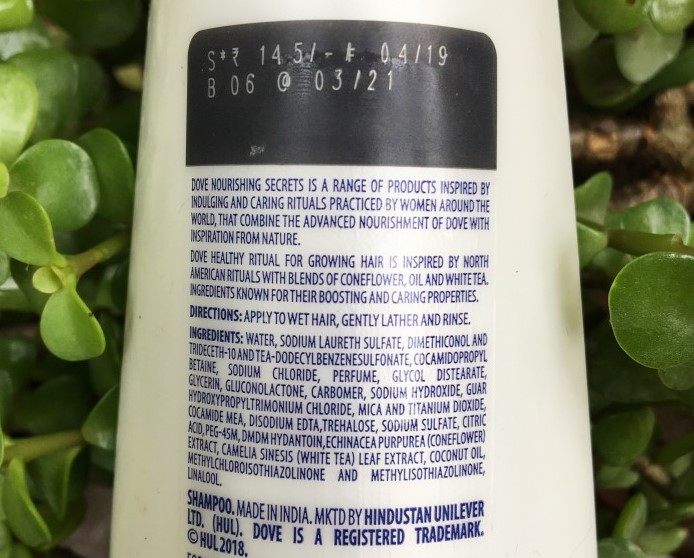 My Review on Dove Healthy Ritual for Growing Hair Shampoo
This shampoo comes in all white plastic packaging with a pink flip-top cap. The packaging is versatile and doesn't spill shampoo all at once. All the necessary details are written on the back of the bottle. Upon opening the cap, I get welcomed by a faint fruity scent of the shampoo.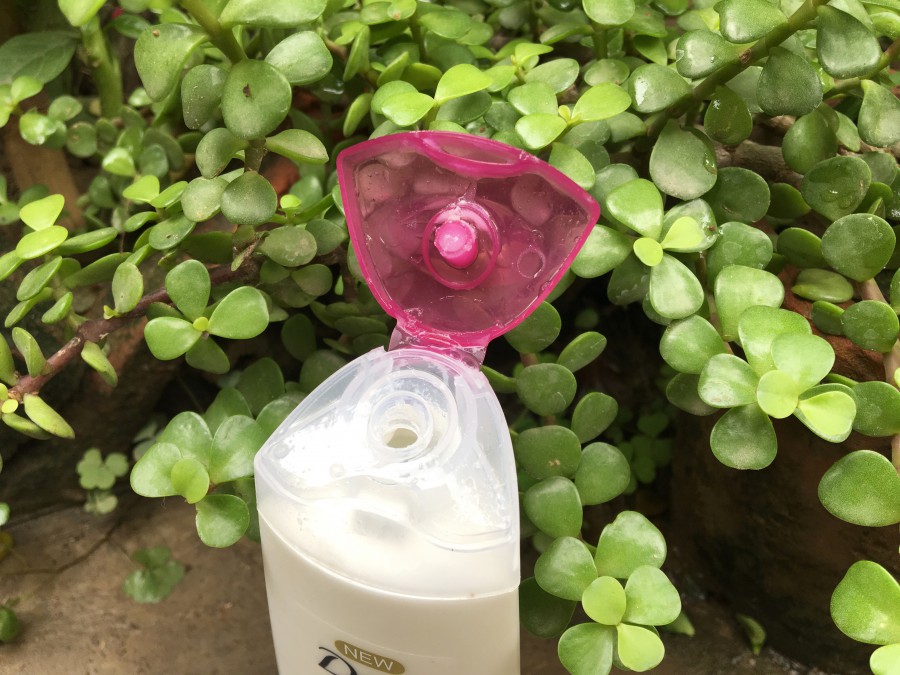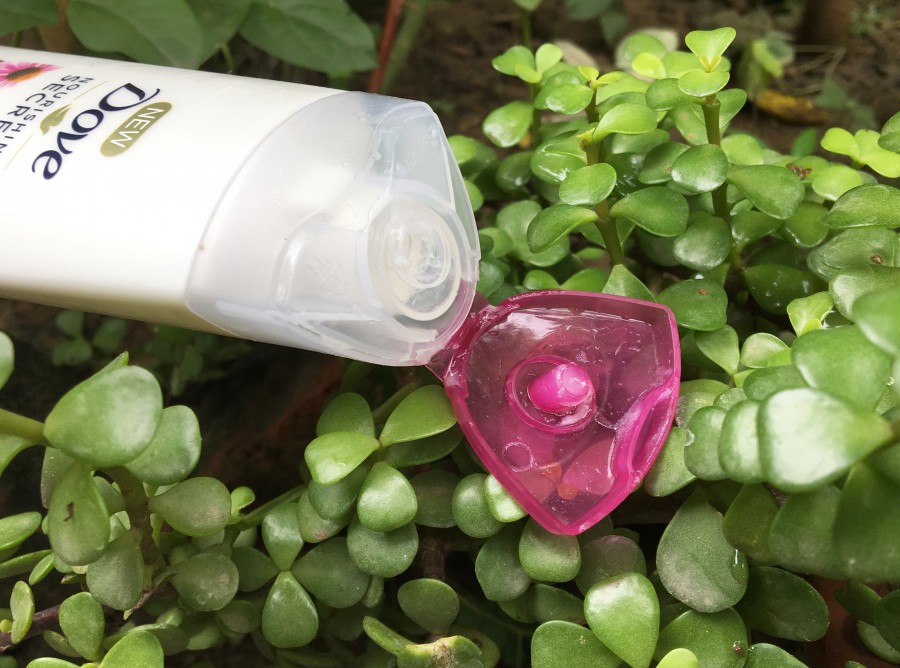 Facts about the Ingredients in this Shampoo
Coneflower: Scientifically called Echinacea, stimulates the stem cells of the hair follicles, which increases blood circulation. It is an anti-bacterial for the scalp. Also, coneflower strengthens hair roots and boosts hair growth.
White Tea: A widely recognized tea used for enhancing beauty and health. White tea is packed with epigallocatechin gallate, an antioxidant that promotes healthy hair growth. Not only it protects hair from sun damage, but it also fights dullness and maintains a natural shine.
Coconut Oil: A much-loved ingredient for hair, coconut oil nourishes hair by restoring shine and strength. It works on pesky split-ends and makes hair strong and healthy.
How do I use this shampoo?
First, I wet my hair. I take two dollops of the shampoo for my medium-length hair and massage my way from my hairline to the hair-ends. The amount of shampoo one uses entirely depends on hair length and type.
How does it perform?
After applying and massaging the shampoo onto the scalp and tresses creates a rich and creamy lather. Unlike other shampoos, it doesn't dry out hair while rinsing and maintains the softness. After washing my hair, I get soft and manageable tresses. Sometimes I skip my conditioner as this shampoo doesn't cause frizz or any dryness issue. The fruity fragrance lingers on my hair for at least two days. But there's an issue with this shampoo. I have an oily scalp, and it makes my hair greasy within two days of using the shampoo. However, my hair ends remain moisturized and manageable. I would suggest clarifying shampoo if your scalp gets greasy, and this shampoo is best for dry and normal hair.
Pros:
It has a pleasant fragrance that stays on for a few days
Doesn't dry out hair
Maintains softness of hair
Makes hair manageable and silky
Suitable for normal and dry hair.
Cons:
Not so good for oily scalp
Dove Healthy Ritual for Growing Hair Shampoo
Final Word
I loved using this shampoo because it makes my hair silky, soft and smooth. It has got amazing ingredients that work wonders for hair. It cleanses hair without stripping the moisture away and gives me great-smelling hair. The only con is that it doesn't suit oily scalp especially the greasier ones.