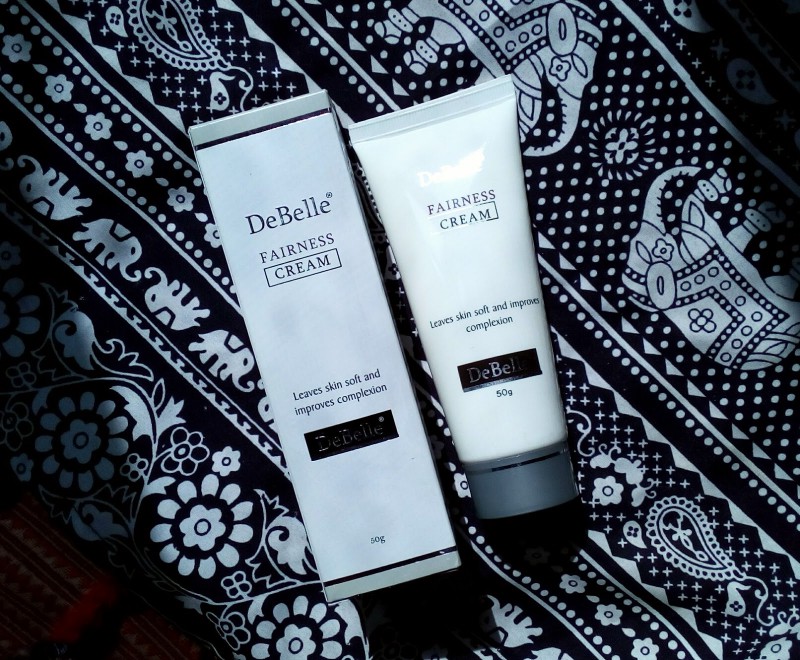 Hi beautiful! Winters are knocking the door and I've just started to change my skincare routine. So I'm going to review newly launched DeBelle Fairness Cream which claims to leave skin soft and improve complexion. I'm going to share my experience after using it for a month.
Readers like you help keep The Beautyholic running. When you buy through links on our blog, as an Amazon Associate, we earn from qualifying purchases at no extra cost to you.
Price and Quantity:
Rs. 158/- for 50g | Buy it from Amazon
here
DeBelle Fairness Cream Review 
This cream comes in a white squeezable tube with a grey screw cap. I don't squeeze too hard or the product comes out in excessive quantity. Necessary details are already there in the cardboard box and tube.
Now what fascinated me was this cream had Kojic acid in it. Its quantity isn't clear though. It also had few botanical extracts as it's ingredients. It has a super light texture with a bit runny consistency and has a perfumed scent that won't bother much.
It gives a non-greasy, matte look after application and doesn't feel heavy but for oily skin like mine, it gets sweaty after a few minutes. However, it sinks right under the skin.
It gives a healthy glow to the skin but no fairness effect of you're expecting that. I like using this cream as a light moisturizer underneath my CC cream. The effects this cream claims could only be achieved with regular use since Kojic acid works slowly on the skin so instant results shouldn't be expected. I'll use this cream throughout this winter to hydrate my skin!
Pros:
Contains Kojic acid which helps in clarifying skin
Has a light and non-greasy texture
Moisturizes and softens skin
Sinks under the skin quickly
Gives a healthy glow to the skin after application
Cons:
Makes oily skin sweat after sometime
Only available online
Final Word:
Since I have oily skin, this cream will work well for me in winters. It's really light and absorbs quickly in the skin. It's ingredients kojic acid and mulberry extracts help in achieving blemish-free skin. It's great as a light moisturizer for every skin type.
Have you tried this fairness cream yet? Do you really look for fairness effect in a cream or just like the glowing effect it gives?
*PR Sample, Honest Review 
DeBelle Fairness Cream Review