Hello everyone! 🙂 Hope you all are enjoying the season really well. After coffee, moisturization becomes an essential part of every skincare routine. It's essential to hydrate ourselves in any season. If we don't provide enough moisturization, it will result in dry and rough skin. Today I'll be talking about a body lotion from Biotique, a famous Indian brand. It is called Biotique Morning Nectar Flawless Skin Moisturizer.
It claims to replenish skin's lost moisture and leaves you with a noticeable fair complexion. Let's get into the review now.
About the product: This lightening and nourishing lotion is blended with pure Honey, Wheatgerm and Seaweed. It sinks into the skin to replace natural oils and replenish lost moisture for a noticeably fresher, fairer complexion.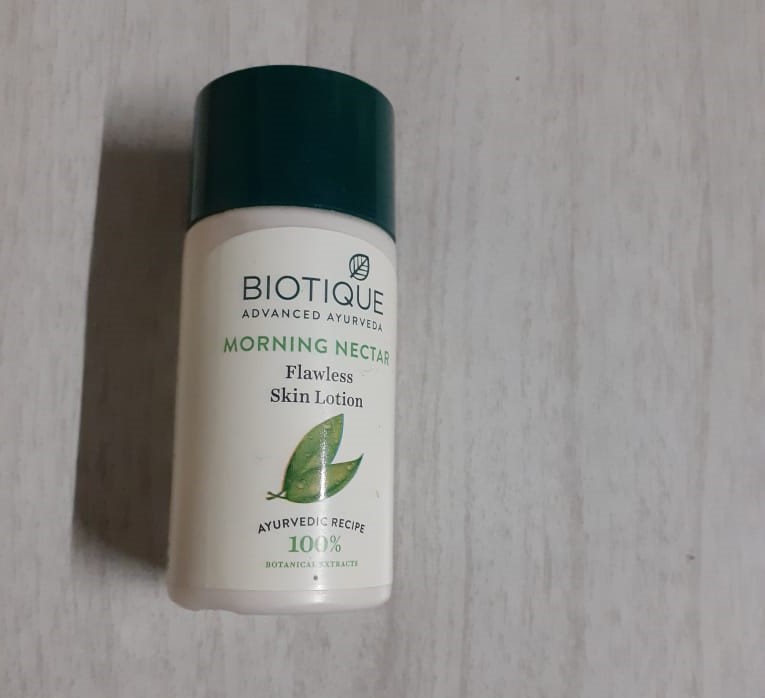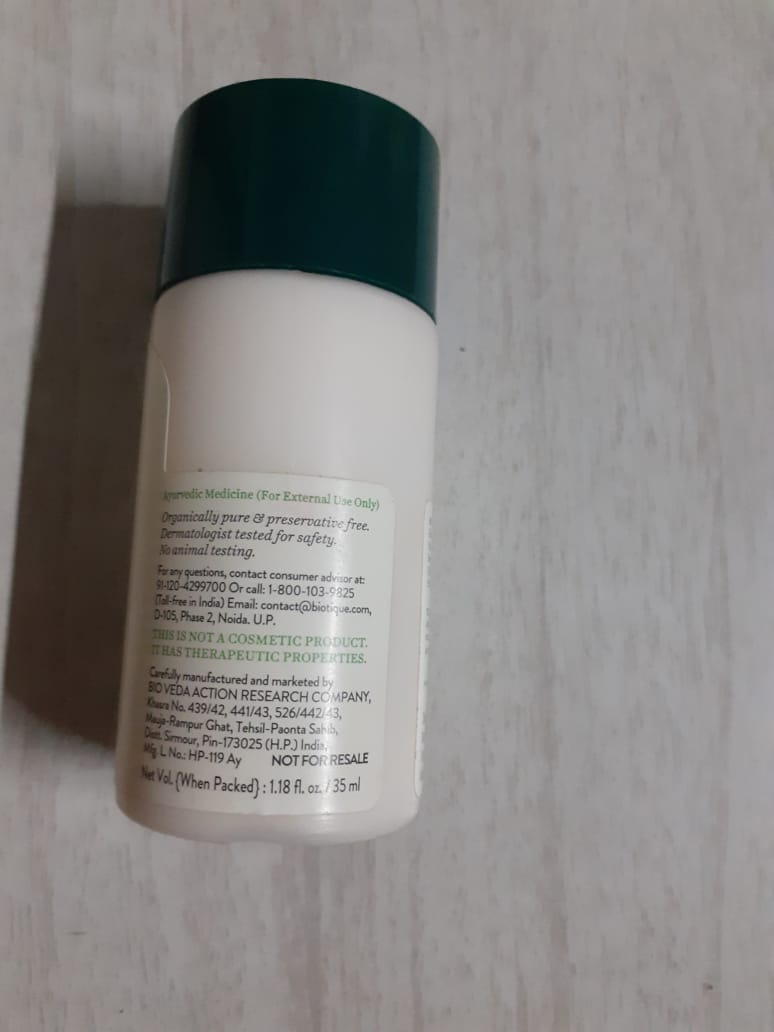 Nectar is the sweet fluid, the honey that flowering plants produce each day used to sustain health, vitality and ageless beauty. Its nourishing and moisturizing properties help heal skin and promote healthy cell renewal.
Has great skin nourishing and moisturizing properties
Ultra-soothing properties
Has SPF 30+ UVA/UVB Sunscreen protection
It is suitable for all skin types
Organically pure and preservative-free
Dermatologist tested for safety, no animal testing
How to Use?
Apply evenly over cleansed face and neck, morning and evening. Wear alone or under makeup.
Ingredients:
Baheda (Terminalia Belerica), Methi (Trigonella foenum graecum), Madhu (Honey Mel), Ankurit gehun (Triticum valgare), Kusumbhi (Carthamus tinctorious), Vach (Acorus calamus), Lotion Q.S
Readers like you help keep The Beautyholic running. When you buy through links on our blog, as an Amazon Associate, we earn from qualifying purchases at no extra cost to you.
Price and Availability: ₹199 for 120 mL. It can be bought from local departmental stores and also online from Nykaa, Amazon, and Biotique's official site.
Biotique Morning Nectar Flawless Skin Moisturizer Lotion Review
It comes in standard Biotique packaging, a white plastic bottle with a green screw cap. Earlier the bottle used to have a wide mouth which dispenses a lot of product leading to wastage. Now they have changed it to a small opening rather than a wide one. Therefore, the packaging is pretty nice and easy to use.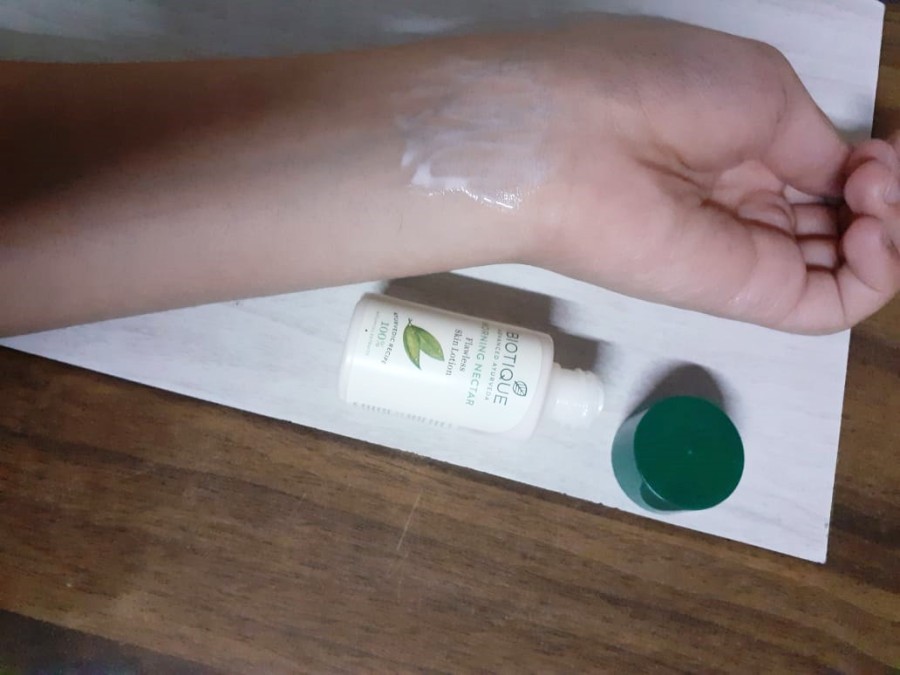 The moisturizer has a milky white color and a little thick consistency. The texture is very smooth and creamy. It has a herbal mixed fragrance that doesn't stay for a long time but only for some minutes.
I bought this face lotion last month to keep my skin hydrated during winters. It's my second bottle. It really works wonders on the skin. It spreads like butter and gets absorbed well. I have a normal skin type so I thought that I would use it this winter as our skin becomes really dry this season.
I apply it all over my face and other parts like my neck and hands. But always remember a little seriously goes longer in this. You just need a pea-sized amount and you are here to welcome super nourished and glowy skin this season. It has some nice natural ingredients, so it is great as a face moisturizer as well.
Unlike other lotions, it doesn't take time to get absorbed. It never made my skin feel oily it sticky, and it has a nice subtle lingering fragrance. However, that lasts for only a few minutes. Biotique claims that it makes you look fair after using this, but I've not really noticed any complexion change in my skin. It does moisturize my skin looks more glowy and healthier but never changed my skin tone.
Pros
Simple, user-friendly packaging
Moisturizes the skin really well and gives enough hydration one needs.
Don't feel sticky or oily
Lightweight and easy to apply
Enriched with 100% botanical extracts of pure honey, wheatgerm and seaweed
Affordable and easily available in drugstores and online
Doesn't cause breakouts
Free from preservation and is not tested on animals
Cons
Fairness claims are not true
The ingredients list is too precise it could have been a little explained
Packaging could have been better with an open flip cap
Applying more of it would give a greasy feeling
Biotique Morning Nectar Flawless Skin Moisturizer Lotion
Final Word
I feel it is worth to spend your money on this product. Those with oily skin can use it on winters for better results and dry skin people can use it anytime. It will work wonders who want healthy and glowing complexion. I do love the fact that it has sun protection also. If you want to give your skin enough hydration you can get your hands on this moisturizer.