Millions of people share their selfies and other images on this platform to tell their fascinating life stories, and score likes from their followers.
Even so, Instagram success isn't just determined by picturesque landscapes, exciting activities, and exotic locations.
The most eye-catching and Instagram-friendly pictures are the ones where you make sure that your angle is right, the lighting is appropriate, your makeup and hairstyle are flawless and much more.
You can do this all by yourself. However, thanks to modern beauty apps, you can now create visually engaging photos much faster!
By modifying your appearance, masking defects, and highlighting your strengths, these tools can enhance your Instagram photos. It's time you got familiar with the best of the best of their kind!
We've compiled a list of seven of the best beauty apps for Instagram photos that will help you have the best complexion ever!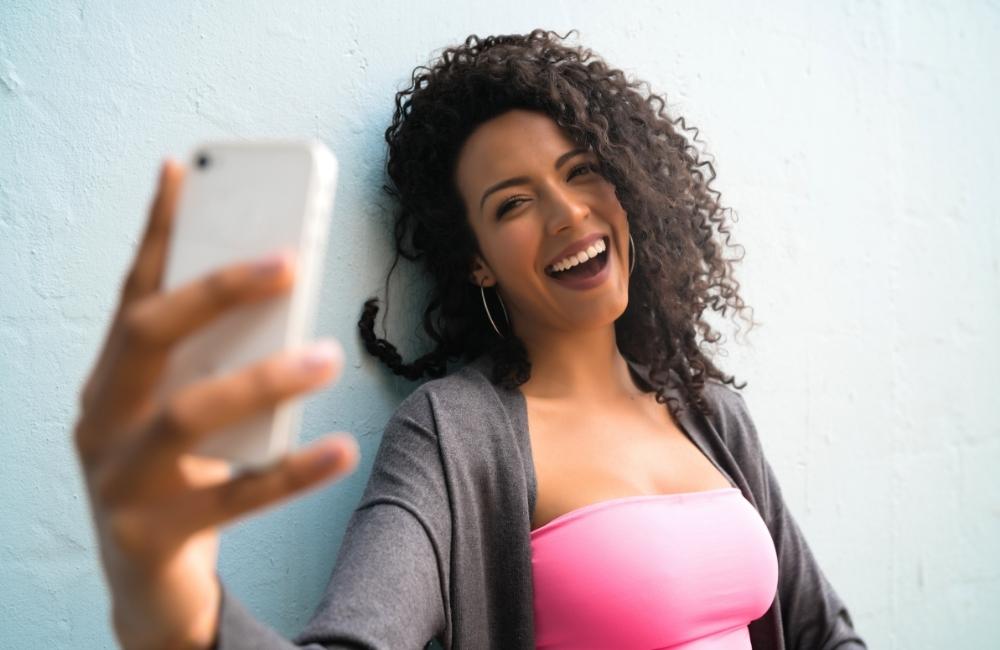 #1 Perfect365 Makeup Photo Editor
Those who post their photos on Instagram and other social media websites know how difficult it can be to do your makeup and make it look perfect in pictures. That's when Perfect365 Makeup Photo Editor comes in and saves the day.
With this app, you won't need to spend long hours applying makeup in front of your mirror. You can improve your appearance in the blink of an eye by simply applying eye shadows, bold hairstyles, lipsticks, and other beauty makeup tools for your complete transformation.
There is a curated collection of customizable styles created by experienced makeup experts for your unique look! You can experiment with your looks and surprise your followers almost every day with this cool app!
#2 FaceTune
If you're looking for an all-in-one beauty app for ideal Instagram selfies, you should give FaceTune a try.
FaceTune can be easily downloaded on your iOS or Android device and used immediately. All you need to do is upload a photo that needs editing and make all the enhancements you find necessary.
There is a vast array of dedicated tools where you can quickly mask annoying imperfections, remove unwanted objects from your images, get glowing skin, frame your eyes, get an instant makeover, and much more.
FaceTune is also praised for its advanced and versatile filters, which can help you create selfies that will be no inferior to those posted by your favorite influencers. Not only can you add professional filters and stunning effects to your photos, but you also create and share your own presets and download the filters used by other Instagram users.
#3 FaceApp
A Russian programmer created the app, and it has become a huge hit.
Since the app's release in 2016, FaceApp has skyrocketed to become one of the best beauty apps for Instagram. It is a fun and easy way to make yourself look younger, older, or more attractive. It's also an excellent tool if you want to create some funny memes on social media.
The features include adding filters, changing skin tones, adjusting eye colors, making faces appear bigger, smaller, or even completely different from what they actually are.
The app is free, but there are some paid features as well. The paid version of the app allows users to create a face mask that changes the skin tone, makes the skin look like a different ethnicity, or even adds a beard.
#4 VSCO Cam
The phrase "beauty app" is often thrown around, but it's hard to find one that actually does justice to the term.
VSCO Cam is one of the best beauty apps for Instagram, in part due to its simplicity. It has all the features you need to edit your photos and make them look like they were taken on an old-fashioned camera.
The app is easy to use, free, and offers an endless range of editing options with filters that can give your pictures retro or vintage vibes. You can also easily upload your photos directly to your Instagram account so that more people can see how gorgeous you are!
#5 Face Warp
Your face is your best asset when it comes to making effective selfies.
Face Warp is a great tool to make all the necessary edits to your selfie and score more coveted likes on Instagram.
You can quickly get a brighter and whiter smile, get tanned, make your skin smoother and more glowing, get rid of dark circles after pulling an all-nighter, change your hair color, etc.
With the help of this app, you can also change faces with other people and play with the size and shape of your face parts, which will undoubtedly help spice up your pictures.
Face Warp also boasts a wide range of filters you can easily apply to your photos and make them look more attractive.
#6 Aviary
Want a simple and straightforward app that can help you spruce up Instagram pictures in a split second? Try Aviary.
You can retouch your photos using a wide variety of tools like background and blemish removers. There are also a good many great filters at your disposal.
You can accentuate certain parts of your face by tweaking brightness, contrast, and sharpness settings, applying color correction, or cropping the image to make it suitable for your favorite image-sharing platform.
You can even draw on your projects and add visual effects to your photos to lend them a personal touch.
#7 VistaCreate
Today, the video editing software market is overflowing with apps that help you enhance images in a matter of minutes and share them instantly on your favorite social media platform.
VistaCreate is one of such apps. But what distinguishes it from others of its ilk is its versatile features, user-friendly interface, and tons of customizable templates that will help you turn dull and insipid pictures into visual art masterpieces.
Though VistaCreate isn't a beauty app in the strictest sense, you can still help you make your Instagram photos shine. You can remove unwanted backgrounds from your pictures, enhance your appearance with dedicated tools, apply fun stickers and animations to your projects, etc.
VistaCreate also offers video maker, logo creator, business card maker, and lots of other editing features you might find helpful.
Why are these beauty apps great for Instagram photos?
Many people view beauty as a way to impress others and gain their trust. If you want to look your best for a selfie, a date, a wedding, or a professional photoshoot, it's important to know which apps will help you achieve the desired look.
Instagram is full of gorgeous people with perfect hair, makeup, and outfits. These apps will help you achieve that in seconds!
Only about 29% of people post a photo on social media without editing or cropping it first. Many say that these apps help them improve the quality of their photos and make them look more professional.
These apps are perfect for Instagram posts because they offer options for creating eye-catching graphics that will be popular with followers.
What's more, you can amp up your Insta stories too. It's easy to create Instagram stories if you know how. There are plenty of free story creators out there like Instagram story maker by Adobe that make creating stories a breeze. Whether you're new to the platform or just want to up your storytelling game, these apps are perfect.
The simplest way to find these apps is through the app store on your device. From there, you can browse through the different options until you find one that suits your aesthetic.
The bottom line
They are only some of the incredible beauty apps you can use to rock the Instagram community and boost your popularity on social media.
There are lots of other tools that might come in handy when you decide to enhance your pictures or create a new engaging post on Instagram.
Still, those that appeared on our today's list are undoubtedly the most user-friendly, easy-to-use, accessible, and don't require any specialized users' skills.
So, you can download and start using these beauty apps for Instagram to their fullest from the get-go!