So this one summer, I am shopping with my sister in the mall, and she tells me she needs to go to a shop called Bath & Body Works.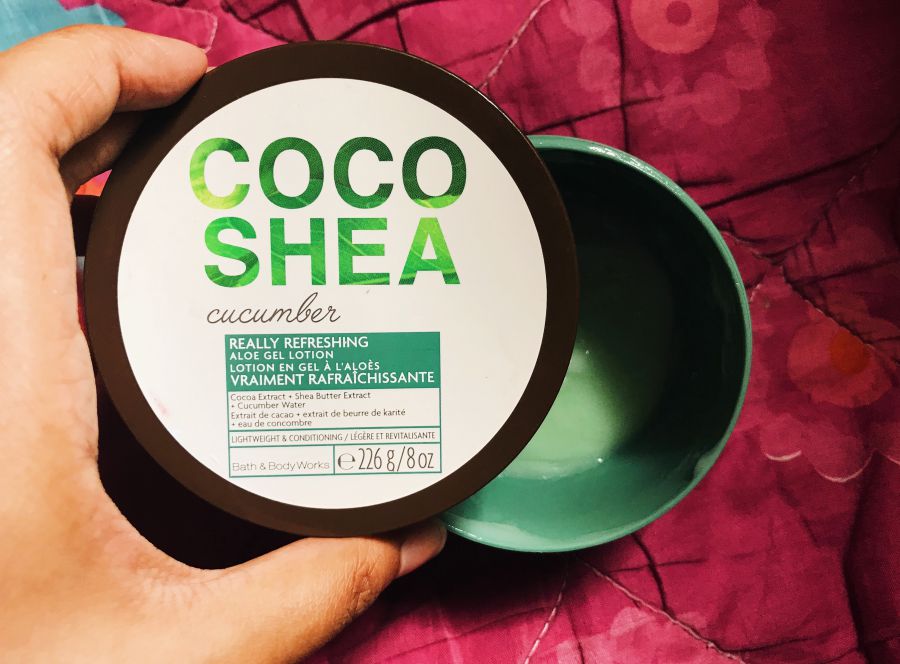 I had heard of the brand before. Or, instead, familiar with its intoxicating smell. But I have never really been there. So she gets a body mist, and I started checking out their moisturizers. My whole family has dry skin, so moisturizers are our best friends.
They have different lines or collections in this shop, like the Japanese Cherry Blossom, Midnight Pomegranate, etc. Each collection has a body lotion, bath scrub, body wash, and body butter, among other products (it's a long list of wonderful products). 
I checked out the different collections, and the store personnel asked if I needed assistance with anything. I told them that I needed something hydrating. And behold! They introduced me to the BEST body lotion I have ever had: Bath and Body Works Coco Shea Cucumber Aloe Gel Lotion (yup, that's the name – a long one too). 
About the product: 
Coco Shea blends two of nature's most nourishing ingredients — vitamin-packed cocoa butter + rich, moisturizing shea butter — for the ultimate collection of skin-loving formulas. With over 24 hours of super-rich hydration, our deeply nourishing whipped body butter delivers intense moisture to leave skin feeling moisturized and richly replenished.
Readers like you help keep The Beautyholic running. When you buy through links on our blog, as an Amazon Associate, we earn from qualifying purchases at no extra cost to you.
Price: $$ | Buy it on Amazon here
Ingredients:
acrylates, alcohol denat, aloe barbadensis leaf juice, benzyl salicylate, blue 1, buteth – 3, butylene glycol, butylphenyl methylpropional, caprylyl glycol, carbomer, citral, citronellol, coconut fruit extract, coconut oil, cucumber fruit extract, dimethicone, dimethiconol, disodium EDTA, ethylhexyglyrcerin, fragrance, geraniol, glycerin, hexylene polyethylene, hydroxy citronellol, isopropyl alcohol, limonene, linalool, phenoxyethanol, plumeria acutifolia flower extract, shea butter extract, sodium benzotriazole butyl-phenol sulfonate, sodium polyacryloyldimenthyl taurate, theobroma cacao extract, tocopheryl acetate, tributyl citrate, trideceth – 10, triethanolamine, tris citrate, water, yellow 5
My Experience with Bath and Body Works Coco Shea Cucumber Aloe Gel Lotion
Now, the lady at the shop showed this green tub of gooey white cream. She told me that it was hydrating and cooling, making it perfect to beat the summer heat. She put a little on my wrist and asked me to spread it. And oh boy, I was in seventh heaven! 
Reason 1: This is the epitome of moisturizing. My skin felt ultra-soft. Baby soft! The product itself says 'moisturizing,' and it is true to its word. My skin was instantly nourished, smooth, and hydrated. Imagine putting it on after you just had a sunburn or shaved! 
Reason 2: It is a smooth semi-liquid formula that you can swipe on your skin. One problem I had with many different moisturizers is their hard consistency. It is tough to put on that it feels like you are tugging on your skin. Also, it is non-sticky. After use, you don't feel your dress cling to your skin or anything. All you will have is soft, supple skin. 
Reason 3: Cooling. The formula is infused with cucumber water and aloe vera. They are amazing for cooling your skin. Hydrating and cooling is the dream, and this lotion gives exactly that. 
Reason 4: It smells incredible. Cucumber being the prime ingredient, the lotion smells like a cucumber: fresh and refreshing. And it stays on for a considerable time.
So you can imagine what I felt. Like I had to buy it! I have been using it for the last two years now, and I never want to switch. But I'm always worried that they will stop retire it soon. The Coco Shea Cucumber is a limited edition by Bath & Body Works, a brand managed by L Brand, an American company that also manages brands such as Victoria's Secret and Abercrombie & Fitch. The brand is very similar to Body Shop. But their products, as per my experience, are better than Body Shop and smells incredible.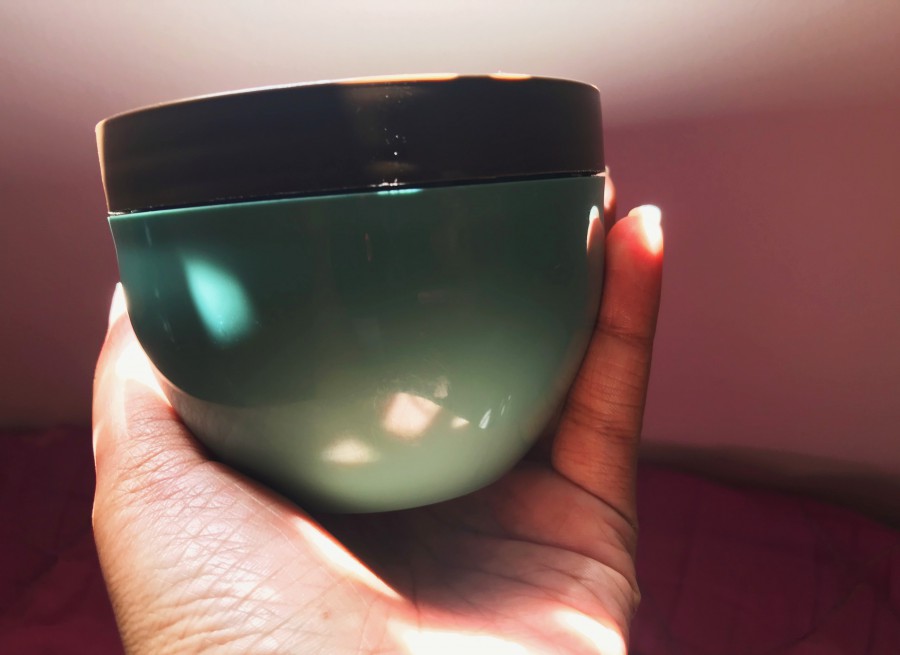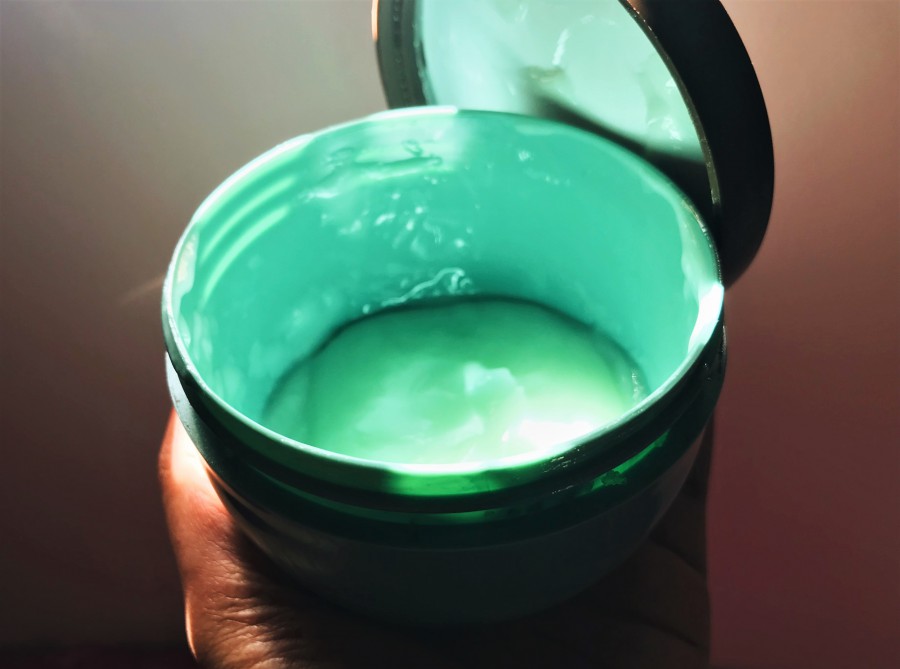 The Bath and Body Works Coco Shea Cucumber Aloe Gel body lotion is available in a Munsell Green plastic tub with a dark brown screw top. The actual product has a light green tint but is basically a translucent white cream. Tub models help reduce product wastage. The line has a 'seriously moisturizing' body lotion in a pump bottle, but you can never really get out the full product if you use the pump bottle. The tub holds 8 oz or 226g of product.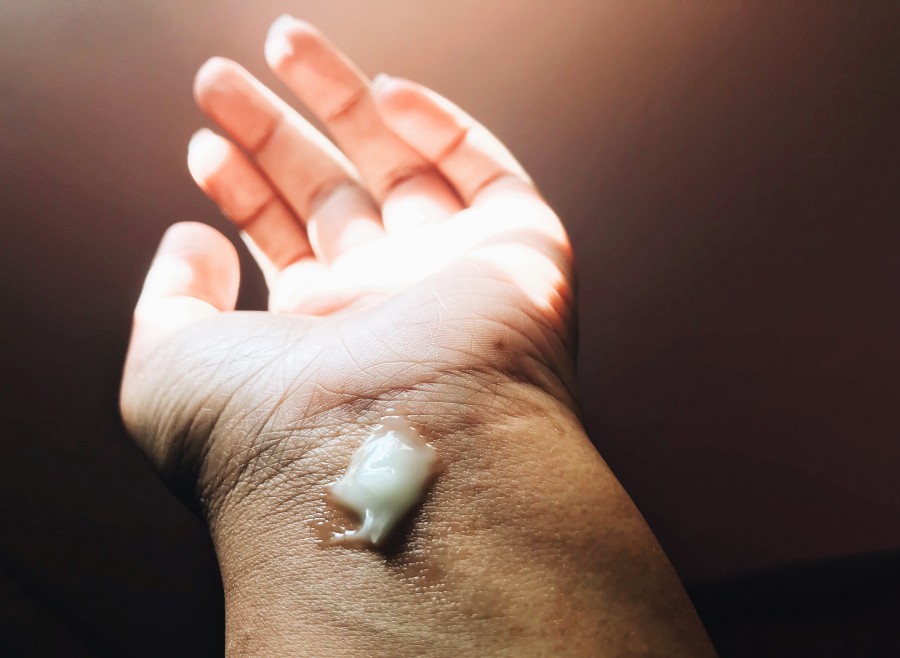 The formula is a semi-liquid formula that glides smoothly onto your skin. The formula is based on cocoa butter and hydrating shea butter. Cocoa butter hydrates the skin and nourishes it, and the fat in it acts as a barrier to hold the moisture in the skin while also helping with wrinkles and marks. Shea butter helps to soften the skin through its anti-inflammatory and healing properties that help to soothe and tone the skin. The formula is infused with cucumber water and aloe vera. Cucumber is perfect for cooling and soothing your skin, especially in the summer heat. Aloe vera has a long list of benefits for the skin. 
The body lotion is a perfect formula for dry skin. Even though it is not a body butter, it lasts for long, approximately 8-10 hours. The body butter is a better formula for dryer skin types as they hold to the body longer than water-based formulas. Even then, the Coco Shea Cucumber body lotion provides moisture and hydration for a long time. The fragrance holds for around 1-2 hours maximum, after which only a faint smell remains. 
The price tag of Bath and Body Works Coco Shea Cucumber Aloe Gel is exceptionally high for a body lotion at more than 23 dollars for a tub. The high prices are also because it is a part of the signature collection offered only for a limited time. 
Pros: 
Hydrating and cooling. 

Fresh smell. 

Non-sticky formula. 

The semi-liquid formula is easy on the skin. 

Makes skin soft and toned. 

It is infused with aloe vera that provides multiple benefits to the skin. 

Infused with cucumber water that is perfect for the summer heat. 

Easy to use packaging. 

Stays on for a long period
Cons: 
Expensive. 

Not easily available – only in a limited number of stores and online. 
Bath and Body Works Coco Shea Cucumber Aloe Gel Lotion
Final Word
It is my favorite moisturizer ever. I use it both body and face as the lightweight formula is fine for the face too. The lotion is perfect for use in summer due to its cooling properties. It is ultra-hydrating and moisturizing that sticks around for long. The cocoa and shea butter mixed with cucumber and aloe vera give multiple benefits to the skin. I recommend the product for light to medium dry skin but the high price tag can cause a setback. 
What do you think of this Bath and Body Works Coco Shea Cucumber Aloe Gel lotion? Do you find it worth splurging or ignore? Let us know in the comments!
More Body Lotion Reviews