During pregnancy and after, you can expect to experience some hair loss but who likes seeing clumps of hair fall out at the same time?
It's important to know that postpartum hair loss is natural and temporary—even though not everyone will experience it, the chances are higher. Fret not, you can try ayurvedic remedies for postpartum hair loss.
So, is it possible to stop post-pregnancy hair fall naturally?
Following are the ten best ayurvedic home remedies for preventing and controlling hair loss after pregnancy.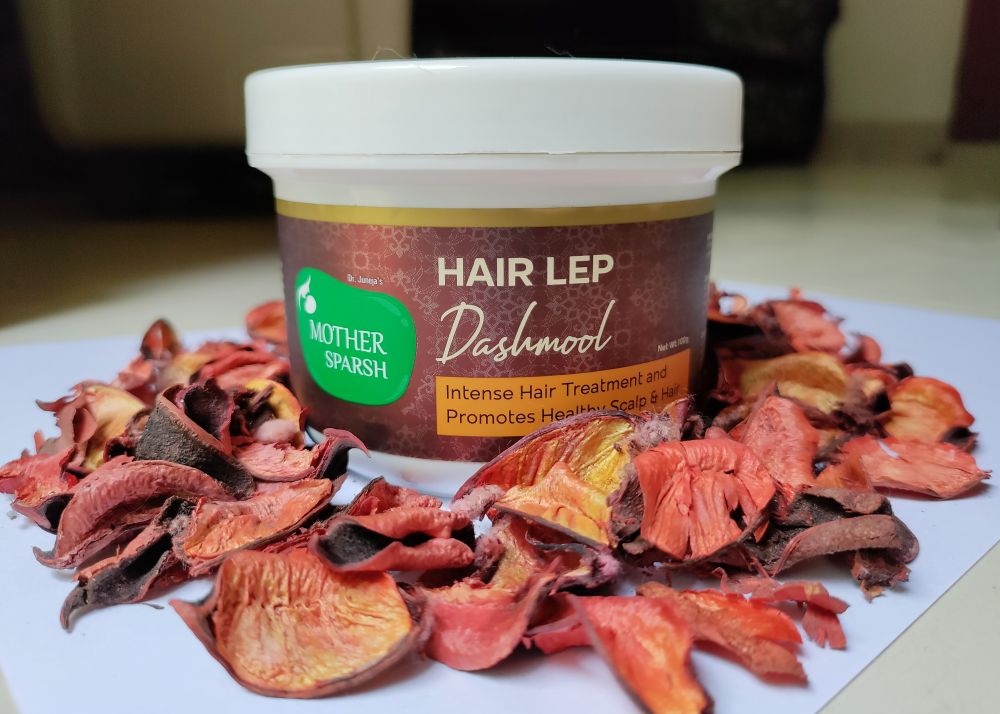 1. The art of abhyanga
One of the ayurvedic remedies is abhyanga, which involves applying oil to the body and massaging it. Additionally, it involves applying oil to the head before taking a bath. It is said to have benefits when performed twice a week with coconut oil or Brahmi oil.
The traditional practice includes tying a cloth to the stomach of a woman who is experiencing postpartum hair loss. New mothers have reported that it is effective against hair loss. Please note, however, that this practice is highly restricted during pregnancy.
2. Oil your hair
A great way to maintain healthy hair is by oiling it regularly. Even after giving birth, you can continue to practice this technique. Ayurvedic hair oils are best for hair, so make sure you use them weekly. If you apply the oil in the morning, you can keep it overnight or wash it off when you take a shower in the afternoon. Make sure you use Ayurvedic shampoo and conditioner.
Hair oiling promotes hair growth, hair volume, and strong roots. Regularly oiling your hair will show you improvement in a few weeks if you have dandruff problems.
3. Apply Dashmool Hair Lep
If you are looking for a hair lep product, Mother Sparsh Dashmool Hair Lep is a remedial ayurvedic product that can help battle postpartum hair loss. This ayurvedic hair lep is formulated with botanical extracts and essential oils, wonderful for damaged and fragile hair. You can strengthen your fragile hair with this lep as well as repair it.
This traditional hair lep from Mother Sparsh is infused with a blend of potent botanical herbs like Methi, Tejpatra, Triphala, Tulsi, Shikakai, Mulethi, Brahmi, Bakuchi, Curry Leaf, Japa, and Dashamoola (ten divine herbs blended together). Hair and scalp-related problems such as hair breakage, dandruff, split ends, and thinning of hair are alleviated, resulting in increased hair density and a healthy scalp.
It is quite easy to use – just mix the powder with curd or water, and you're ready to apply it to your scalp and ends.
The product helps new moms deal with hair loss, as well as preventing premature greying of their hair and promoting hair shine. Even if your hair is colored, this powder will restore its natural strength and shine.
Best of all, it is free of cruelty and harsh chemicals like sulfates, parabens, and silicone.
4. Natural Fenugreek Hair Mask
Fenugreek's benefits are limitless and can be used to treat hair loss after pregnancy. You can improve your hair in two ways with fenugreek:
You can use fenugreek-soaked water directly on your scalp and rinse it off afterward.
Use the same soaked fenugreek paste as a hair mask. Using the soaked fenugreek, make a smooth paste and apply it to your scalp. It can be left on for 20 minutes after you wash it off with water and ayurvedic shampoo.
5. Put potent herbs to use
The best way to combat postpartum hair loss is by using herbs, one of the best ayurvedic home remedies. Amla and Bhringraj are renowned for their hair benefits, which explains why you will find many products derived from them on the market. In addition to consuming amla in the form of juice, you can heat it in oil to infuse it with antioxidant properties. You can oil your hair for a massage. For a scalp mask, you can use Bhringraj powder.
6. Change your lifestyle
The transition to a new lifestyle is not easy, especially for a new mother who already has to change her routine and lifestyle to adjust to the new baby. Still, you can incorporate some healthy habits into your daily routine. You can, for instance, concentrate on mindful eating so that you do not watch television or scroll through social media. Sleep plenty of time and make an effort to reduce your stress level.
7. Use natural ayurvedic hair products
The market is flooded with ayurvedic hair products, but not all of them are genuine. It is better to choose a brand that has a good reputation and has been around for a while. From hair oil to shampoo and conditioners, use ayurvedic hair products to help combat post-pregnancy hair loss.
All in all, stay away from chemical-based hair products, and always read the ingredients before buying the product.
8. Adopt an Ayurvedic diet
An effective post-pregnancy hair loss treatment also involves a healthy diet. If you want your hair to grow, you need to take nutrition. Many protein sources exist, but grass-fed red meat, fermented dairy products, and soy-free pastured eggs are among the best.
9. Natural egg hair mask
The benefits of egg masks for your hair are endless. Oftentimes, olive oil is combined with eggs when preparing hair care recipes. The deep conditioning properties of olive oil and egg whites will be better than any market product. Moreover, you only need to wait for 30 minutes before washing it off. In post-pregnancy hair loss treatment, it is essential to include this practice as it stimulates hair growth.
10. Hair mask with curd
Curd is an excellent way to condition your hair. The smell is undeniably pungent even after a good hair wash, but none of us can deny its benefits. The regular use of curd massage will strengthen your hair follicles, which is exceptionally beneficial for post-pregnancy hair care.
In a nutshell
It's normal to lose a little hair after having a baby, and there's no need to panic. The cause is a drop in estrogen levels. It is unlikely that you will go bald from this kind of hair loss, and you will likely see improvement within one year.
Prolonged hair loss shouldn't be avoided since it can lead to chronic hair loss. A lack of nutrients, excessive stress, and other factors can contribute to this condition. Even though it is pretty rare, it is recommended that you keep your hair loss under control.
As part of taking care of your hair, along with the listed ayurvedic remedies for postpartum hair loss, you should also use a good comb and develop healthy combing habits. Combing wet hair is unhealthy and can cause breakage.
#mothersparsh #carewithayurveda #ayurvedaforhairhealth #herbskahairsecret #dashmoolhairlep