For the longest time, I have been guilty of believing the myth that sunscreen is meant to be used only during the summer season.
When I look back, I feel incredibly stupid for not using sunscreen throughout the year during my teenage years.
Harmful UV rays are present in the atmosphere throughout the day, despite the intensity of sunlight. Even if the sun isn't visible on a particular day, exposure to UV rays can cause your skin damage.
A good sunscreen offers protection not only against short term damage like tan or sunburn but also against serious conditions like skin cancer. A few months ago, I purchased the VLCC Matte Look Depigmentation Sunscreen Gel Creme. It has some pretty hefty claims, let's see if it lives up to them.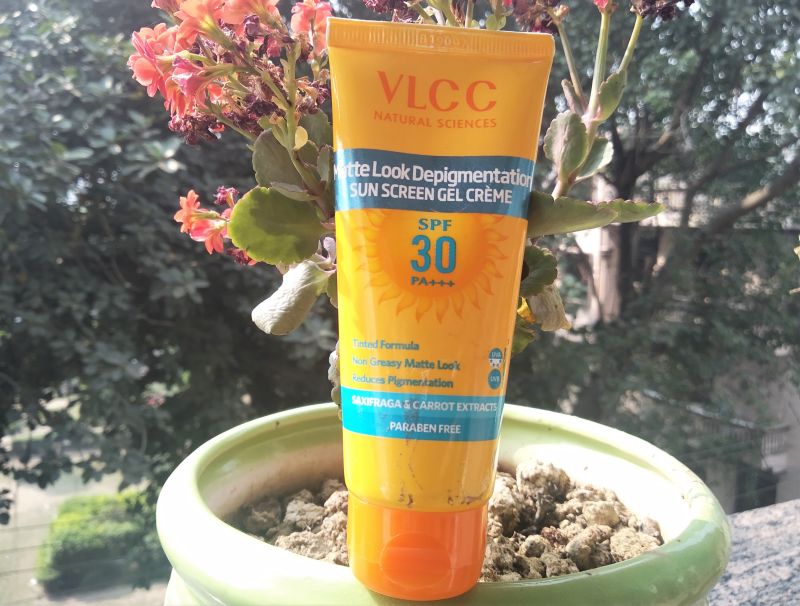 About the Product: A non-greasy, tinted formulation that blends easily with the skin tone. It protects the skin against premature aging & tanning with broad-spectrum protection against the sun's harmful UVA & UVB rays. Enriched with Ceramide III, Saxifraga & Carrot Extracts, it works to reduce skin pigmentation and tanning leaving skin looking fresh and even-toned.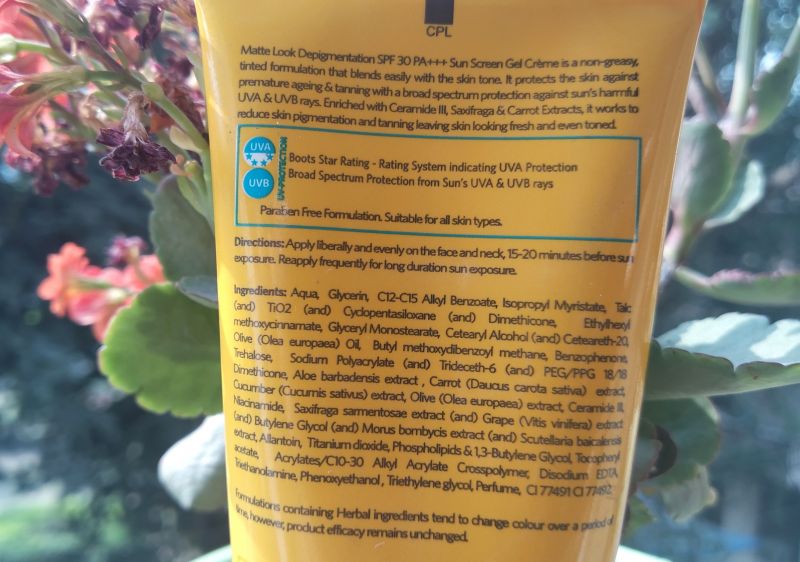 Price: Rs. 210 for 50g, Rs. 310 for 100g
Key Claims and Benefits:
Broad-spectrum protection from sun's UVA & UVB rays
Rating system indicating UVA protection
Paraben free formulation
Suitable for all skin types
How to Use?
Apply liberally on the face & neck, 15-20 minutes before sun exposure.
Reapply frequently for a long duration of sun exposure.
My Experience with VLCC Matte Look Depigmentation Sun Screen Gel Creme
The packaging of this sunscreen is extremely basic. The bright yellow tube mentions all the details of the product. It does not have an outer cardboard box, and the sunscreen tube has a plastic lid that can be flipped open. When I purchased the sunscreen, the lid was secured with tape to ensure the newness of the product. However, when I removed the tape it left residue on the tube which doesn't look very nice. Anyway, the lid seems secure and shuts tight with a click but the plastic quality is pretty cheap so it can break or chip if dropped at the wrong angle. This product is available in two sizes- 50 grams and 100 grams. I picked up the smaller variant because I wanted to test the product out on my skin. The smaller tube is quite travel-friendly and will easily fit inside your bag.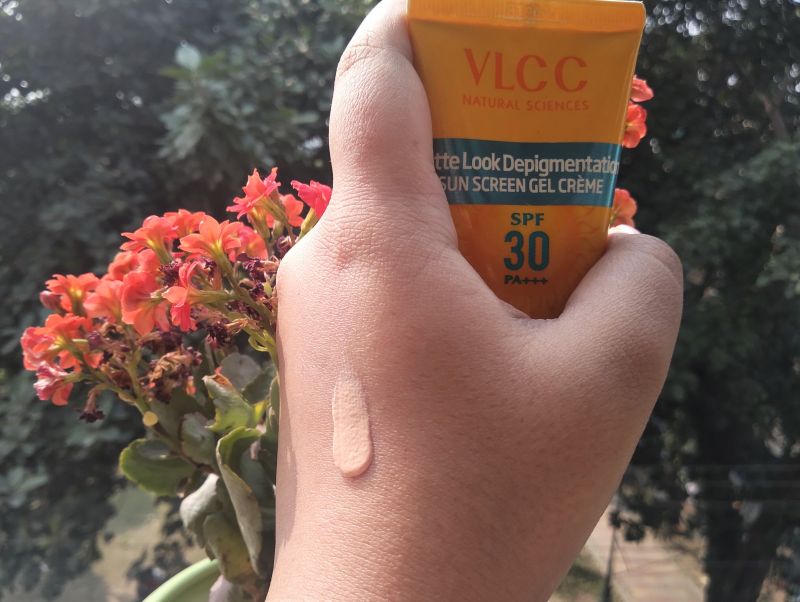 The tube needs to be squeezed in order to get the product out. The actual product is peach tinted. I found this very disappointing because this sunscreen is available in only one shade and therefore leaves a white cast on people with medium and deep skin tones. It works for me because my skin tone is pretty fair, but it is quite irresponsible of the brand.
This sunscreen has a very pleasant fragrance. It smells floral with a subtle hint of fruitiness. The formula feels quite soothing on the skin and has a cooling sensation, but only for a few seconds. The product isn't patchy if used in moderation. I use it on my face, neck, and arms.
My main issue with this sunscreen is that it is not mattifying at all. I have combination skin, and my T-zone is extremely oily. Whenever I wear this sunscreen, my skin gets extremely sweaty and when I dab the sweat, I notice the tint from the sunscreen coming off on my tissue. This makes this sunscreen unwearable during the summer time, which is why I did not enjoy using it summer. Now that it is colder, I have started using it and I'm trying to go through it. I think that this VLCC sunscreen will work for drier skin types, but oily skinned girls should definitely stay away from it.
The SPF content of this sunscreen is pretty high, and I do feel that it does a fine job of protecting the skin against the harsh rays of the sun. My skin is prone to sunburn during the summer season. This summer, I wore this sunscreen in the scorching heat and was very happy to see that my skin was not burnt. However, it makes me sweat a lot so I can't get myself to use it regularly.
So, we can see that the VLCC Matte Look Depigmentation Sunscreen Gel Creme has a lot of positive and negative qualities. To help you make up your mind about this product, here are its pros and cons:
Pros:
Travel-friendly packaging
High SPF
Pleasant fragrance
Soothing effect on the face
Not patchy
Really effective against harsh sun rays
Easily available online and offline
Affordable
Cons:
Leaves a white cast
Available in only one shade
Not mattifying
Makes the face sweaty
VLCC Matte Look Depigmentation Sun Screen Gel Creme
Final Word
This is a pretty average sunscreen. It is effective against the sun, but does not perform on all of its claims. It's not mattifying at all, and makes me very sweaty. It is also available in just one shade. If you are fair and have dry skin, you might be the target audience for this product but otherwise, I don't recommend it.