Gypsies have magical powers, so does makeup. And when we blend the two, we get surprising results. Gypsy makeup is something that has been trending for the last few years for special occasions like Halloween.
If you are tired of the same witch and skeleton looks for Halloween, go for the gypsy makeup look. In addition to looking absolutely charismatic, the gypsy look will give you the dark and mysterious vibe that will go with Halloween night.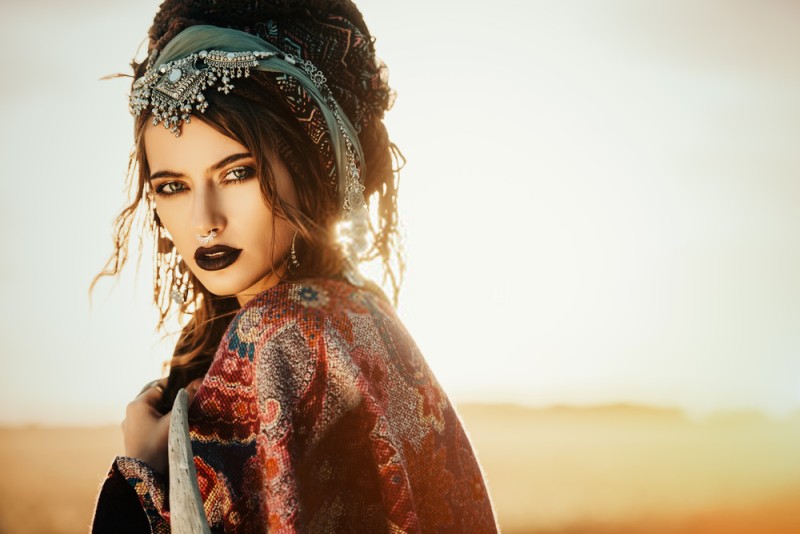 Gypsies have been known for their mysterious way of life. It is believed that they are descendants of people belonging to the Aryan group and are now scattered in some parts of Europe and the USA. They generally keep themselves away from the crowd, and you will usually see them in isolation. Their unique way of styling themselves with over-the-top cloth pieces, jewelry, and very different hairdo stands them out of the crowd. That is what is so attractive about them.
What is Gypsy Makeup?
As the name suggests, gypsy makeup is that makeup that resembles a gypsy. The job of makeup is not only limited to hiding your dark spots, dark circles, or making your eyes look brighter, or making you look like you are just about to go to an event, but there is far more to makeup.
You can do whatever you want to with the right makeup. From disappearing freckles to adding artificial freckles, from covering spots to showing fake spots, from a casual makeup approach to a Halloween gypsy look, you can do anything.
The gypsy makeup look trend became famous only a few years ago when many makeup gurus started this trend during the Halloween season. Halloween does not only mean looking scary by becoming a witch or any haunted character from some movie, but You can also achieve a perfect Halloween look just by being mysterious, and that is exactly what gypsy makeup does.
With this, it does not at all mean that gypsies are scary people. They are people who are just like us. It's just that they have such talents and powers, which helps them connect to the supernatural, something that is beyond the vision and capacity of a normal human being. We can only imitate them by their outer appearance, which is so full of fantasy, and we want to copy their way of style.
You do not require any exclusive makeup product to acquire the mystical look of a gypsy. You can do very basic gypsy makeup with the basic makeup products that are present in your vanity.
How to do Gypsy Makeup?
For a mystical gypsy appearance, all you need to do is follow the below steps:
First of all, clean up your face properly because that is the step that is necessary to do any makeup.
Apply moisturizer and then primer as you will need your skin to look healthy, glowing, and smooth because the gypsies are known for their beautiful, shining, healthy face. So make sure you prep your skin nicely.
Then apply your foundation. One thing to be noted here is that you should go for a shade that is two to three shades darker than your natural skin tone. This is because the gypsies are nomadic people. They travel, which makes their skin look tanned. For a bit of tanned look, you recommend that you go a few shades darker than your skin tone.
Then apply concealer that a few shades darker than your normal concealer, of course, or else it would look like just a mismatching of tones on your face.
Next comes a highlighter. Since the gypsies are known for their glowing tanned skin, you can go overboard with the highlighter, but obviously, you do not want to make others shut their eyes with the sparkle of your highlighter. Apply a generous amount on your cheekbones, brow bone, forehead, cupid's bow, and chin.
It's time to pick up the blush now. Get your favorite blush, but of course, it should go well with the shade of your foundation. Apply it to your cheeks.

Until now, you are done with your face. Now comes the eyes, and it's all in the eyes. The mystery of gypsies is because of their eyes, so take good care while doing the eyes.
Here is the tutorial of the classic black smokey eyes that gypsies do:
Firstly apply concealer on the upper lids of your eyes.

Take a jet black shade of kohl pencil, and draw it up on your lower lashline, apply a thick layer of it.

Do the same with your upper lash line.

When you are done applying a thick layer of kohl on your upper lash line, take a smudger and smudge the kohl, or you can also smudge it with an eye brush.

Next, take a smokey black shade with a little shimmer and apply it to your upper eyelids.

Wing out the kohl a bit and smudge a little again.

Apply a generous amount of highlighter on the inner corner of your eyes.

Finish it with fake lashes and apply a heavy coat of jet black mascara, and voila, your mysterious eye look is ready.

Now coming to the last part of the face makeup, that is the lipstick. Gypsies are seen very widely wearing very dark shades of lipsticks on their lips. Therefore, go for a very dark shade, like really dark red, purple, brown, and even black will look great.
Gypsy Makeup Ideas
Apart from the above-given makeup tutorial, you can do varieties of gypsy makeup looks. Makeup is all about adventure, and you can experiment with all the different kinds of makeup looks of gypsies. Below are a few makeup look ideas that you can go for:
Look #1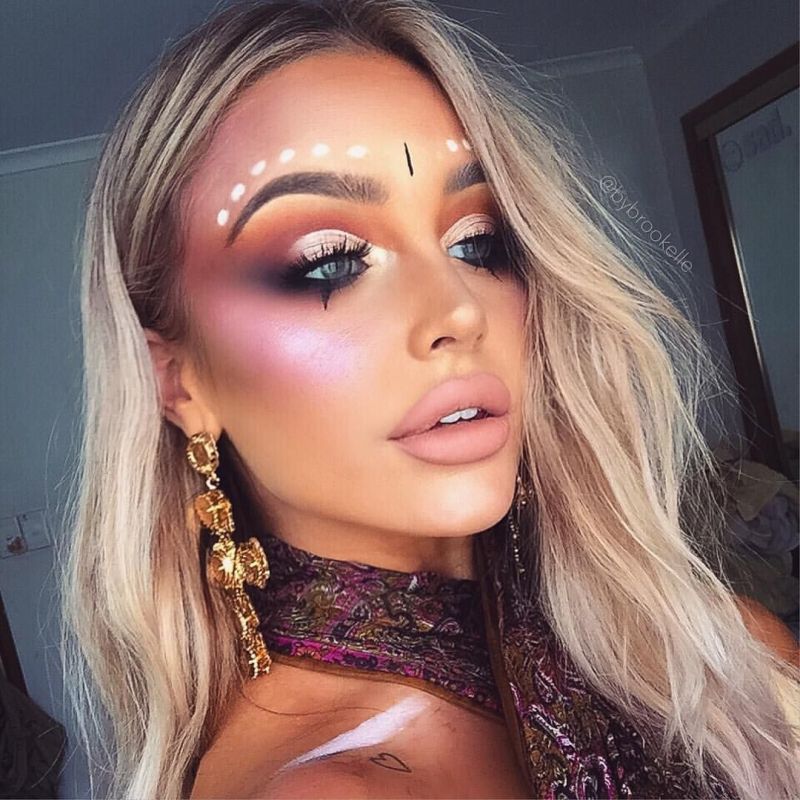 The base will all remain the same. You will only need to change the eye look. From black smokey eyes, you can go for a golden cut crease look. Add some silver stones around your eyes for a contrast look. Coming to your lips, apply a nude shade of lipstick and then dab a few amounts of silver gloss on the center of your lips and apply one stone on your lower lips.
Look #2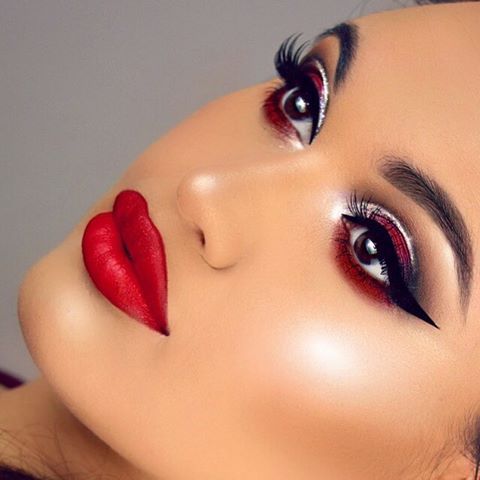 The second look has got some pop of color to it. Start with taking a bright silver shade of eye shadow on your brush, dust off the excess, and blend on your upper eyelid evenly. Now take some red shade of eye shadow and start lining your eyes with it. Limit yourself to lining the red color on the upper and lower lash line. Now smudge the red color a bit and draw it on your crease as well. If you want, you can also wing it out. Put a dark red lipstick. You can also add some stones. Do not forget to highlight your inner corner.
Look #3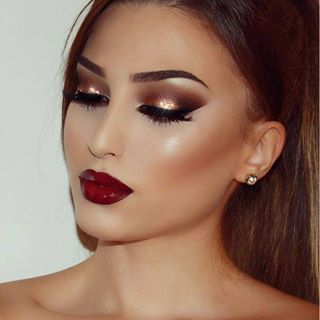 The next look involves some red. Take a red-colored eye pencil or eye shadow and apply it to your eyelids' outer and inner parts. Now take a metallic golden brown shade and apply it to the center part of your eyelid. Now blend it all nicely. Add a bit of shimmer on top. Now apply eyeliner, wing it towards the outer corner and the inner corner of your eyes. Add lashes, top it up with a heavy coat of mascara, and your mysterious eye look is ready.
These are some of the ideas that you can incorporate to make an exotic gypsy makeup look.
Tips for the Gypsy Makeup Look
Flowy stuff is what gypsies usually wear. Their dressing styles are quite chunky with prints, tassels, jewels. They also associate themselves with lots of body stones. So stick to that stuff to get the gypsy vibe.

While doing makeup, apply the highlighter before applying foundation and then go on with the said steps. This will give the extra glow.

Bronzer is an essential step as it will give a glowy sun-tanned look.

Gypsies are all about head accessories. You can go on with a headband, scarves. They are known for their voluminous curly hair, so you can add hair extensions to complete the look.

You can also add different hair extension shades but stick to dark shades like red, black, and purple.

Dive into as much jewelry as you want, but it should be chunky and not at all dainty.

You can add all the pop of colors you want to your makeup look.
How to dress up for Gypsy Makeup?
Makeup is only halfway to a whole gypsy look unless completed with a proper outfit and accessory. Here is what you can do with your outfit to complete a gypsy look.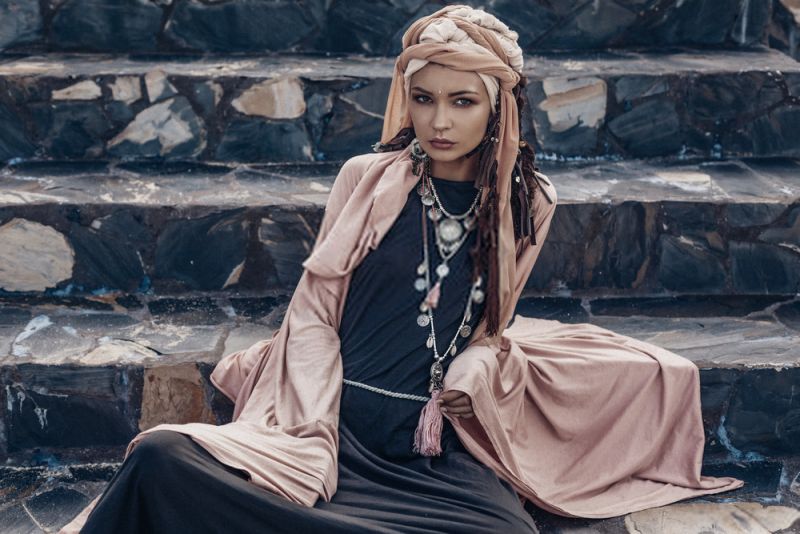 For the first look, you will require a halter neck top with some boho print on it or stitched with beads and stuff, and for the bottom, take a long skirt having a bohemian vibe. Take all the kinds of chunky jewelry that you can and wear them all. Tie your front section of hair in a small section of braids and add a scarf to complete the look.

For the second look, you will need a bell-bottom-sleeved off-the-shoulder maxi dress. Tie a boho belt around the waist. Add a headband, big chunky bangles, chokers, and you are ready.

For the third look, take a side-slit skirt and a one-sided off-shoulder top. Try to get dresses with tassels, or you can also stitch the tassels in your dress. This will give it more boho vibes.

Kaftans are also usually associated with gypsy looks, so you can incorporate a kaftan look without any doubt.
Gypsy look is all about experimenting and not limiting yourself to sober and subtle looks. You can go as colorful and as crazy, both with your makeup as well as a dress, but don't forget to keep the essence of the gypsies.