PerfumeBooth Perfume Selfie Sophistique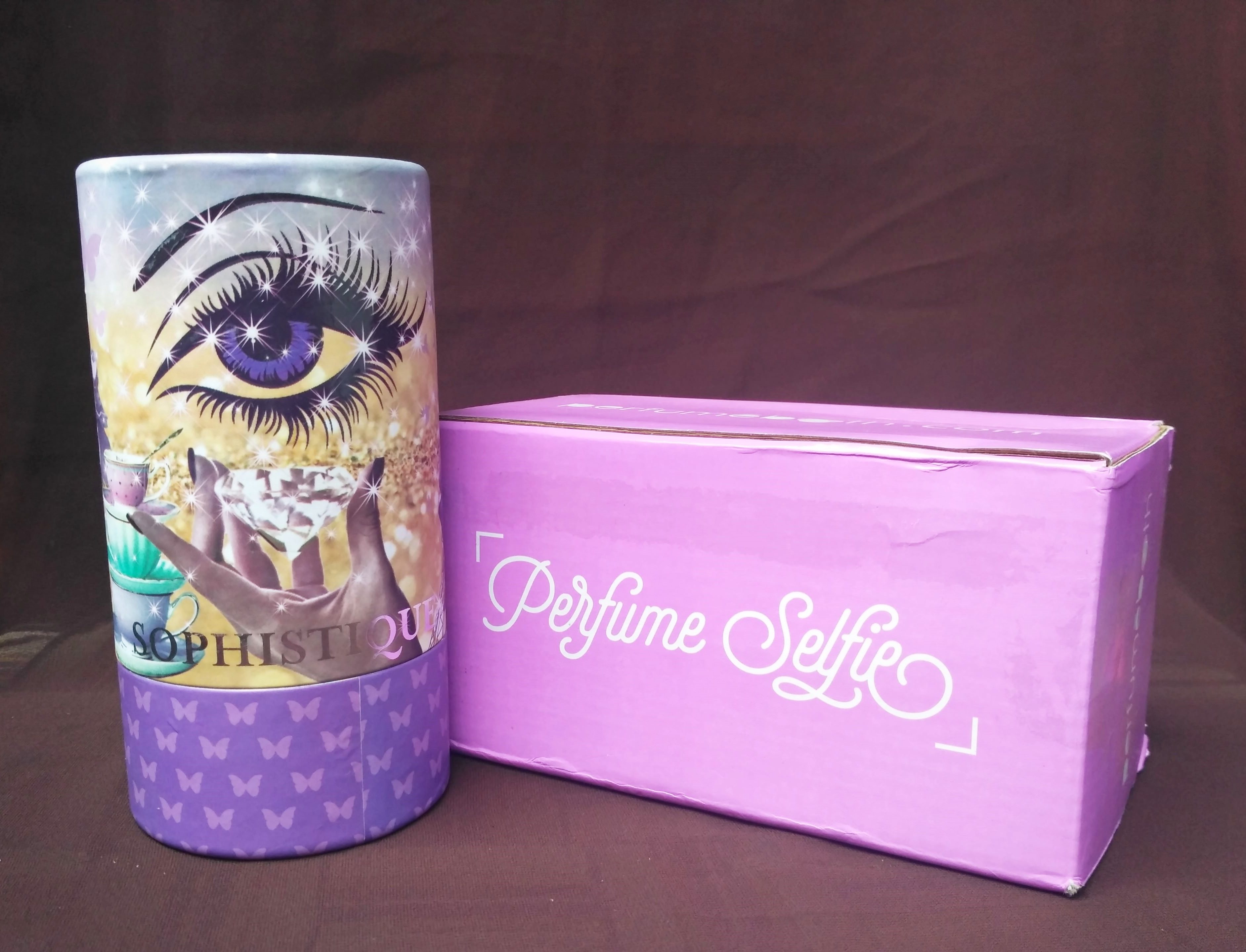 Today's post is going to be about perfumes! Haven't I ever talked about perfume on my blog? Well yes! The last time was when I reviewed Cinthol Deo Stick in Swirl and it was okay-okay for me. This time it's something different. Recently, I've been seeing the ad of PerfumeBooth Perfume Selfie Sophistique on Facebook. When I saw the concept, I decided to try it and so I ordered it right away. It's basically perfume samples in a cute and round box that looks vogue. After using these samples I'm here to share my experience with you all. Keep reading the post.  🙂 
Price: Rs. 475/- for 28 ml (7×4 ml)
About the product: She makes you want to bow down in respect. She's elegant, she's priceless and her 'Sophistique' makes her a queen of her universe.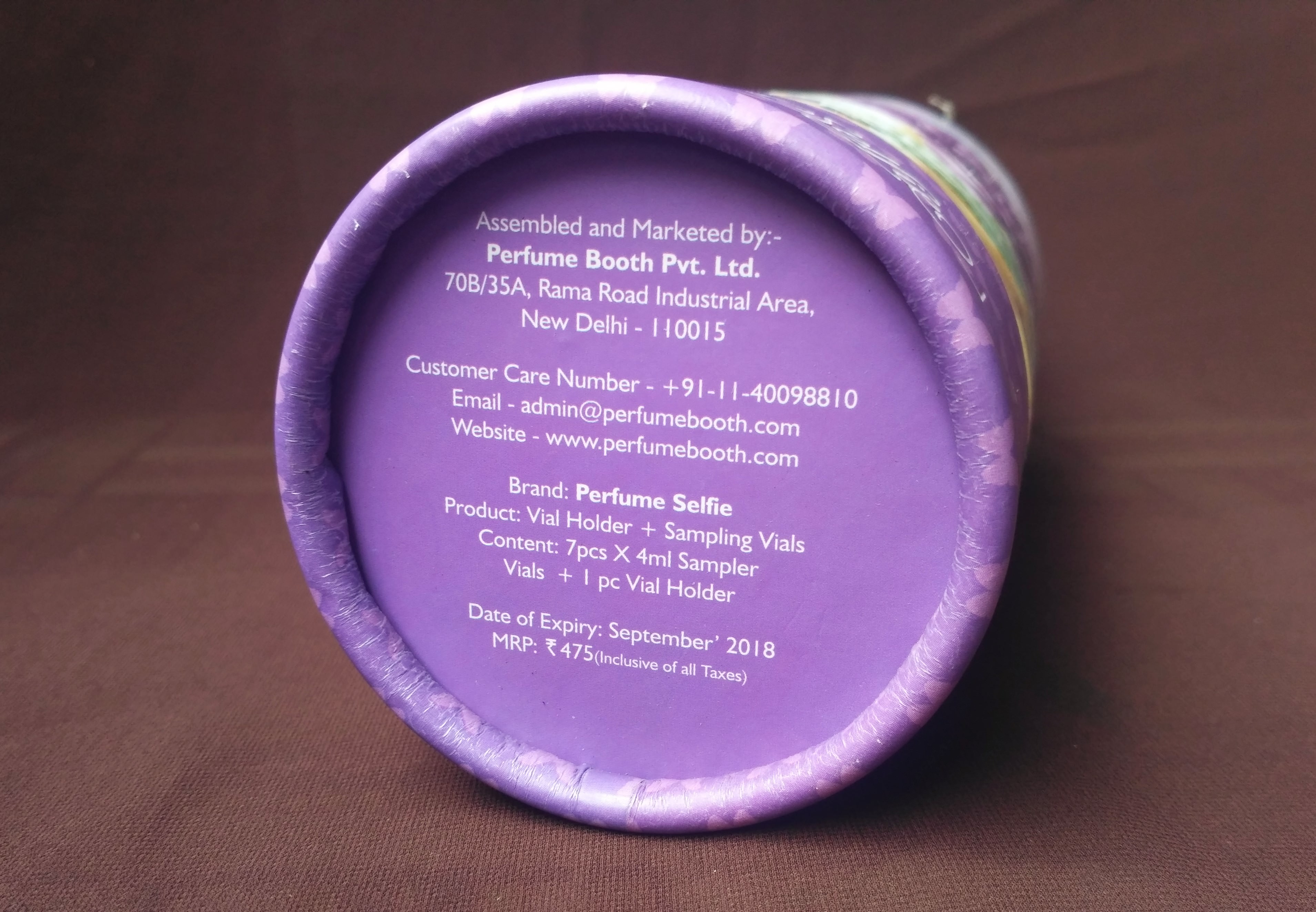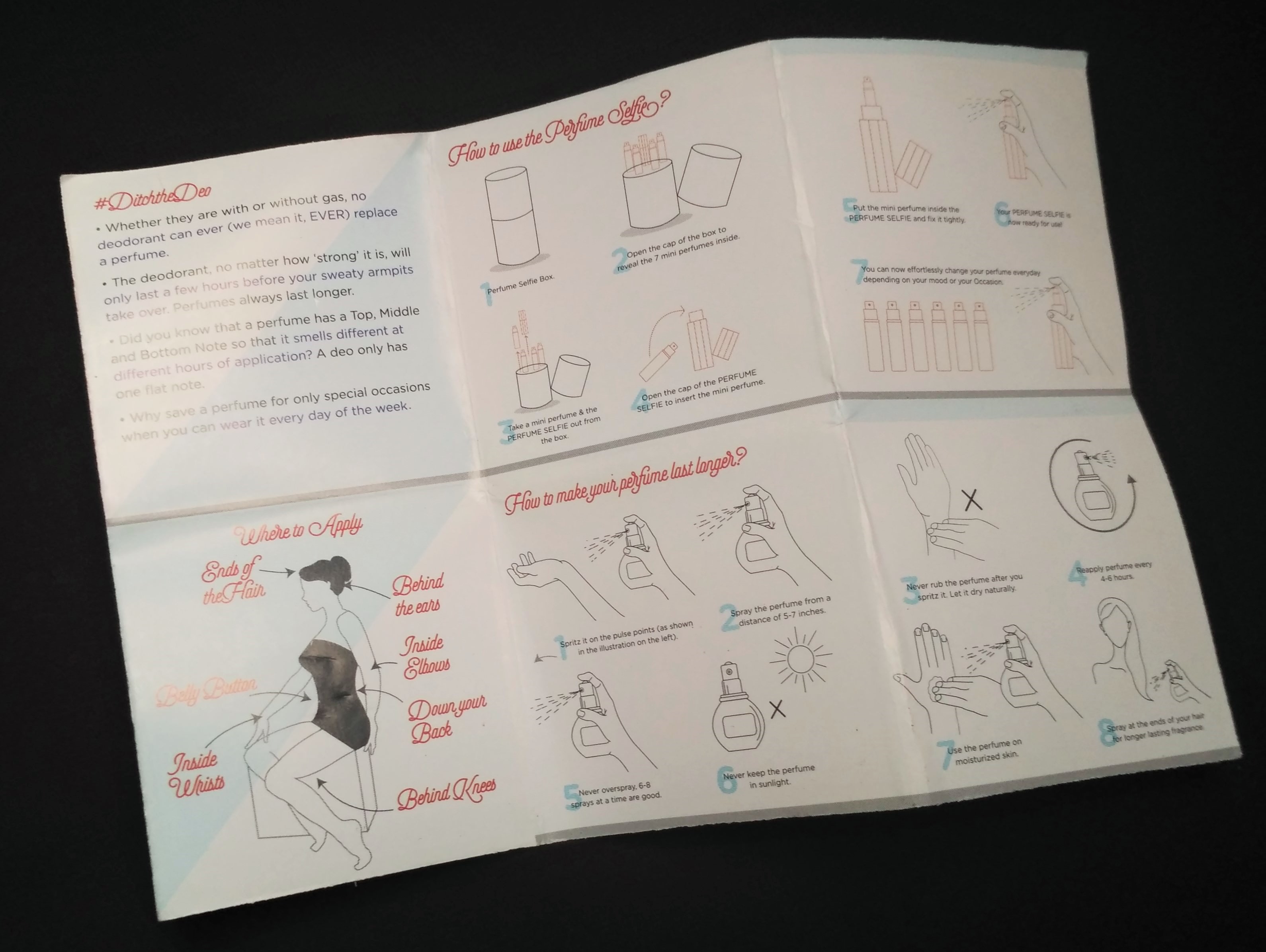 Shelf life: 1 year
Variant: Sophistique (Contents: 7 pieces of 4 ml samples + 1 piece vial holder)
Louis Cardin – Compassion

Emper – Urban Woman

Maryaj – L'arc Premio

Chris Adams – Dreamz (Woman)

Baug Sons – Beyond Beauty Pour Femme

Baugh Sons Creation – Jasmine Noir

Lomani – White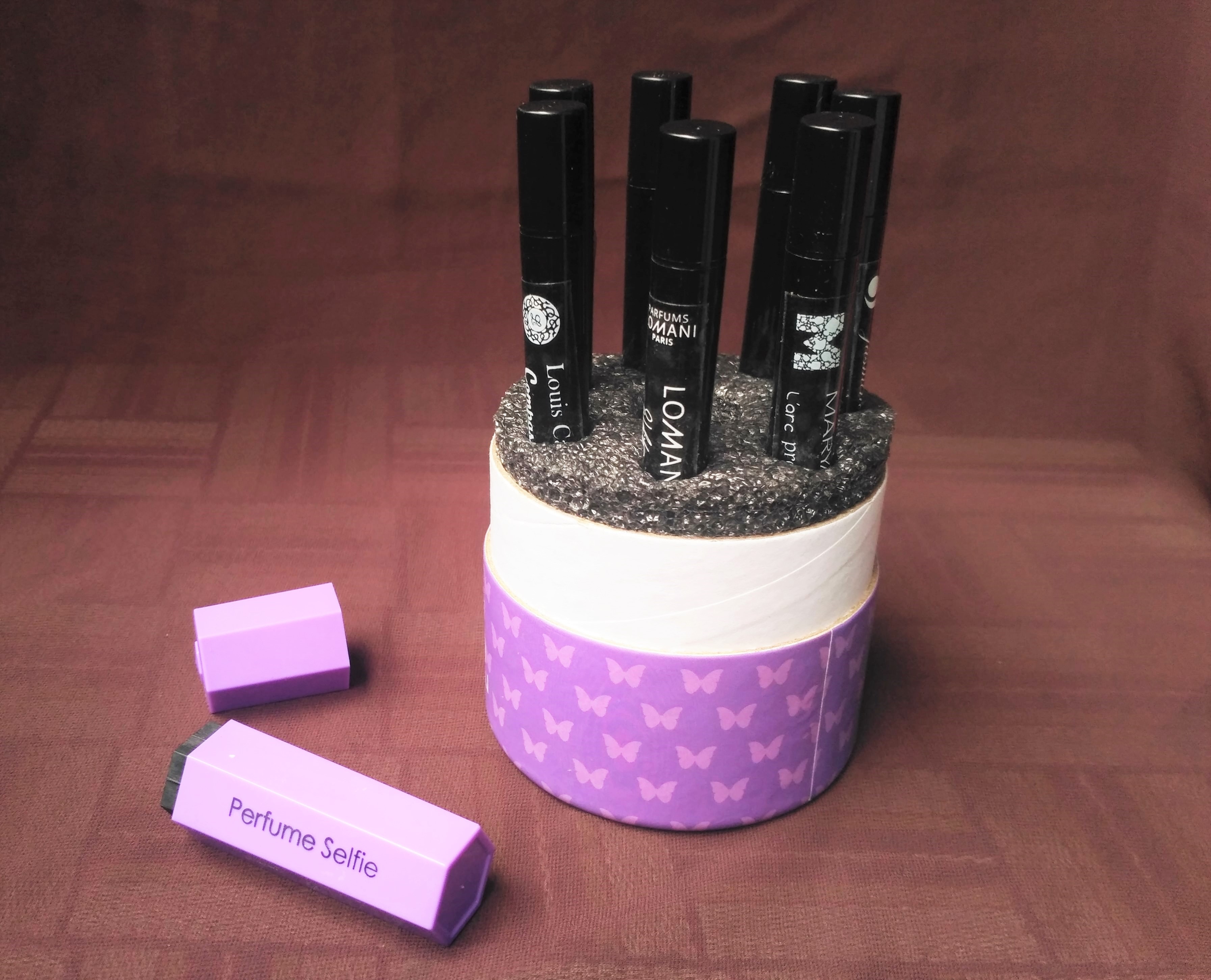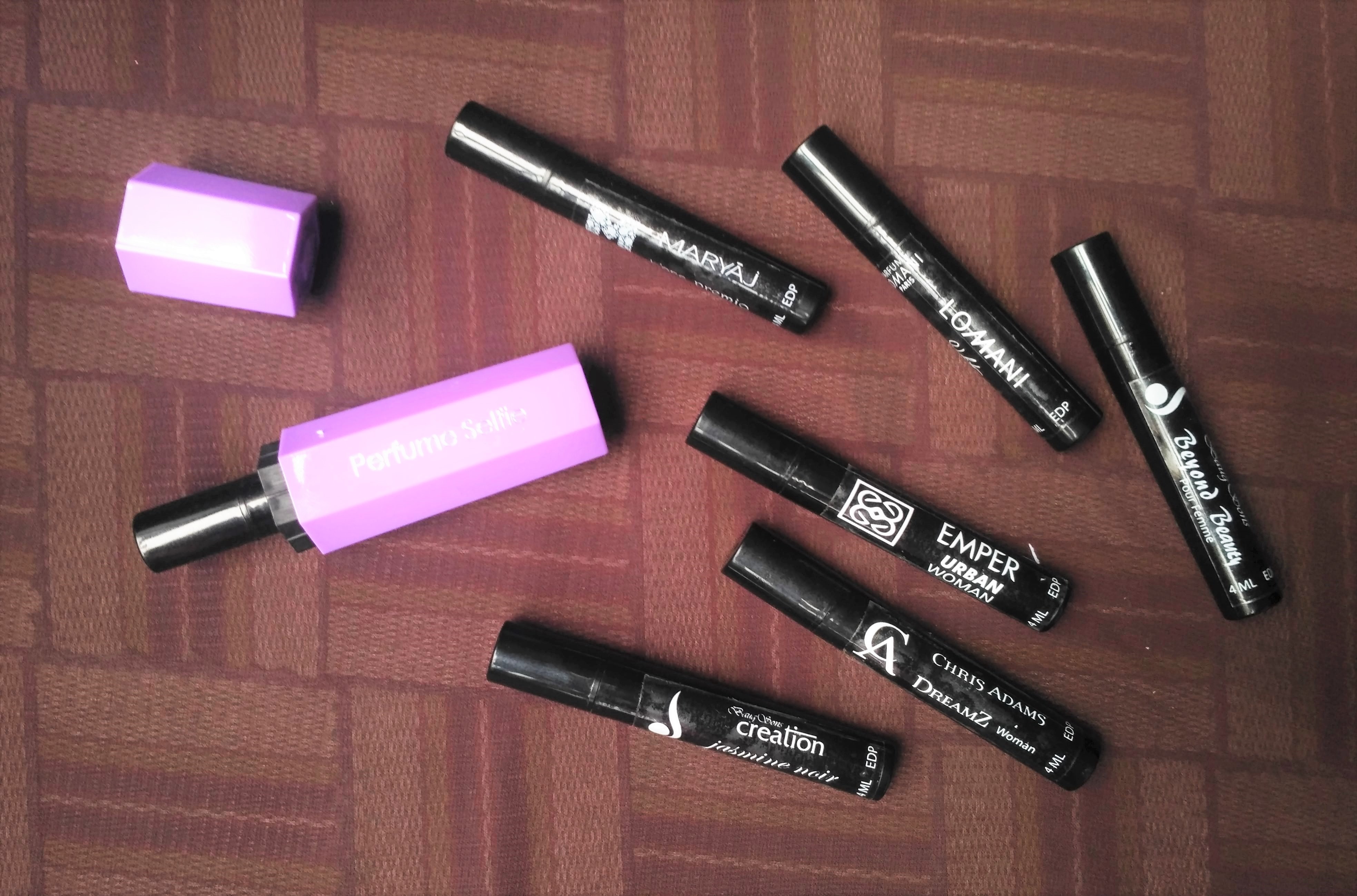 PerfumeBooth Perfume Selfie Sophistique Review
I just loved the idea of getting so many perfume samples at an affordable rate. The packaging it comes in is catchy for sure and it's amazing that it has a vial holder. The fragrances are unique and have a touch of femininity with floral fragrance. They are subtle and apt for daily wear especially when you work or go to college. Sadly, these perfumes do not last more than 3 hours which is kind of disappointing and after that one can only smell it when the person wearing it closer.  Nevertheless, they are true to their nature – Sophistique. Also, there comes a voucher of Rs. 501/- off for the full-sized perfume purchase but I didn't receive it on my box. I even emailed them but got no response from their side.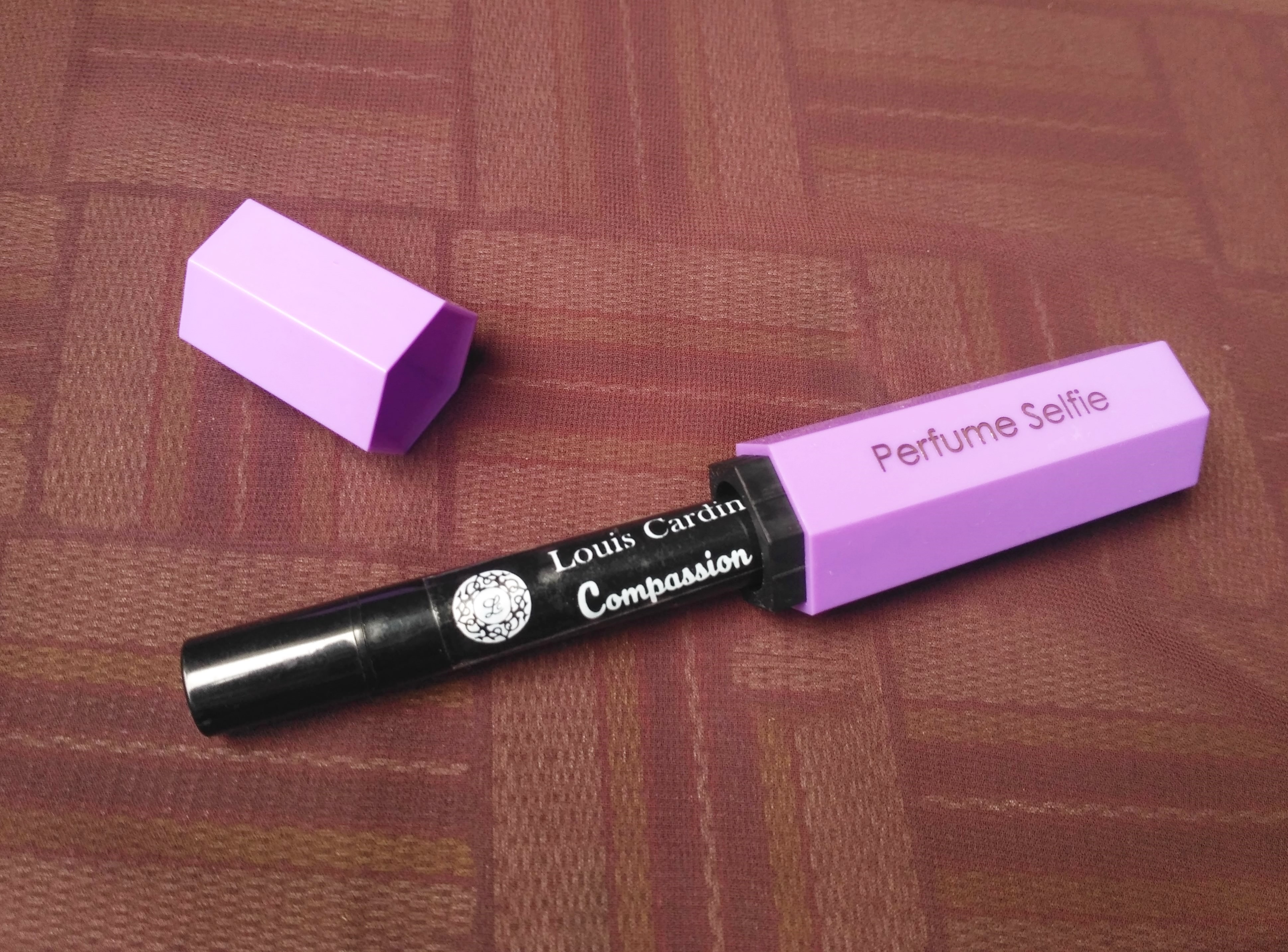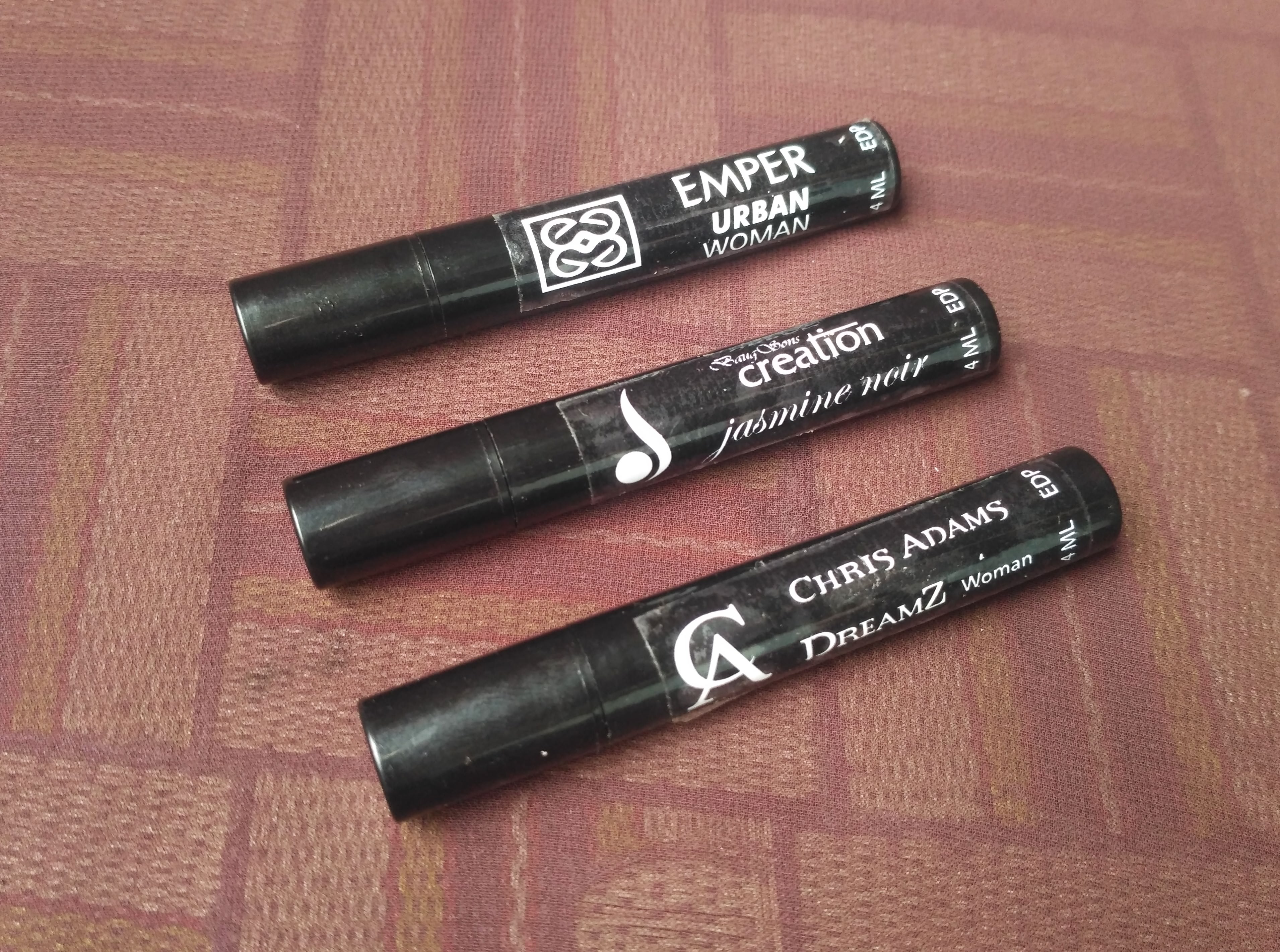 Louis Cardin – Compassion
Top notes:  Pomegranate
Middle notes: Lotus & Orchid
Bottom notes: Violet, Amber, Musk & Mahogany
This is my most favorite fragrance as it's sweet, floral and feminine! It stays around for x hours. It's a must try if you prefer a feminine, soft and floral fragrance.
Top notes: Blackberry, White Musk
Middle Notes: Rose, Orris & Sandalwood
Bottom notes: Bergamot & Black Currant
My second favorite fragrance out of these. Has a pleasant flowery fragrance that stays true to its name. It adds the oomph to the sophisticated nature of a woman. It's a fragrance that speaks femininity.
Baugh Sons Creation – Jasmine Noir
Top notes: Gardenia & Green Notes
Middle notes: Almond, Jasmine Sambac
Bottom notes: Amber, Woods, Patchouli & Musk
This one has a strong floral fragrance at first. After a while, it settles into a sweet jasmine fragrance. This one has a refreshing whiff enough to energize for the whole day!
Chris Adams – Dreamz Woman
Top notes: Neroli, Lemon & Raspberry
Middle notes: Jasmine, African Orange flower & Gardenia
Bottom notes: Patchouly & Honey
Dreamz Woman has a fruity fragrance which settles into flowery fragrance after a while. Definitely apt for parties and dates.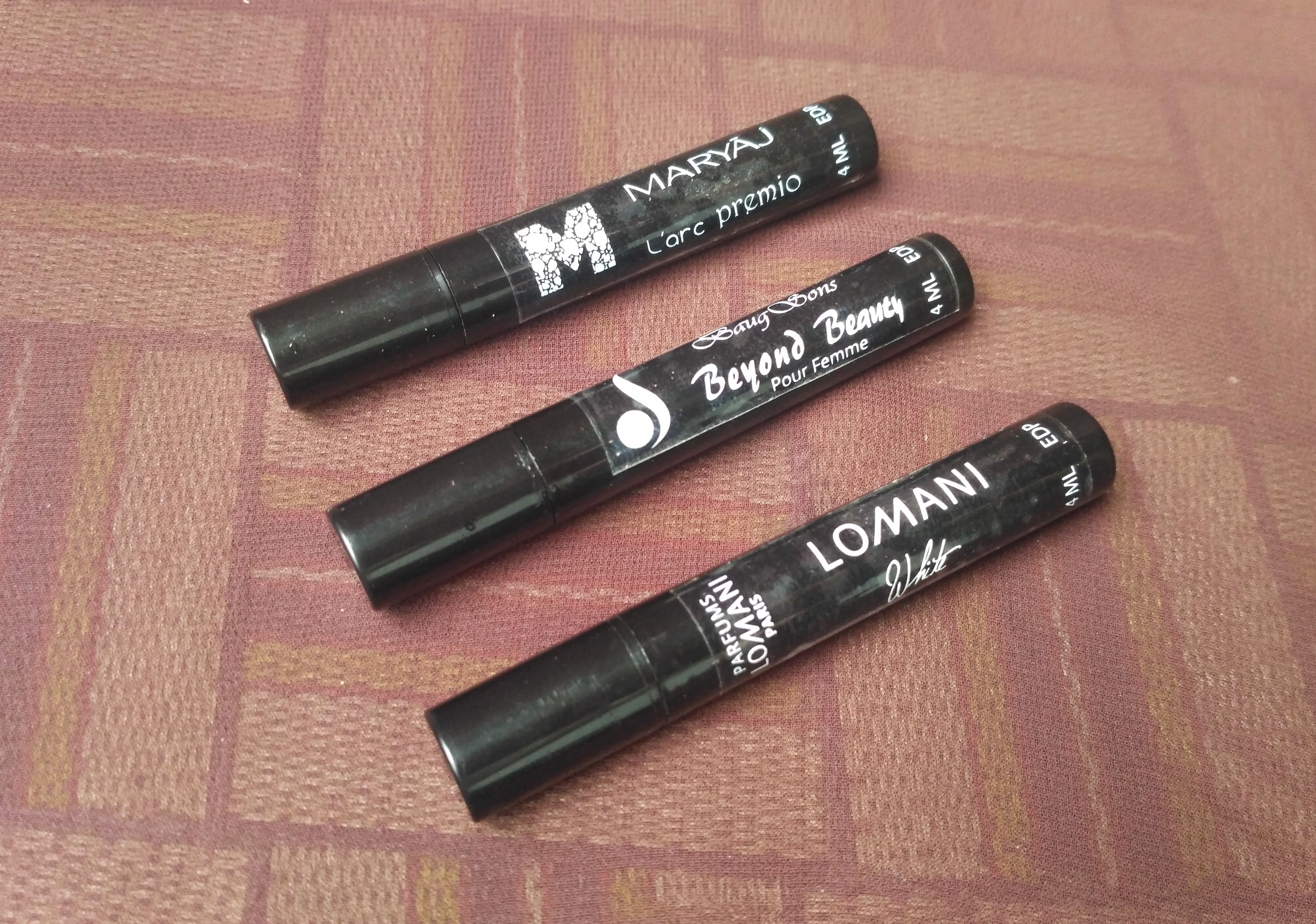 Top notes: Rose petals
Middle notes: Apricot
Bottom notes: Musk & Sandalwood
It is a musky and fresh fragrance which comes from men's deodorant. Personally, I'm not a fan of this fragrance.
Baug Sons – Beyond Beauty
Top notes: Patchouli & Sandalwood
Middle notes: Rose & Osmanthus
Bottom notes: Patchouli & Sandalwood
This fragrance has patchouli as a dominant note. It smells woody and sweet at the same time. It gives the whiff of elegance. A great choice for daily wear.
Top notes: Amber, Vanilla, Sandalwood & Musk
Middle notes: Rose, Orange blossom, and Violet
Bottom notes: Amber, Vanilla, Sandalwood & Musk
It has a cologne like floral fragrance. It is musky in nature. The fragrance is dominatingly strong but doesn't last for long as expected.
Final Word: It was a delightful experience with these perfumes as they all contain the hints of floral, fruity, feminine and poise whiff. The fragrances aren't strong and over the top. If you're someone who prefers the perfume low-key and for daily college/office wear, then I recommend this. The only issue is the poor staying power of the fragrances which is a put-off. Anyway, I liked their idea of introducing perfume samples so one could get an idea and purchase the apt fragrance. Also, you'll get to use different perfume each day. 
Have you tried Perfumebooth Perfume Selfie Sophistique yet? Do you like the idea of purchasing perfume samples before buying the full-sized product?