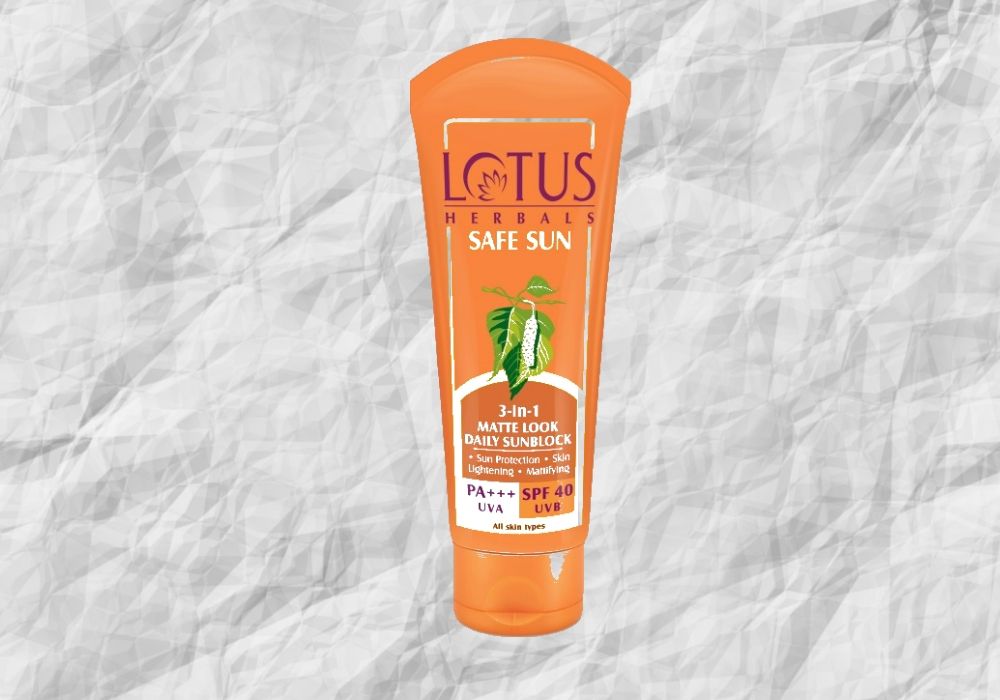 Due to the hot summer, it's nearly impossible to walk out in the harsh sun. Some choose to stay at home (like me :P) and some have to go out for their work and are forced to face the sun. At this time, sunscreen comes to the rescue. Sunscreen is essential to save skin from dangerous UV rays coming directly from the sun. Not only it saves skin from tanning but also from dark spots and long term diseases caused by the UV rays. Currently, I'm using Lotus Herbals Safe Sun Sunblock SPF 40 and today I'm gonna review it.

Price: Rs. 225 for 50g and Rs. 355 for 100g

Description:






How to use:




Ingredients:






Packaging: It comes in an orange-colored tube with a flip cap which shuts tight. This will avoid the spilling of the product. However, a little bit of the product usually accumulates at the opening of the cap. Quantity is almost half of the tube. On the pack, it says it's suitable for all skin types.



My Experience with Lotus Herbals Safe Sun Matte Look SPF 40 Daily Sunblock
I discovered this sunscreen when I was on an online shopping spree and positive reviews led me to buy this product. It has SPF 40 and PA+++ with UVA and UVB broad-spectrum protection. It is a tinted sunblock with pink undertones to it. Its texture is medium to runny. It gives a good matte look upon applying and it's not greasy like other sunblocks. So far it's the best sunblock for oily skinned girls and other skin types can also try this. It gave me a sheer coverage of a foundation when I applied it and imparted an instant glow on my face that looked natural. It smells like cloves and foundation mixed but is not that bothering. The smell goes away after a while. It is advised to apply sunscreen 30 minutes before going outside.

Swatch:
Coming to its staying power, it stayed on my face for 3 hours and after that, it made my face dull and oily. So you need to reapply after every 3-4 hours. It stays oil free for 2 hours according to my experience.
It claims to lighten skin but I couldn't see any difference. I guess the lightening claim was linked to the tinted color of the sunblock which lightens skins for a while. After using it for weeks I can see that it reduced tan. Since it is of SPF 40 it does its work effectively.
You can use this sunblock as a makeup base or even replace your day cream/foundation with this. It has got all the benefits one can ask for. Once I used this sunblock for 6 hours and my face became dark and super greasy so reapply after washing face.
Pros:
It has SPF 40 along with PA+++ with protection from UVA and UVB rays.
It's tinted and best for no-makeup days.
Stays for 4 hours.
Removes tan and protects the skin.
Has mattifying effect which lasts long.
Suitable for all skin types.
Non-greasy and shine-free unlike other sunscreens.
Cons:
It keeps skin oil free for a short period of time.
The smell can be bothering for sensitive noses although it fades away after a while.
It says herbal but has a lot of chemicals.
Lotus Herbals Safe Sun Matte Look SPF 40 Daily Sunblock
Final Word
Till now it's the best sunblock I could ever get. It's tinted, provides good protection from the sun and I won't need any extra cream or foundation above or beneath it. It's a must-buy for oily skin and other skin types should also try as it's not dry. Everybody should try this sunblock at least once in their life and you won't get disappointed.
Have you tried Lotus Herbals Safe Sun SPF 40 Sunblock yet?