Hello, gorgeous ladies! ????
A few months ago, I came across a lip scrub by BLISCENT which I'm currently loving. The brand is quite new to me so I searched about Bliscent on Google and found that it's a natural skincare brand which offers handmade, luxurious skincare products at affordable prices. Isn't that great? Today I'm reviewing one of their products, BLISCENT Lip Scrub in Watermelon variant. I love watermelon for the fact that it's literally saving my life from this burning hot summer. Let's hop into the review now!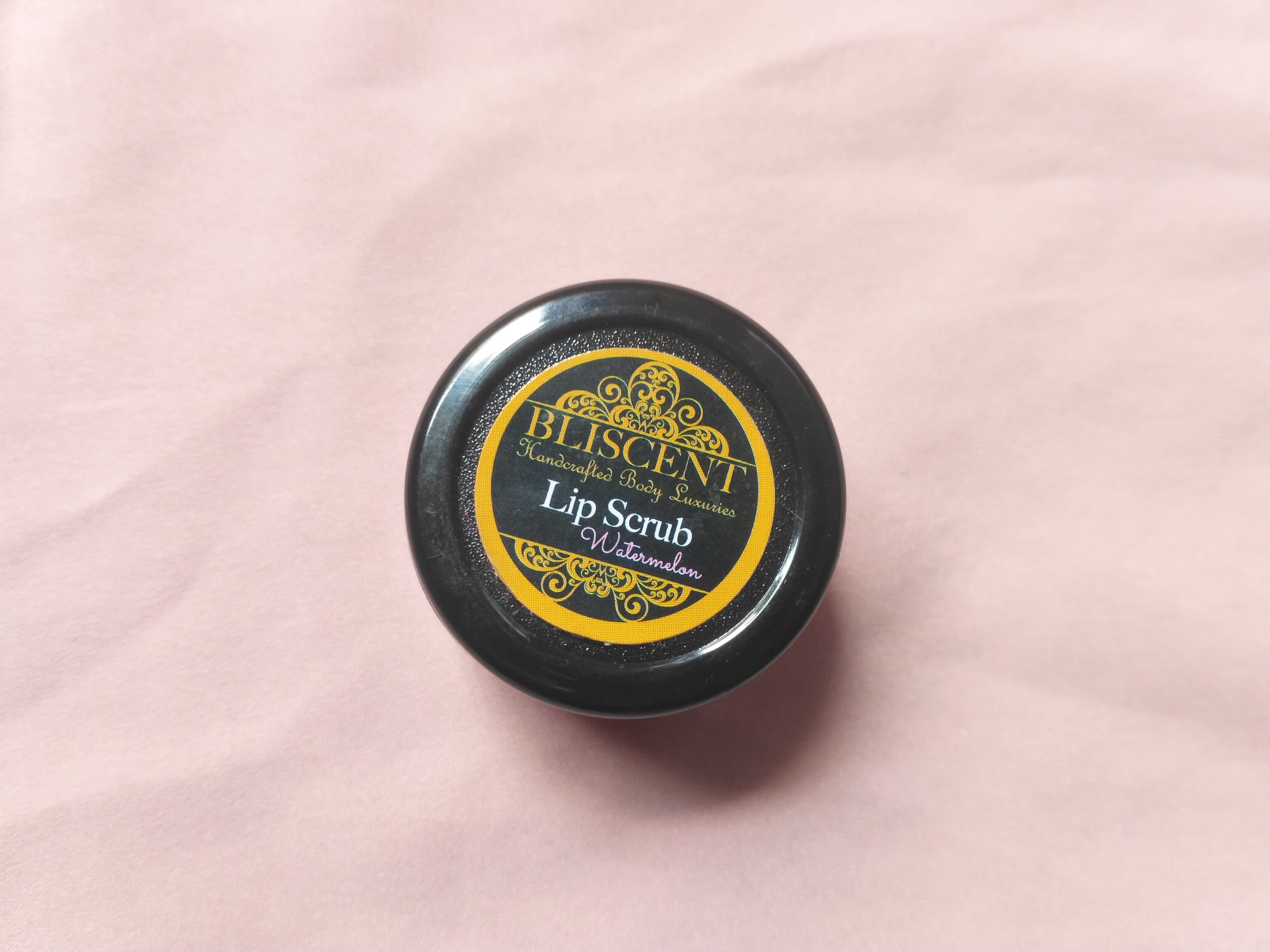 About the Bliscent: BLISCENT is a homegrown brand and every single product are personally made by Karishma and Shefali with a lot of love and care. The products are made without any unnecessary chemicals or preservatives. This makes them last much longer and the effect they have on your skin is incredible! Having witnessed the needless compounds that are used in beauty products and realized that none of it is necessary to make your skin look great, BLISCENT was born.
Price and Quantity: Rs. 200/- for 10 g
Ingredients: Beeswax, Jojoba oil, Shea Butter, Sugar, and Skin Safe Flavor oil
How to use? Gently buff away dry and flaky lips with a pea-sized amount of the scrub and rinse.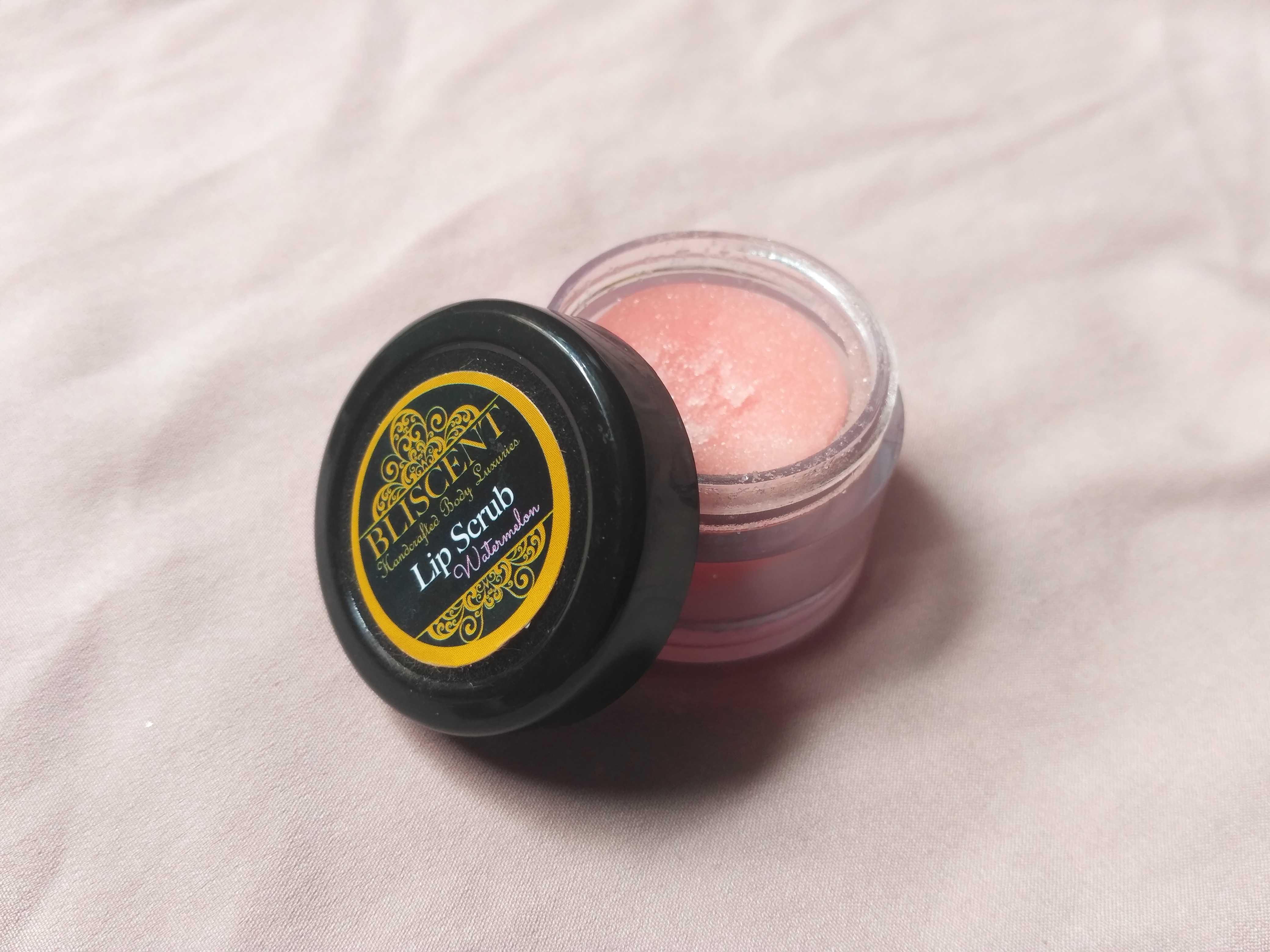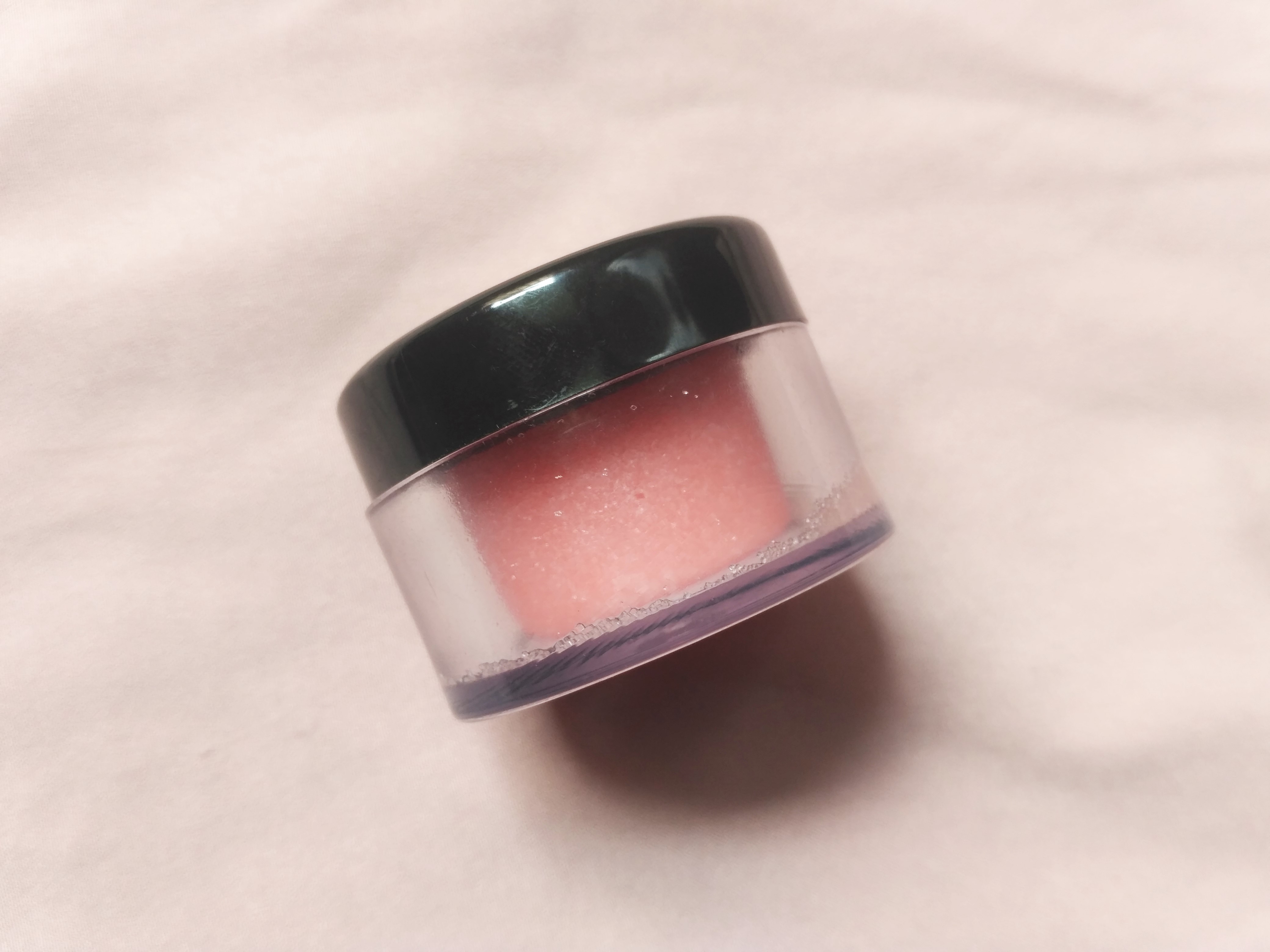 Bliscent Lip Scrub Watermelon Review
This lip scrub surely has a vivid and beautiful packaging. It comes in a tiny plastic container with a black screw cap. At the opening, there's a white plastic seal as to protect the product from contamination. Details are printed on the back of the container. Manufacturing date of the scrub is not written but 'use it before' is mentioned. The product inside looks like a frozen pink bubblegum colored sand. The scrub is very fine in texture and moderately abrasive enough to scrub away dead skin from the lips. It's a treat for the lips.
Coming to its fragrance, it smells like fresh and sweet watermelon. It's made of skin safe flavor oil which obviously means it's safe for the skin. I take a tiny amount of the scrub and scrub on my dry, flaky lips. The sugar in the scrub takes around 30 seconds to get dissolved when I apply some water while scrubbing and without the water, it dissolves in 3-4 minutes. When it accidentally got into my mouth, it tasted bitter or weird but sweet.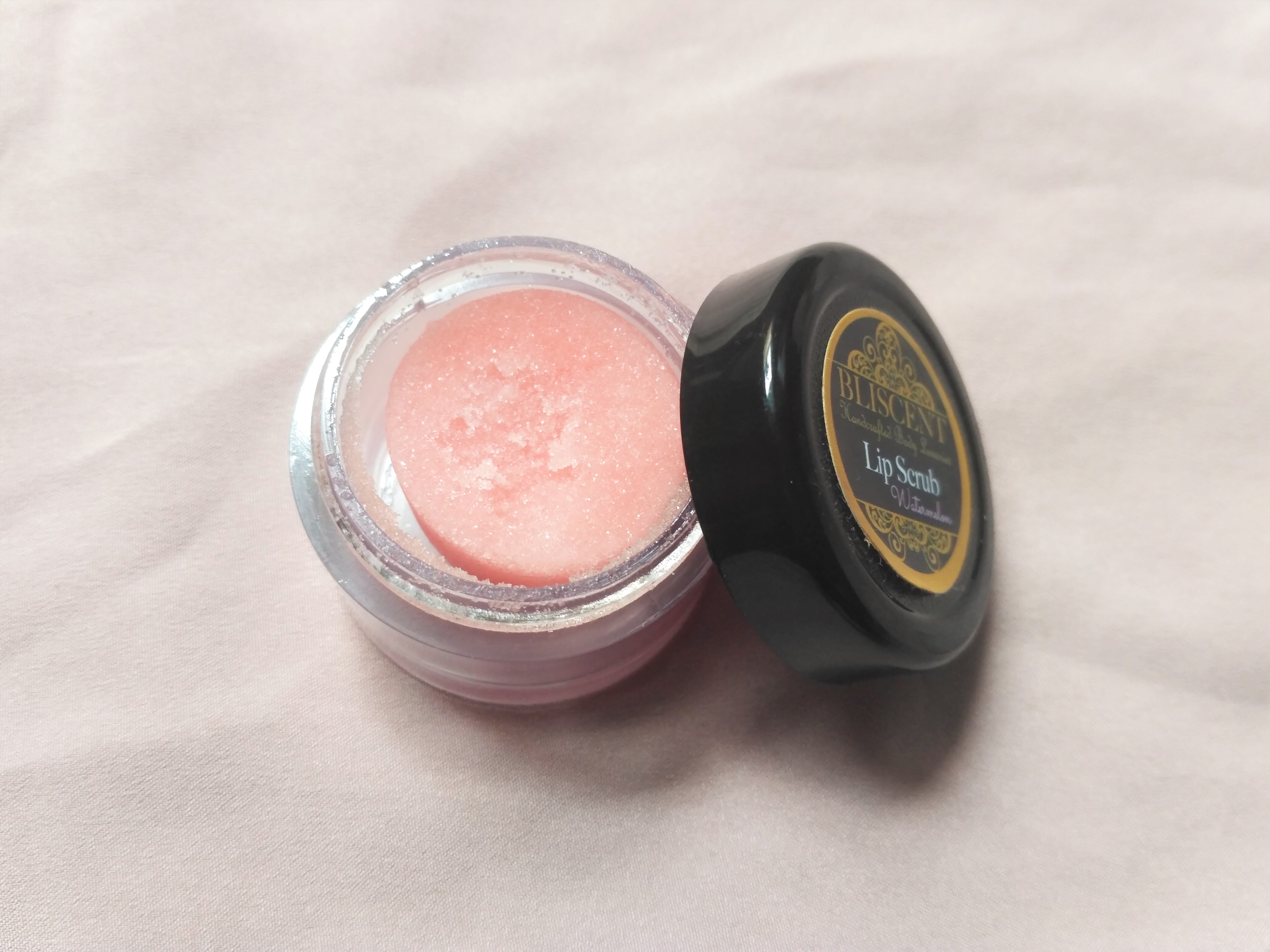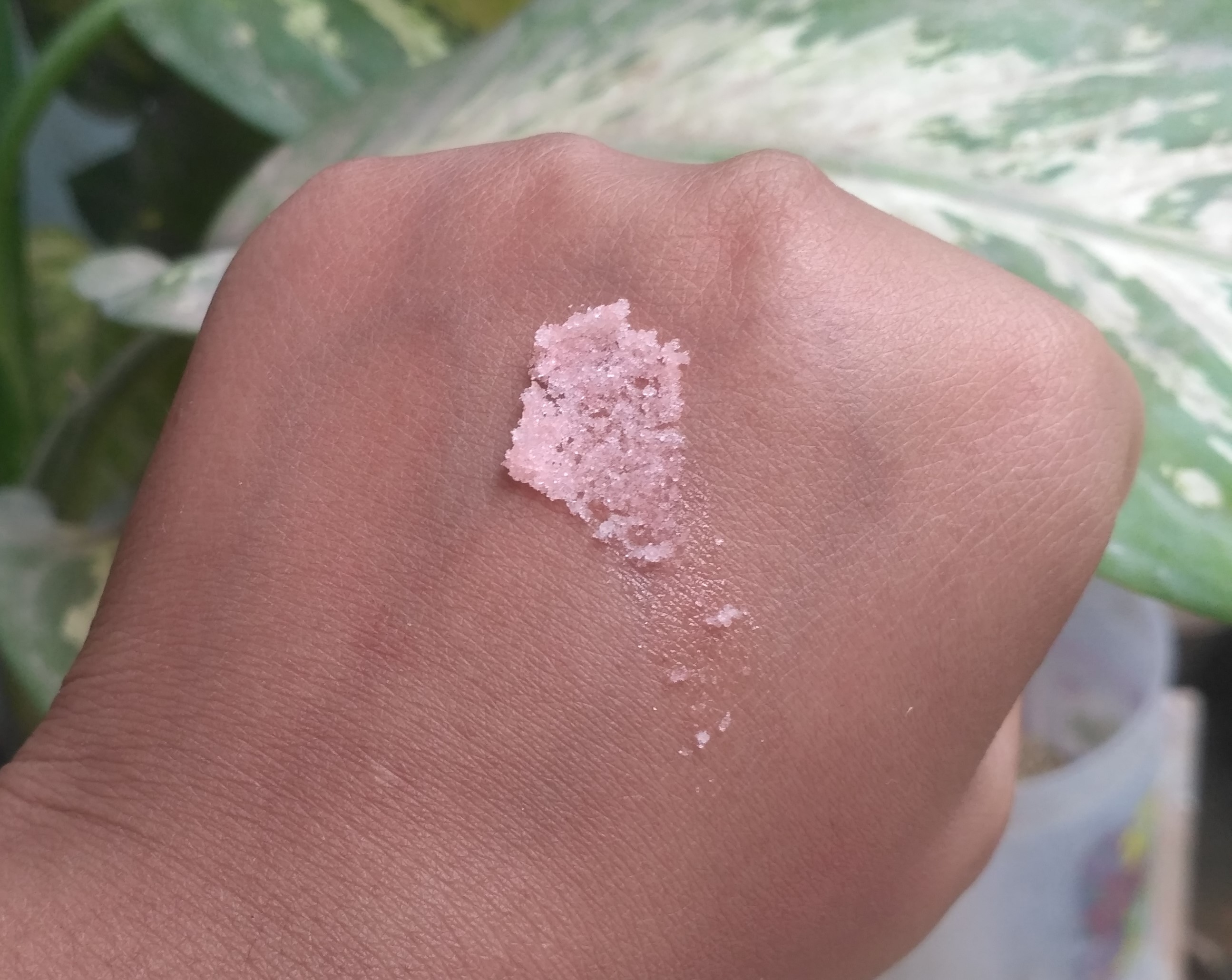 After having the pampering session with this lip scrub, my lips felt soft and smooth on touching. I didn't feel the need to apply lip balm afterward as it was moisturizing due to Shea Butter and Jojoba oil. However, it didn't remove my dead skin completely. as it isn't very abrasive. It removes light dead skin unlike heavy ones and for that, you will need to use it for 2-3 times in a week to get completely rid of. 
Pros:
Chemical-free ingredients

Cruelty-free product

Has an enchanting fragrance of watermelon

Doesn't feel abrasive on lips

Leaves lips moisturized
Cons:
Takes 2-3 sessions to remove heavy dead skin
Bliscent Lip Scrub in Watermelon
Final Word
I've used very few lip scrubs so far but can say this is the best I've ever come through. It has a captivating fragrance of watermelon and tastes sweet. It polishes my lips well and leaves them moisturized. Though it takes 2-3 scrubbing sessions to scrub heavy dead skin, it removes away light dead skin very well. It is also available in different flavors like pineapple, cake frosting, etc. If you're looking for a luxurious, pampering lip scrub, go for it!
My experience with this lip scrub was more than great. Unlike most of the people who think lip scrub as additional product and not a necessity, I recommend using lip scrubs whether they're homemade or market product. Do you use a lip scrub on a regular basis? Do share in the comments!